For those who're able differently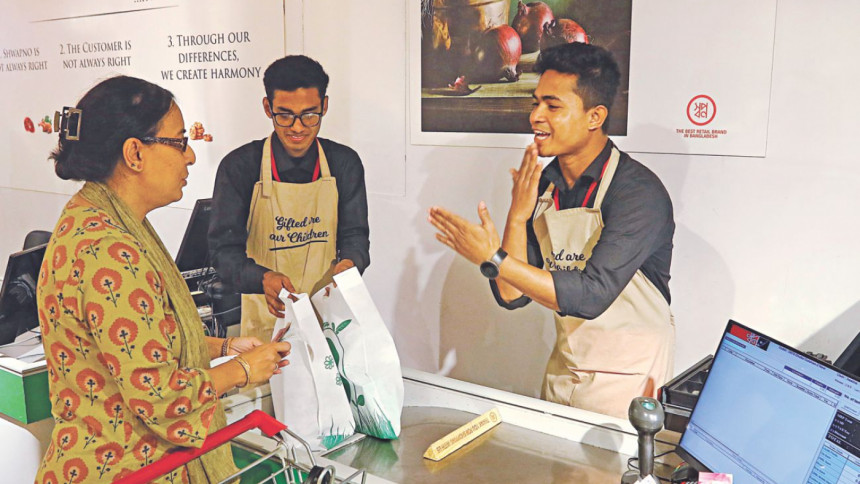 In the busiest hour at a superstore in the capital's Gulshan, Shimu Gomez is busy putting an assortment of daily necessities in a specific order near the cash register.
The 19-year-old, who is a mute, is noticeably agile and deft. It is apparent that her disability does not come in the way of her work.
Communicating through sings, she says her colleagues are supportive and they often help her out.
She has been working at the store for the last two months. She attended a three-month skills development training at a vocational training centre in Mahakhali run by Parents Forum for Differently Abled (PFDA), which works for the development of persons with intellectual and neurological disabilities aged over 15.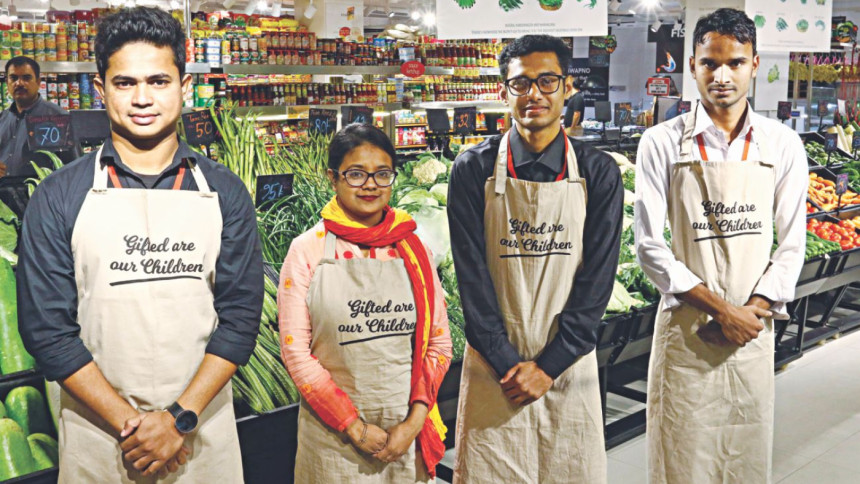 Nusrat Jahan, PFDA programme officer, who regularly visits Shimu at her workplace, interprets what Shimu says in gestures.
"This job allows me to dream and think about future."
Not all persons with disabilities are as lucky as Shimu. Many are deprived of their basic rights due to social setbacks and a lack of support.
The United Nations in 1992 proclaimed December 3 as the International Day of Persons with Disabilities. The day is celebrated across the world, aiming to promote their rights and well-being in all spheres of the society.
The day will be celebrated this year with the theme "Transformation towards sustainable and resilient society for all".
According to Bangladesh Sample Vital Statistics 2016 report, nine out of every 1,000 people in the country have some form of disabilities with more males (9.8 percent) having disabilities than females (8.3 percent).
It also found that 6.8 percent of urban people have disabilities while in rural areas 10.8 percent have the conditions.
In secondary schools, over eight in every 1,000 students have disabilities.
People working for establishing their rights said although opportunities were being created, many of them were still deprived of due rights because of social stigma and a lack of awareness among parents.
With proper skills development training, persons with disabilities can get jobs and contribute to the economy.
Yousuf Sikder, human resource assistant manager of Shwapno, the superstore where Shimu works, said they are currently employing four persons with disabilities at its Gulshan outlet.
The superstore has plans to reserve a 10 percent quota for persons with disabilities by collaborating NGOs working on the issue, said its Executive Director Sabbir Nasir.
PFDA Programme Officer Nusrat Jahan said she hoped other employers would also create opportunities for people with disabilities.
She said many parents still preferred to hide their children's disabilities fearing stigma.
"We cannot leave them behind. Differently abled persons' rights should be ensured."
Mominur Rahman, director of the National Foundation for Development of the Disabled Persons, said alongside providing medical and technical supports the foundation finds jobs for people with disabilities.