The school of hope
Nilphamari's Saidpur school an invaluable blessing for autistic children, their parents
To find a good school for their children is many a parent's dilemma. It's a task made harder if the child happens to be on the autism spectrum; even more so if the autistic child lives in a regional area.
The Unique Gift Foundation, a school for autistic children in Chadnagar of Nilphamari's Saidpur municipality, stands out. For students and parents alike, this school is an invaluable blessing.
"Children on the autism spectrum are often shy and introvert," says the project's manager and school principal, Sheikh Robayatur Rahman. "Such children may not like to socialise. Of their own will they may repeat some small task again and again. Day-to-day activities can prove quite challenging. This school is for them."
"My daughter is often overlooked and neglected within our family," says Arjumand Banu, the mother of six-year-old Afia. "My relatives often think of her as a burden. Now that she is enrolled here I have hope. I want her to learn the behavioural and social skills that will lead others to accept her."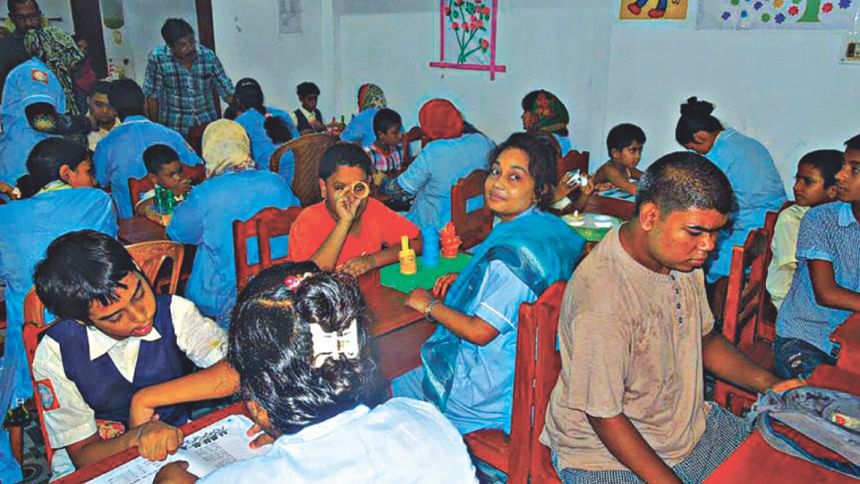 Md Anisur Rahman, the father of another student Fardin, said he was very anxious for his son. "He couldn't eat rice with his hand. He couldn't get dressed on his own. Since he started studying here, there have been signs of improvement."
The school is the heartfelt initiative of founder Touhida Sultana Runu who lives in Dhaka. Since establishing the school she has continued to monitor activities and bear all the expenses.
"Our founder-chairperson has good reason to establish this school," says Shahnaj Parvin, a special educator in child development who works there. "She has a family member with an autistic child. That child was neglected even by close relatives. Our founder saw the pain and agony it caused. She wanted to do something about it."
The school currently has almost 50 students divided into morning and afternoon shifts of specialised learning activities. There are 15 trained teachers and nine other staff to achieve the optimal teacher to student ratio of one to one.
"Our teaching pattern includes several aspects," says a teacher, Raihanul Jannati. "There is academic learning along with music, play, vocational training and physiotherapy." The vocational training includes mastering basic daily activities such as brushing teeth, opening zippers on bags or clothes, washing dishes, using the bathroom and social skills such as getting along with others.
For many of the teachers too, interacting with autistic students has been a learning process. "At first it was uninspiring," admits one teacher, Sohana. "But after we had training in Dhaka our attitudes changed. Now we take care of our students with motherly concern for them."
The school is widely appreciated in Saidpur. "I believe strongly that this school will go a long way towards bringing our autistic children into mainstream society," says Saidpur Mayor Amzad Hossain Sarker.
"We will cooperate in any way possible with the Unique Gift Foundation," says Rokonul Islam, the local deputy director of the social welfare department. "All they have to do is ask."
"The school was founded out of a sense of social obligation," explains Touhida, the founder. "We plan to set up a bigger complex for autistic children in the longer term, on nine bighas of land with a park, hospital and other facilities."