A war for oil #11: The rise and fall of Blair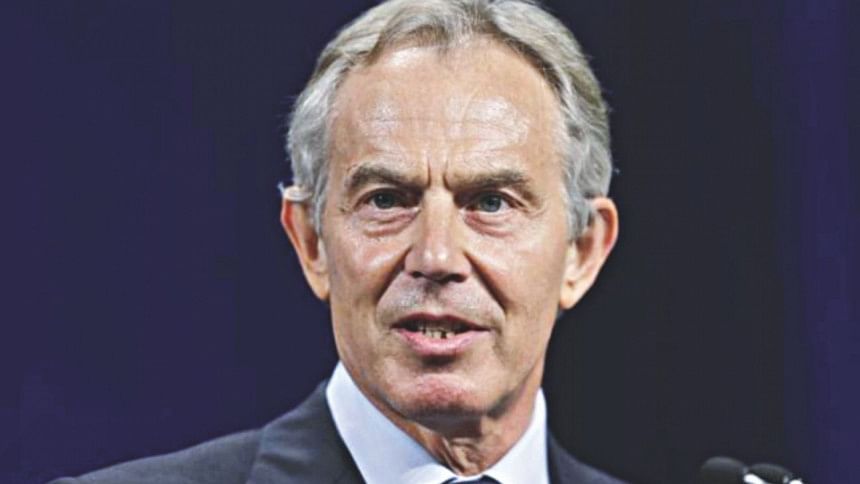 Tony Blair's rise to power was meteoric. With his "New Labour, New Britain" slogan he snatched the biggest victory for his party since 1900.  But the Iraq War chapter brought him disgrace even faster as it became apparent that his claims of Saddam's WMD were lies. Finally, Blair had to resign.
Labour's 1997 win was the Party's biggest ever since its establishment in 1900. But it was even more significant because the party was out of power for 18 years after Labour's James Callaghan was ousted by Margaret Thatcher in 1979.
Labour was lost in the quagmire of Trotskyism with its party manifesto and leaders more inclined to militant socialism. The party was yet to know how to identify itself with the young Britons' thoughts. The following three elections Labour also lost miserably to the Conservatives.
Then came along two young men, two friends in fact, – Tony Blair and Gordon Brown – who took the helm of the party and started modernising it.
They together dropped the communist sounding words "common ownership of the means of production" from the party's constitution. They made the party look modern and pro-capitalist.
Blair, the more charismatic of the two with excellent oratory skill, was projected by the Labour as its next candidate. He was, after all, their best bet after losing four consecutive elections. A fifth time would be an existential crisis for it.
Tony Blair, with his campaign "New Labour, New Britain", drew attention around the UK. Britain's economic torpor under Thatcher and John Major made his job even easier. Finally, his efforts paid off as Labour won the biggest electoral victory in its history in the 1997 elections. Brown's economic policies buoyed economic growth and the job market.  UK's health care system was revamped.
With Labour firmly back in the lead in opinion polls, it won again in the next 2001 election with the second biggest margin.
Internationally, Blair became an important leader as well, not only because of Britain's economic comeback, but also for his charisma and forward-looking vision.  He led Britain to a leading position in the European Union.
After the World Trade Centre attack in 2001, Blair took it as his mission to remove Saddam Hussein from Iraq, not through any negotiation but by force.
He used the spectre of Weapons of Mass Destruction of Saddam and drew up the plans of attacking Iraq. He found his natural ally in the US president George Bush. He became so sycophantic to the US president that he earned the nickname of "poodle" and "lap-dog."
He made his case against Saddam and Iraq violating international laws on a doctored dossier called "The 45-minute from doom" that falsely said Saddam had the capability to launch WMD attack within 45 minutes of an order.
The world was still in the dark about Blair's claims.  The media, if it at all had any doubt about WMD, had no time or willingness to seriously corroborate the claims independently. On the other side of the pond, New York Times reporter Judith Miller filed story after story about Iraq's WMD that were used by the Bush administration officials to justify their pro war position. Miller's reports were later found to be based on unreliable sources. As The New York Times itself mildly put it, her reports were "inaccurate". But the wind of war had started to blow and the world swayed with the wind.
Soon after the war was over, doubts began to emerge on the WMD claims as meticulous searches failed to unearth any proof of the dreaded weapons. And finally, the worst fear came true – there was no such thing as Iraqi WMD.
Right from that moment, Blair's already waning credibility took a sharp nosedive. The House of Commons was sharply divided over the invasion. As Blair took parliamentary vetting to go to war, 83 MPs of his own party had voted against him.
UK foreign secretary Robin Cook had resigned just a few days before the Iraq invasion to protest Blair's Iraq policy and said "...history will be astonished at the diplomatic miscalculations."
International development secretary Claire Short became critical of Blair, saying he had not told the truth about Iraq.
Although Blair had another win in the next election in 2005, Labour's seats dropped drastically from the previous 419 and 413 to 356. In parliamentary and municipal elections, Labour took a beating in Scotland and Wales, a debacle, analysts attributed to Blair's Iraq adventure.
Before that, MPs from Scotland and Wales started a campaign in 2004 to impeach Blair for "misleading parliament and country over Iraq, negligence and incompetence over WMD, undermining the constitution and entering into a secret agreement with Bush."  In UK's parliamentary history, such impeachment power exercised for "high crimes and misdemeanor" was used last time in 1848 against Foreign Secretary Palmerston, who was accused of concluding a secret treaty with Russia.
Politics for Blair became tough as he lost trust of his cabinet members too. A poll reflected that more than half the Britons considered him dishonest. In summer of 2006, junior ministers and MPs wrote to Downing Street demanding his resignation. There were more desertions from the cabinet as a junior minister and seven other low-ranking members of the government, some of them Blair's best backers, resigned. They said Blair's holding on to office does not serve either the party or the country.
His one-time friend Gordon Brown also wanted him to quit and finally Blair announced his early resignation, ending his long charismatic career.
"The fundamental cause of his demise is the Iraq war", Time wrote after his resignation announcement. While Americans seemed to forgive George Bush, the revelation that there were no weapons of mass destruction in Iraq, despite his promises to the contrary, Blair's authority never recovered."
The fall-out events of the Iraq war have now left the Arab world fragmented, caught in vicious sectarian wars with millions dead and wounded, many millions fleeing the flashpoints as refugees and a worldwide spate of Islamist attacks much of which is to avenge the roles that the UK and the US had and has taken in relation to the Arab world. Blair cannot but share the blame for all this.
Much later in 2017, an Iraqi ex-general appealed to the UK high court for trial of Blair for the "crime of aggression." But the case was thrown out because the UK does not recognise any such crimes.
On his part, Blair never ever gave any indication of a moment of remorse or repentance even after all the leaked and published documents proved his use of untruths for the sake of the war and he remained steadfast to his view that it was right of him to invade Iraq.
After the damning Chilcot report was published, Blair in a press conference in July 2016 said, "I did not mislead this country. I made the decision in good faith and I believe it is better we took that decision."
By this time, to many, Blair's image had transitioned from that of a hero to that of a war criminal. No less a person than South Africa's Archbishop Desmond Tutu had felt Blair should be tried for war crimes. In 2016, a petition was uploaded on the UK parliamentary website for the arrest of Blair for his role in the destruction of Iraq. Over 20,000 signed the petition in favour before it was removed.
In August 2015, Labour Party leader Jeremy Corbyn suggested that Blair should be tried for the "illegal" war. After the Chilcot report, Corbyn apologised to the Iraqi people on behalf of the Labour Party and said those responsible for the war should face the consequences.
The Chilcot report mentioned that the evidences and testimonies collected in the report may well lead to prosecution. However, the Rome Statute under which the International Criminal Court runs does not allow "aggression" to be grounds for trial.