A war for oil #5: Talking mass murder in cold blood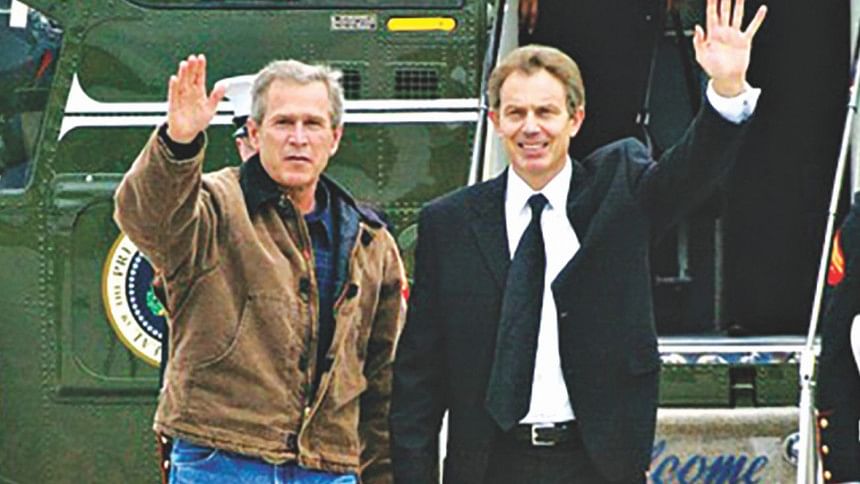 George Bush and Tony Blair found the perfect excuse to attack Saddam Hussein after the Twin Tower attack. Blair with his craftiness and oratory skill prepared the logic for Bush to invade Iraq. Much later, the Chilcot  Commission set up by the UK showed how the two leaders at the Texas ranch of the US president held secret talks for hours and 'signed in blood' the deal to get rid of Saddam.
It could have been just another glorious fall morning in New York City on September 11, 2001.
That Tuesday, up from the night's chill, was just getting warm. People were jogging, walking their dogs in the Central Park. Office rush had started. It promised to be a perfect day.
Then came the United Airlines flight 175 streaking out of the blue. The Boeing 767 hit the World Trade Centre, ripping through it and bursting into a ball of flame. It was 8:45am.
The world changed forever on that fateful day.
Some 1,100 miles away in Florida, at Emma Booker Elementary School, President George Bush was reading a children's book The Pet Goat to Second Graders at 9:10am.
White House Chief of Staff Andrew Card hesitated for a second at the classroom's door , then he walked inside and whispered into Bush's ears: "A second plane hit the second tower," he said. "America is under attack."
The shock was visible on Bush's face. When the first plane had hit the North Tower, White House had the idea it was a small aircraft that had accidentally hit the building. Now it was an attack.
Across the Atlantic, British prime minister Tony Blair was in a hotel room, scanning a speech he was supposed to deliver a little later. Suddenly his press secretary Alastair Campbell burst into his room, breathless and excited, and switched on the television.
Together they watched the live news and the replays of the events on the screen, the airliner going straight into the rock solid building, just like a needle in a tower of cake, surreal and chilling.
Hours later, as the day rolled into the day-after, Blair sent a mail to Bush calling for tough action.
In the first mail, Blair wrote: "What of (the terrorists') capacity to get hold of WMD? We know there are countries and individuals trading in WMD. We need a range of sanctions and pressures to stop this. Some of this will require action that some will balk at."
"But we are better to act now... than let the day be put off until some further, perhaps even worse catastrophe occurs. I believe this is a real possibility."
The Chilcot Report prepared by Lord John Chilcot, who investigated Britain's entry into the Iraq war, reveals 28 such memos between Bush and Blair, shows the dramatic progression of the plan to attack Iraq. The evidences also show, Blair, with his extraordinary convincing power, pushed Bush in many instances into attacking Iraq.
On 7 October, 2001, less than a month after the Twin Tower attack, America and Britain launched an invasion of Afghanistan codenamed Operation Enduring Freedom aimed at destroying al-Qaeda and taking out Osama Bin-laden.
A month since the Twin Tower attack and four days into the attack on Afghanistan, Blair asked Bush to focus on the Taliban and "deal with" Iraq later.
Blair explained why he thought Saddam should be struck out later: "No doubt we need to deal with Saddam. But if we hit Iraq now, we could lose the Arab world, Russia, probably half the EU... I am sure we can devise a strategy for Saddam deliverable at a later date."
It was a tense December as the British and American planes bombed Afghanistan. On December 3, 2001 Blair wanted to push the war forward.
 In a phone conversation on how the next phase might proceed, Blair first spelled out his mission: "It would be excellent to get rid of Saddam. There needed to be a clever strategy for doing this... An extremely clever plan would be required."
He and Bush displayed the cleverness in the following months as they lied to the world about Saddam's Weapons of Mass Destruction, manufactured fake evidence and then with their belligerent argument led their nations into war.
But before that on December 4, 2001, Blair sent Bush a paper titled The War on Terrorism: The Second Phase which said: "Iraq is a threat because it has WMD capability. We need to be clear that if an uprising occurs, we are willing to act militarily in support."
 However he concluded that most countries will be "reluctant" to back an invasion.
Sir John Chilcot's inquiry also reveals a Blair memo to Bush on July 28, 2002 that says: "I will be with you, whatever. But this is the moment to assess bluntly the difficulties."
"The planning on this and the strategy are the toughest yet. This is not Kosovo. This is not Afghanistan. This is not even the Gulf War. The military part of this is hazardous."
"We would support in any way we can...", Blair's weasel words set the tone for the next course of action to manufactured evidence for WMD because he had said the support has to be gotten "...in any way…." He was not sure of support from the Parliament, Party, public or even some of the Cabinet members.
BLAIR SETS TACTICS FOR BUSH
In the same July 28, 2002 memo Blair shows his craftiness in pushing Saddam to provide an excuse for the invasion. He said Saddam should be given tough deadlines to meet their demands.
 "It would be 'take it or leave it'. If he did say yes, we continue the build-up and we send teams over and the moment he obstructs, we say 'he's back to his games. That's it'," Blair planned the moment of invasion and that is how it exactly happened two years down the line.
"In any event he probably would screw it up and not meet the deadline. And if he came forward after the deadline we could just refuse to deal."
To win support for the war, Blair said they must "recapitulate all the WMD evidence, add his attempts to secure nuclear capability and -- as seems possible -- add on the al-Qaeda link."
Getting public support was still bugging Blair and on January 24, 2003, he wrote: "In the US/UK view the failure fully to co-operate is enough now (to invade) and technically we are right. But we won't carry other people. However if Blix carries on reporting non cooperation, makes increasing demands, and hardens his findings with each stage, I think we will carry people – even without the smoking gun – shortly".
Blix, Hans Blix, as Blair mentioned here, was a Swedish politician who was commissioned by the UN to inspect Iraq's nuclear programme although Blix admonished Saddam of delaying tactics into inspection, his final report, submitted immediately before the invasion in February 4, 2003, said he found no WMD but only a small number of empty chemical munitions.
Blix, in a 2004 statement said that "there were about 700 inspections, and in no case did we find weapons of mass destruction."
After watching what the US and UK have done to Iraq in the false pretext of Saddam having WMD, Blix in an interview with The Guardian said, "I have my detractors in Washington. There are bastards who spread things around, of course, who planted nasty things in the media."
But that was still to come. For now, Blair was busy with devising the war. He wrote to Bush: "On casualties in an invasion 'doing this in the context of international opposition would be very tough.' Britain and US 'would need the backing of the international community and preferably the UN to handle it' or we would 'get the blame for any fighting'."
By now it was clear that the UN will not support any invasion as Blix did not find any WMD.  Britain and America were not ready to waste more time.
So, on February 19, 2003, two weeks after the submission of the Blix report, Blair wrote: "People 'are not against conflict in all circumstances. What they fear is that we are hell bent on war, come what may --that we don't really want the UN to succeed. No-one is suggesting Saddam is co-operating fully. My faith in Blix is somewhat shaken, but he is key. We have to find a way of re-focusing the issue on the absence of full cooperation – and do so in a way that pulls public opinion and the UN Security Council waverers with us."
THE TEXAS RANCH LAUNCH PAD
But these exchanges were again full of pretenses as "smoking gun" emails disclosed by the US government shed new light on how the final commitment to invade Iraq was made during a leisure trip of Blair to Bush's ranch in Texas in 2002.
Bush's sprawling 1,600-acre Crawford ranch in Texas had hosted many world leaders, some of whom had visited it time and again.
But Blair's April 5-7, 2002 visit had special significance as it was there that the two leaders made the game plan for Iraq invasion.
There Bush and Blair held secret talks for hours and "signed in blood" their deal to get rid of Saddam, UK's former ambassador to the US Sir Christopher Meyer testified to the Chilcot inquiry team in 2009. Meyer had accompanied Blair to the ranch during his trip.
The "Smoking gun" emails disclosed by the US government in 2016 revealed for the first time details of the "deal in blood" forged by Bush and Blair. These memos titled "Secret... Memorandum for the President" were written by secretary of state Colin Powell for Bush just before Blair's visit and outlined the topics to be discussed during the British prime minister's stay. These agenda are the smoking gun to come to the conclusion that the two leaders had secretly plotted to wage the war against Iraq WMD or not.
The memos show how Blair pledged to use his excellent oratory power and "presentational skills" to divert the public mind off the real situation to make them believe in the presence of WMD in Iraq. In Powell's words, Blair "will present the strategic, tactical and public affairs lines."