42 migrants drown as boats sink off Greece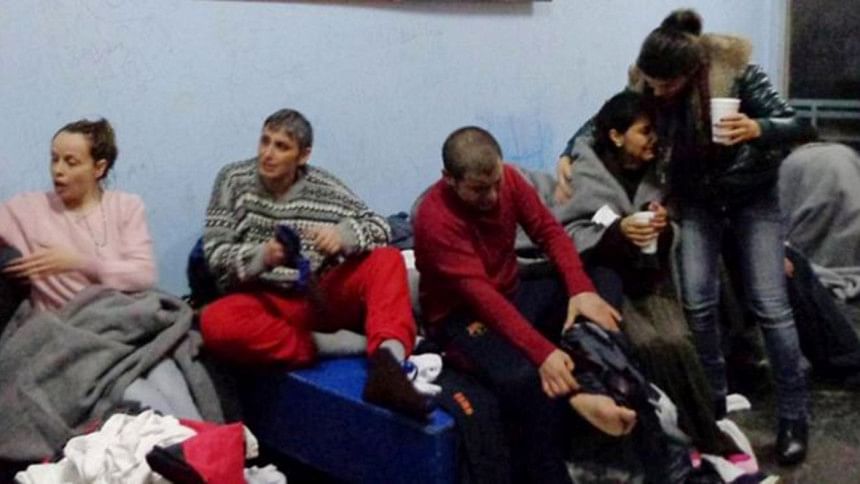 A total of 42 migrants are reported to have drowned overnight in two separate shipwrecks in the Aegean Sea.
One boat went down off the coast of the small Greek islet of Kalolimnos, killing 34 people, including 11 children.
Another eight people died after a boat sank off the island of Farmakonisi.
Over a million migrants arrived in Europe illegally last year. More than 700 died in the Aegean crossing from Turkey to Greece.
At least another 100 have died in the Aegean this year.
German Chancellor Angela Merkel is on Friday meeting Turkish Prime Minister Ahmet Davutoglu in Berlin to discuss the crisis.
On Thursday, French Prime Minister Manuel Valls warned that Europe's migration crisis was putting the European Union at grave risk.
Valls told the BBC that Europe could not take all the refugees fleeing wars in Iraq or Syria. If it did, he said, it could "destabilise our societies".
'Population shifts'
The Greek coastguard said it had rescued 26 people from the sinking of the wooden sailboat off Kalolimnos, but that it had recovered 34 bodies - 16 women, 11 children and seven men.
It was not known how many people were on the boat, but some estimates said up to 100, and a search is continuing for more survivors.
The boat off Farmakonisi was carrying 48 people. Forty made it to shore and one girl was rescued, but the bodies of six children and one woman were found.
BBC Europe correspondent Damian Grammaticas says the cold and the dangers do not appear to be deterring refugees from trying to reach Europe - more than 30,000 have made such crossings to Greece already this year.
Turkey is home to nearly three million refugees, most of them from Syria.
Many of them pay smugglers thousands of dollars to make the crossing to Greece. They then head north, trying to reach Germany and Scandinavia.
Where Europe is failing on migrants
The 28 member states have not agreed on an EU-wide mechanism for relocating migrants, meant to ease the burden on Greece and Italy. Only small groups have been relocated so far - and several states in Central and Eastern Europe refuse to accept migrants
The Schengen agreement on freedom of movement is in jeopardy - Hungary fenced off its borders with Serbia, Croatia and Slovenia; some other Schengen countries have re-imposed border controls: Germany, Austria, Denmark, Sweden, France and Belgium
The Dublin regulation is not working effectively. Countries are no longer sending back migrants to their first point of entry to the EU
Thousands of migrants - many of them Syrian war refugees - still arrive daily from Turkey
Processing of asylum applications is slow and there is a big backlog - so reception centres are overcrowded
Germany - the main destination for migrants - is rethinking its open-door policy, partly because of outrage over assaults on women in Cologne at New Year
Merkel is meeting Davutoglu amid mounting pressure to rethink Germany's open-door policy and impose caps on its refugee intake.
Valls appeared to suggest her current message was wrong in his interview with Lyse Doucet, the BBC's chief international correspondent.
Although he said Merkel "had courage", he added: "A message that says 'Come, you will be welcome' provokes major shifts" in population.
He added: "We know clearly that after the Cologne incidents that with the continuous flow, not only to Germany but the countries of Northern Europe, Austria, the Balkans are confronted with this influx, that's why we need to find practical solutions for our borders."
Valls was referring to attacks in the German city on New Year's Eve - largely attributed to foreigners - that have sparked 800 complaints, 520 of them relating to sexual crimes.
EU countries hope Turkey will help to control the flow of migrants.
Merkel has urged the EU to honour its pledge of €3bn euros ($3.3bn) to improve conditions for refugees living there.