JU to take steps for case withdrawal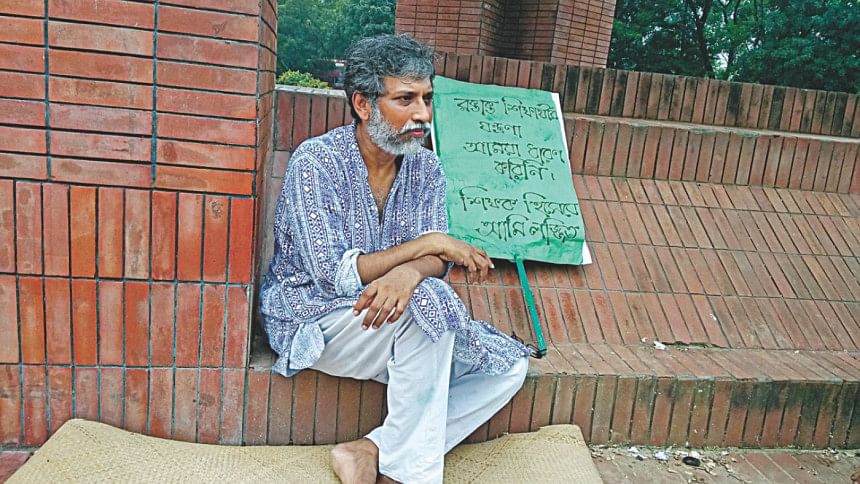 The authorities of Jahangirnagar University would take initiatives to solve the issue over the vandalism case filed against 56 students, said JU Public Relations Office last night.
It said this after the JU authorities held a meeting with the agitated students to discuss withdrawal of the case.
The students relaxed their programme of laying siege to JU administrative building around 12:00noon yesterday after the JU administration proposed holding a meeting over the issue.
Meanwhile, a teacher of anthropology at  JU  staged a sit-in on the university's Central Shaheed Minar premises yesterday, demanding withdrawal of the case.
Two other teachers -- Prof Naseem Akhter Hossain of government and politics and Prof Shamima Sultana of Bangla -- expressed solidarity with anthropology teacher Prof Sayeed Ferdous, who began the sit-in around 12:00noon.
On July 17, four agitating students ended their hunger strike after the university authorities assured them of withdrawing the case filed by JU Registrar Abu Bakr Siddique.
On May 26, two JU students were killed as a bus hit a human hauler carrying them on Dhaka-Aricha highway in Savar's C&B bus stand area.
Agitating students then blocked the highway, demanding speed breakers there. But police fired rubber bullets and teargas canisters to disperse them. At least 10 people, including students, a JU official and two journalists, were injured.
Later, they besieged the VC's house. During the demonstration, 42 JU students were held and later shown arrested in the vandalism case.