A tale of a 'relief market'
Much to locals' delight, Rohingyas selling relief goods at bargain prices to meet other necessities
A few yards from his shanty, Naser sits with some fine rice, oil, lentil, several toiletries, utensils and even some over-the-counter medicines. The everyday essentials given to Rohingya refugees by some international donor agencies are in good quality.
But the 30-year-old Rohingya man wants to sell the relief goods and use the money to buy coarse rice, vegetable and spices.
Many refugees sell their relief goods at unofficial markets near the Rohingya settlements in Ukhia upazila of Cox's Bazar to buy other necessities.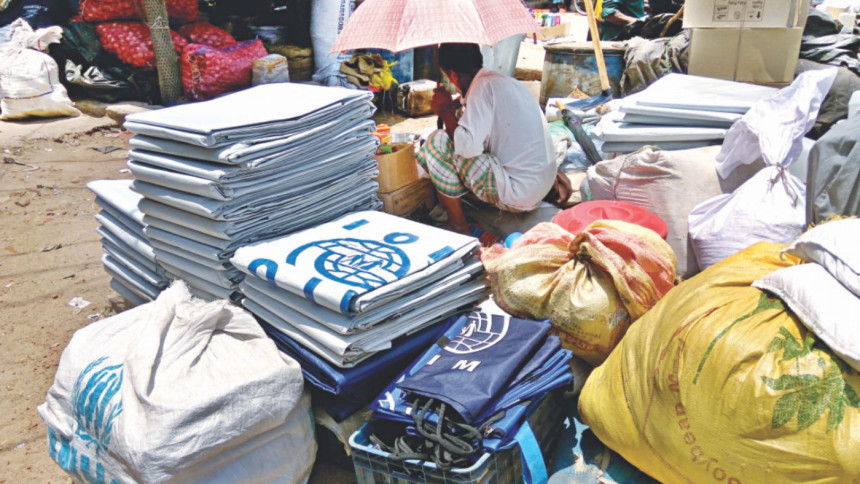 "We get rice and lentil from aid workers, but who will give us money to purchase vegetables and spice? We sell these to meet our other needs," Naser told The Daily Star during a recent visit to the Rohingya camps in the district.
The prices offered by the refugees are much lower than the prices in local markets. For example, they sell a litre of Soybean oil for about only Tk 50.
As the refugees are living in restricted places and have no cash, they have no other choice but to sell the relief goods and use the money to bring diversity in their meals, he added.
Over 700,000 Rohingyas had fled Myanmar and came to Bangladesh since the state launched a brutal crackdown on them in August, last year. The UN has described the crackdown as a "textbook example of ethnic cleansing".
Noor Mohammad, another refugee, told this correspondent that he had been a fisherman all his life.
He used to fish in the sea when he was in Myanmar. Naturally, he has always had fish on his daily menu.
But the man, aged over 40, said he had not eaten a fish since he had fled his motherland last year.
"I have forgotten the taste of fish," said Noor.
In Ukhia, Kutupalong, Balukhali and Court Bazar areas Rohingyas are often seen standing beside the road selling relief goods.
The goods are mostly bought by Bangladeshi traders, who set up shop every afternoon on an empty field behind the main market of Court Bazar in the upazila.
On the field every afternoon, things like big blue buckets, white water containers, orange and red bins, cooking oil, steel plates, colourful blankets, and packs of child food bearing the logo of UNFPA, IOM, UKAID, WFP or UNHCR lie on the ground before the vendors.
"I used to sell vegetable in a local market, but for the last few months, I have been selling these relief items. I buy these from Rohingyas and sell them here making a small profit," said Morshed Mia, a Bangladeshi trader.
Local officials say they are aware of the matter.
"I've already received information regarding this issue and have sent my officers to verify…. but they could not find anything," said Kamal Hossain, deputy commissioner of Cox's Bazar.
Selling relief materials is illegal, he added.