Hasina, Kishida for resolving Rohingya crisis to ensure regional stability
Bangladesh PM expressed her appreciation for Japan's support for displaced persons thus far, including its humanitarian assistance as the first country to do so for those resettled in Bhasan Char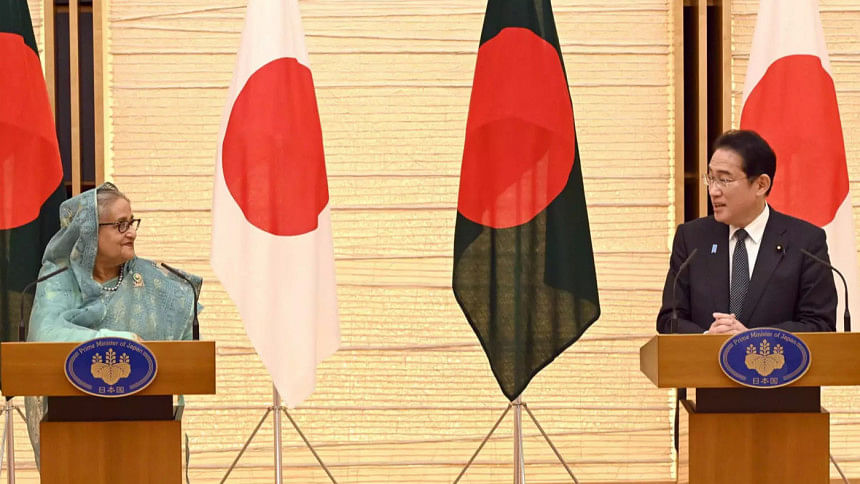 Prime Minister Sheikh Hasina and her Japanese counterpart Kishida Fumio have shared the view that protracted displacement of the Rohingyas will lead to increased burden on the host communities and "instability in the region".
They laid emphasis on realising a "sustainable, safe, voluntary, and dignified" repatriation of the displaced persons to Myanmar as an ultimate solution to this crisis for peace and stability across the region.
Hasina stressed on the need for measures to be taken by the Myanmar authorities to create an environment conducive for the early return of the displaced population, including through addressing the root causes behind displacement, according to the joint statement.
She expressed her appreciation for Japan's support for the displaced persons thus far, including its humanitarian assistance as the first country to do so for those resettled in Bhasan Char.
Kishida reiterated Japan's continuous support for them and announced the decision about additional support for the host communities and the displaced persons, including those in Bhasan Char, on top of approximately 2.3 billion yen through international organisations in February and March 2023 and the previous support worth approximately $190 million.
The two prime ministers stressed on the importance of providing appropriate assistance such as education and skills training for Rohingyas' self-reliant lives after their repatriation.
The Japanese PM expressed his intention to provide educational opportunities in Japan for students who were displaced from Myanmar to Bangladesh and deprived of schooling opportunities.
Both prime ministers expressed concerns over the situation in Myanmar and called for an end to violence and armed conflicts, the release of those who are detained and the upholding of a democratic process.
They reaffirmed their support for Asean efforts to seek a solution in Myanmar, and appreciated the organisation's chair's active engagement in this regard.
They called on the Myanmar authorities to urgently implement Asean's five-point consensus. They were also deeply concerned that the neighbouring countries, including Bangladesh, are facing spillover effects arising from the situation in Myanmar and demanded responsible acts by the Myanmar authorities.
Kishida commended Bangladesh for temporarily sheltering the forcibly displaced persons from Rakhine State in Myanmar and extending continued humanitarian assistance to them under the leadership of Hasina.
At the invitation of Japanese Prime Minister Kishida Fumio, Sheikh Hasina is currently on an official visit to Japan and had a summit meeting on April 26.