SC lawyer sued under section 57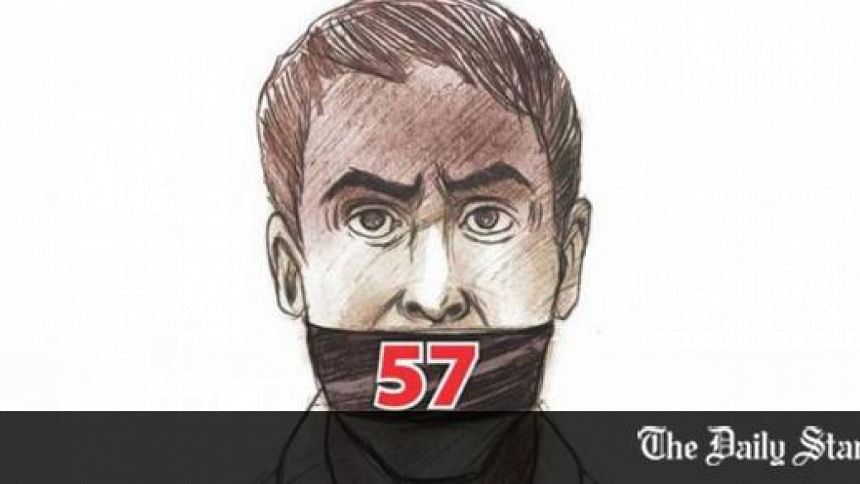 A Supreme Court lawyer has been sued under section 57 of the Information Communication and Technology (ICT) Act over Facebook posts.
The case was filed amid growing demands for repeal of the section for its alleged misuse.
One Shafiqul Islam filed the case against Imtiaz Mahmood with Khagrachhari Sadar Police Station on Friday in connection with hurting his sentiments and inciting communal violence in the Chittagong Hill Tracts.
Police have already started an investigation and would take the next step if the probe finds evidence in favour of the allegation, Tareq Mohammad Abul Hannan, officer-in-charge of Khagrachhari Sadar police, told The Daily Star yesterday.
Citing the first information report (FIR), the OC added that Shafiqul had accused Imtiaz of making several posts on July 1-10 regarding some false incidents in the CHT region.
The plaintiff alleged that Imtiaz had tried to instigate communal violence in the CHT through those posts, the OC said.
Asked about Shafiqul, the OC said he was from Dighinala upazila and currently living in Khagrachhari town. "As he came to file the case, we recorded it and started the investigation. If the allegation is true, we will press charges against the accused."
Shafiqul Islam, a trader, said he has no affiliation with any national political parties or local organisations. "I have filed the case as his posts hurt me," he said.
Imtiaz told this newspaper that he did not get the copy of the FIR and did not know any details of the allegations made against him.
On the law, he added, "As per my opinion, section 57 is unconstitutional. But as the act is still there, I have to face it [the case] legally."
Rights activists and journalists have been demanding repeal of section 57 saying it contains vague wordings, allowing its misuse against newspersons and social media users.
They said the section goes against the people's right to freedom of expression and free speech. It also has been used as a tool to muzzle the press and freedom of expression, they added.
Amid widespread criticism, Law Minister Anisul Huq on several occasions said section 57 would be removed. The minister on July 9 said the government would make a decision about it while finalising the draft of "Digital Security Act" next month.
But cases filed under the section are on the rise.
According to a source at the Cyber Tribunal in Dhaka, around 700 cases have so far been filed under section 57 since 2013 when the act was amended with stringent punishment.
Twenty-three journalists were sued under the section since March 1 and most of them were sued for their reports.