Save topsoil
Experts urge govt; say alternatives of conventional bricks must be used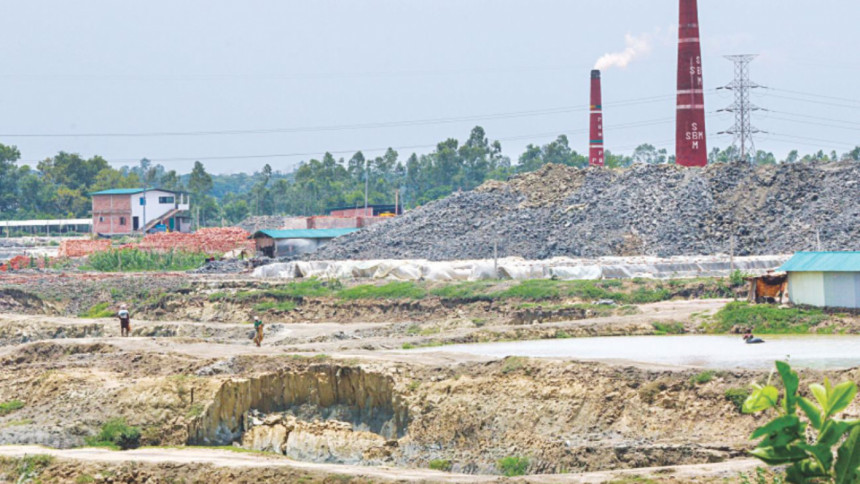 To protect topsoil and the environment, the government must immediately spearhead a campaign for using alternatives of conventional bricks, said experts at a seminar in the capital yesterday.
"… Switching to alternatives like compressed, hollow, and thermal blocks is critical for ensuring food security and conservation of the environment," said Mohammad Shamim Akhtar, director of Housing and Building Research Institute (HBRI), at a seminar on how to popularise alternative bricks.
Instead of destroying the fertile topsoil, abundantly available river-dredged soil could be a primary raw material for manufacturing alternative building blocks, he said.
These are not only environment-friendly but a structure made of them is 20 to 30 percent less expensive compared to a reinforced concrete structure, he said.
Chief guest of the seminar Housing and Public Works Minister Mosharraf Hossain said the government was going to ensure that there was no conventional brickkilns by 2020 with a view to conserve topsoil and forests, and to encourage the use of alternative building blocks.
He said the government has incorporated the provision for use of alternative materials in the Bangladesh National Building Code and it was a government decision that alternatives would be used in all public constructions.
Seven organisations -- Buet, HBRI, Oxfam Bangladesh, Bangladesh Environmental Lawyers Association (Bela), Green Architecture Cell of Buet, The Structural Engineers Ltd, and Jagoroni Chakra Foundation -- jointly organised the seminar on Buet campus.
 Bela Chief Executive Syeda Rizwana Hasan said as per official records, there were around 7,000 conventional brickkilns across the country, which were not only responsible for the destruction of topsoil but also the highest emitter of greenhouse gases.
There are 2,441 conventional brickkilns in and around Dhaka city and they contribute 58 percent of the city's air pollution, she said.
Speaking for uniformity, she said there were some legal provisions that go against a January 2018 directive from the Prime Minister's Office and the seventh five-year plan.     
Ashikur Rahman Joarder, coordinator of Green Architecture Cell, said energy efficiency of a building depended on the kind of materials used and among other factors, popularity of alternative bricks depended on publicising its aesthetic beauty and durability.
Programme Director MB Akhter of Oxfam in Bangladesh said massive public awareness and training of construction professionals were vital for making alternative bricks a success.   
  Noted civil engineering educator and national professor Jamilur Reza Choudhury, who chaired the seminar, said the use of alternative bricks was vital for promoting sustainable building and to help achieve the Sustainable Development Goals.