PRECIOUS TOPSOIL burnt for bricks
Farmers forced to sell it to kiln owners, resulting in loss of agricultural productivity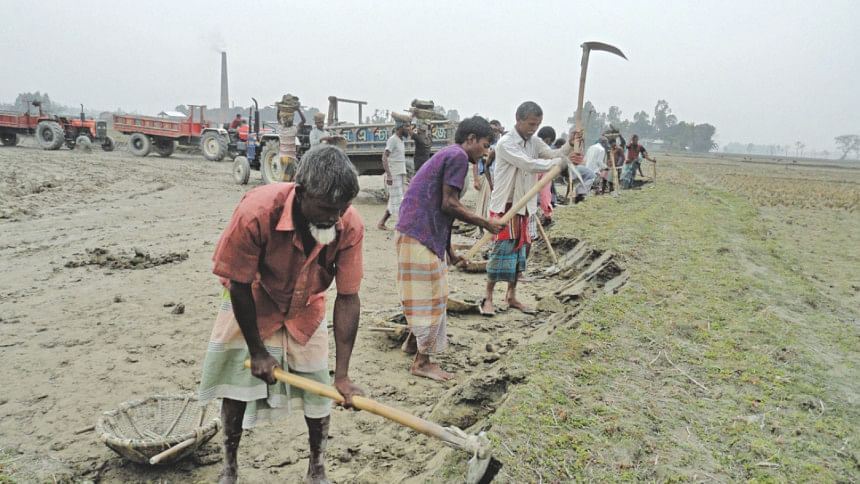 At least 500 bighas of prime farmland loses productivity in five upazilas of Lalmonirhat every year, as their topsoil is sold to feed around 40 local brick kilns.
Local farmers have alleged that they are often pressed to sell valuable topsoil.
"I was forced to sell topsoil of three bighas to a local kiln owner. Many others suffered a similar fate," said Kandura Mia, a farmer of Madaner Chak village in Lalmonirhat.
Brick kiln owners collect up to 18 inches of topsoil through forced sale, alleged farmer Ishaque Ali of the same village.
"We get around Tk 5,000 per bigha for the soil. It would take up to four years before the field can again have its normal crop yield."
But a farmer can grow up to three crops a year and can make much more money than what he gets from the sale of topsoil of each bigha of land, said Ishaque.
This is happening not only in Lalmonirhat, but also in many other parts of the country. Most of around 7,000 brick kilns across the country use topsoil to make bricks.
"Topsoil is the portion of soil that can be turned over by a ploughshare. Generally, top soil contains all the nutrients and organic materials plants or crops need to grow," said Khandaker Moyeenuddin, director of Soil Research Development Institute.
If topsoil is removed from a land, it would not grow any crop until the regeneration of topsoil there, he said.
A cropland loses its fertility even if only top six inches of soil is removed. Brick kiln owners are taking away 18 inches or more of soil from croplands, he said.
"Naturally, it may take up to 20 years for regeneration of topsoil, depending on the location of the land. The recovery of topsoil could be quickened by sedimentation process if it is a floodplain," he noted.
Talking to The Daily Star, Mamunur Rashid, agriculture and environment coordinator of non-governmental organisation RDRS Bangladesh, said farmers cannot expect optimum crop production without topsoil.
Brick kiln owners in Lalmonirhat said topsoil from about 20 bighas is needed to manufacture around 12 lakh bricks. Each kiln makes between 15 and 30 lakh bricks a year.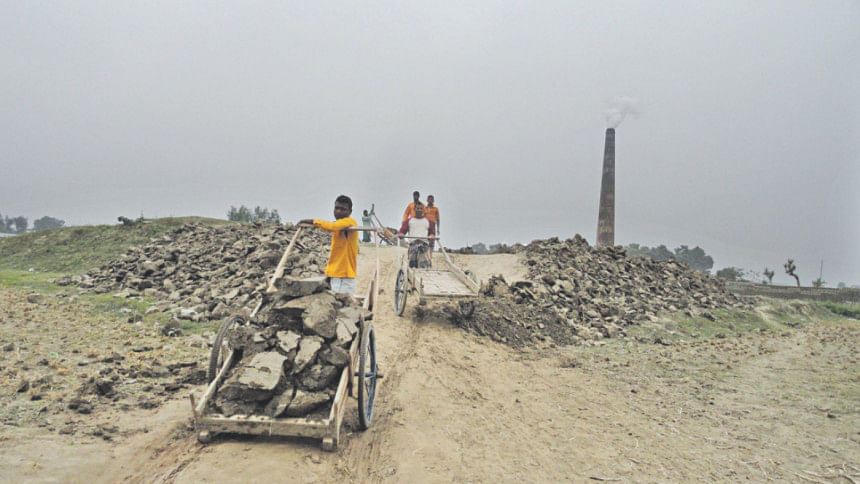 It is not possible to make bricks without topsoil, Sirajul Islam, owner of a brick kiln in Kaliganj upazila, told this newspaper.
The removal of topsoil has other implications as well.
For farmer Sohrab Hosaain of Saptana village, the kilns adversely affected irrigation of his land.
"The level of land adjacent to the kilns went down after its owners sold their topsoil. Now we can't hold irrigation water on our land. We are also under pressure from the kiln owners to sell topsoil."
Once brick kiln owners take topsoil from somebody's land, the owners of adjacent plots have no choice but to sell theirs, he added.
Sirajul, however, refuted the claims that farmers were forced to sell topsoil. "They sell it willingly," he said.
Seeking anonymity, some agriculture department officials said they were aware of the problem, but could not save farmland because the kiln owners are very influential.
Enamul Haque, agricultural officer of Lalmonirhat Sadar upazila, said it is essential to protect topsoil of farmlands from kiln owners for achieving the crop production goals.
Harun-ur Rashid Khan, professor of soil science at Dhaka University, said brick kilns are using topsoil not only in Lalmonirhat but also in many other areas of the country.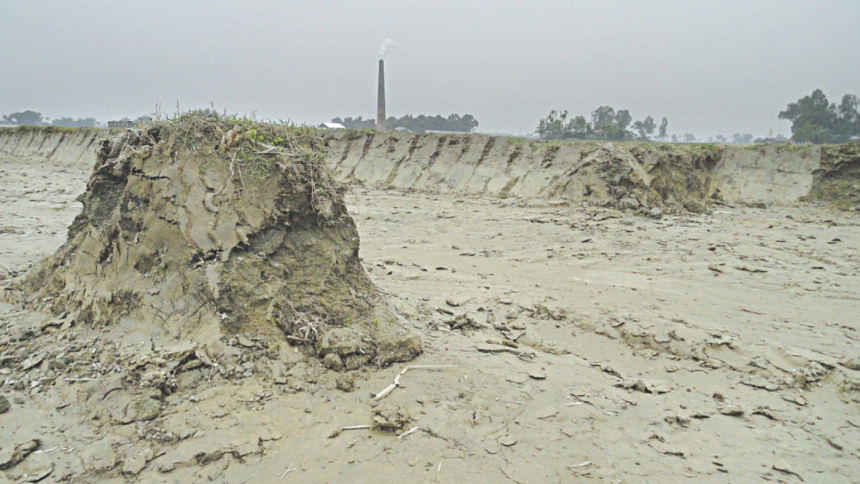 According to a source at the Department of Environment, around 1,500 crore bricks are manufactured every year at 6,900 brick kilns in the country.
At a recent seminar in the capital, Md Abu Sadeq, director of Housing and Building Research Institute, said, it takes around 127 core cubic feet of soil to manufacture 1,500 crore bricks.
Syeda Rizwana Hasan, chief executive of Bangladesh Environmental Lawyers Association, told The Daily Star that the Brick Burning Control Act, 1989 (revised in 2013) prohibits the use of soil of any agricultural land where two crops are grown a year.
This means brick kiln owners may use topsoil of land yielding a single crop.
Brick kilns are destroying fertile agricultural land in different parts of the country and there is no government mechanism to monitor it, said the green activist. 
In India, collecting topsoil from agricultural land is prohibited. "They control the use of soil, not brick kilns. Our government should also take a similar approach to this issue," she added.