Sacrificial Animals for Eid-ul-Azha: Cattle supply 'adequate'
Concern over transportation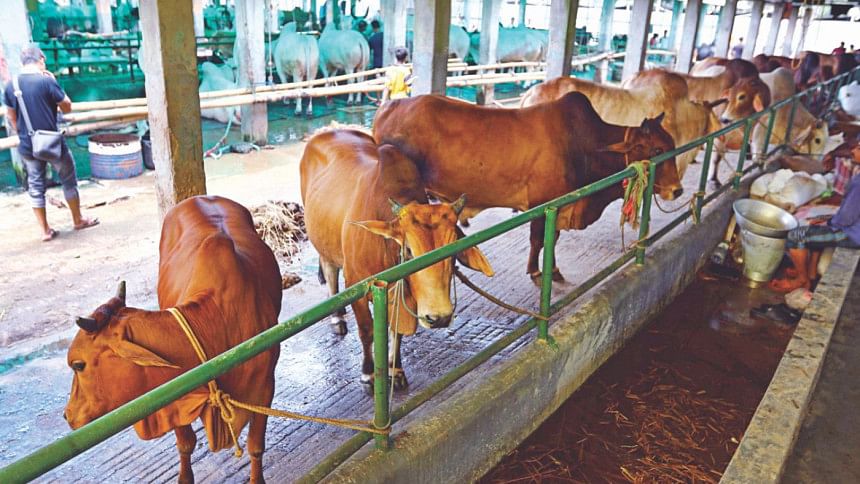 Supply of cattle is more than adequate to meet the Eid demand, but traders worry about transporting them to the capital and other big cities on time as many highways are in bad shape following the devastating flood.
Some 1.15 crore cattle, including 44.57 lakh bulls and buffaloes, are available domestically for sacrificing this year, up one percent from last year, according to the Department of Livestock Services (DLS).
Apart from this, nearly two lakh cattle have been brought in by traders from India and Myanmar in the last two months, which is 20 percent of the entire year's inflow, show data from the National Board of Revenue (NBR).
DLS Director General Ainul Haque said, "We have supply higher than the demand for this Eid."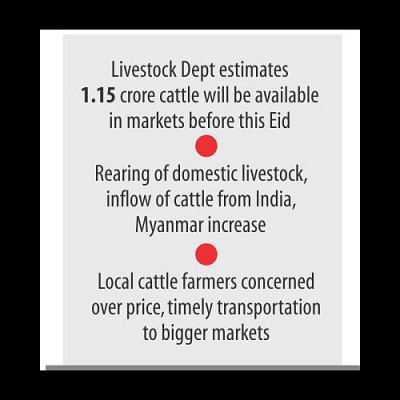 The DLS estimates that the demand for animals would rise 5 percent from last year to 1.10 crore in the ensuing Eid, which typically accounts for half of the total animals slaughtered in a year.
Cattle traders opined the same, and some said the inflow of animals through borders would continue until the day before Eid, raising local farmers' concern of losses. 
Between 2,000 and 4,000 cattle are smuggled through the borders daily, said a couple of traders at the Gabtoli cattle market, one of the largest markets for animals. Supply may rise further as many flood-affected farmers are bringing in calves to sell as they are unable to arrange shelters for the animals or give them fodder, said traders and farmers.
Yet, damaged roads and congestion might hinder smooth transport of cattle and create supply-demand gap.
To avoid traffic, a section of traders have started using waterways to transport cattle.
"It appears that roads damaged by the floods and congestion on the highways due to Eid rush will affect transport of cattle to haats of cities from districts, particularly those in the north," said Mojibur Rahman, former general secretary of Gabtoli Cattle Market Association.
"There is enough stock of cattle. But the question is whether that can be brought to the markets timely," he said, adding, "We do not have enough boats to transport the animals."
Despite the prospect of adequate supply, Malek Bepary, a cattle trader from Kushtia, said the prices of large bulls were between Tk 20,000 and Tk 30,000 more than that of last year. "It will come down drastically when Eid is nearer due to the huge supply of sacrificial animals."
FARMERS WORRIED
Three to four thousand Indian cattle are coming into the country every day. This would have a huge impact on the local market as local production was also high, said Shariful Islam, a cattle trader who brought 18 bulls and 16 buffaloes to Gabtoli a few days ago.
Borhan Uddin, who also brought bulls to sell in the market, on Wednesday said, "As I did not rear any bulls, I purchased six of them to make some money. But I am now worried about the huge supply to the market."
Towards the end of last month, Bangladesh Dairy Farmers' Association (BDFA) urged the government to stop the cattle entering Bangladesh from the neighbouring countries, saying locally reared cattle could meet the Eid demand.
Malik Mohammad Omar, vice-president of BDFA, said many people reared cattle, particularly bulls, eying the Eid festival. The DLS estimated that 33.42 lakh bulls and buffaloes were being raised this year, up marginally from 33 lakh of last year's. 
He said a section of the flood-affected farmers might be forced to sell their cattle. "Prices of cattle are unlikely to shoot up. Rather, many farmers might not get fair prices for their animals because of over supply."
Robiul Alam, secretary general of Bangladesh Meat Merchant Association, said some 7,00,000 more cattle would be slaughtered this Eid than in the last Eid, when 50-55 lakh animals were sacrificed.
"It is likely that potential candidates for the next parliamentary election will sacrifice more cattle in their constituencies to gain popularity," he said, adding that it would not affect prices.
About 9.35 lakh cattle were brought in from India and Myanmar in the 2016-17 fiscal year. The figure was about 10 lakh the previous year, according to data from NBR field offices.
Some 1.2 lakh has already been brought in from India and Myanmar since June 30.
However, Robiul claimed that the number should be around 2 lakh as many cattle were brought in below the radar of the NBR. He predicted that a large number of Indian cattle would be brought in ahead of the festival.
Before a crackdown by Indian authorities, smuggled Indian cattle accounted for a large portion of the supply. In fiscal year 2013-14, about 21 lakh cattle were smuggled in, according to NBR data.
MARKET NOT ABUZZ
Cattle traders said the number wholesalers, who usually go to Gabtoli to buy animals before Eid and sell them in smaller cattle markets, was very poor.
Frustrated by this, many traders did not ship cattle to Gabtoli.
Mohammad Farid, a goat trader, said the sale of goats was low this year. Usually, wholesalers purchase goats from the market during this time but the number of those customers was poor this year, he said.
EXPENSIVE ONES
Riazul Fakir, a cattle trader who reared a bull for three years in Ishwardi, was asking Tk 8 lakh for it at Gabtoli on Wednesday.
"We have spent at least Tk 5 lakh to purchase and rear the black bull named 'Tiger'," said Riazul, who also brought another bull and the asking price of that was Tk 3.5 lakh.
No camels were seen in Gabtoli but a trader brought a Dumba a few days ago and was asking Tk 2.8 lakh for it.
The owner of the Dumba said there were 19 Butti oxen, a variety of cattle from Bhutan, in their shed and they were asking between Tk 45,000 and Tk 80,000 for each.
The two city corporations of Dhaka are going to set up 22 makeshift cattle markets in the city. Among them, 13 would be set up in Dhaka south and nine in Dhaka north.