Road crashes claim 41 lives in 4 days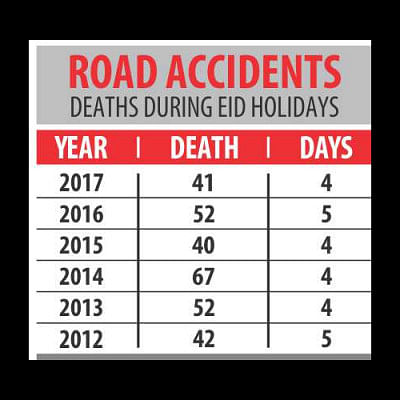 At least 41 people were killed and dozens injured in road accidents in different districts in last four days, including Eid holidays from Sunday to Tuesday.
Of them, six were killed in Chittagong, four in Bandarban, three in Khagrachhari, three in Sirajganj, two each in Mymensingh and Gaibandha and 16 were killed while taking treatment at Dhaka Medical College Hospital, according to The Daily Star reports.
However, the number may be higher as many accidents, especially in regional highways and district roads, remained unreported with the authorities concerned. The number of casualties, as reported by The Daily Star, was 52 in five days during Eid festival last year.
Cricketer Abdur Razzak and his family members have meanwhile suffered injuries in a car accident in Gopalganj. Razzak is "out of danger" after receiving preliminary treatment for the injuries he suffered on Tuesday, family sources said.
With vehicular movement gaining momentum during the Eid rush, road crashes have become a common phenomenon. Reckless driving, unfit vehicles, unskilled drivers and lack of enforcement of laws are the main reasons for road accidents during Eid vacation, experts say.
In Chittagong, six people were killed in separate road accidents and related incidents.
Of them, three persons, including two siblings, were electrocuted in Patiya while pulling a CNG-run auto rickshaw from a canal.
The three were identified as Hossain Hannan, 20, his brother Abdul Mannan, 24, and driver Md Nur, 28. All of them hailed from Pekua of Cox's Bazar.
Police said their CNG fell on a roadside canal as the roadside soil became slippery in the rain around 12:30am. When they tried to pull the vehicle, they came in contact with a snapped electric cable, said Sub-Inspector Basu Dev of Patiya police. 
The three came from Cox's Bazar to buy a bull for the funeral of the brothers' father, who died a week ago, the police added.
Besides, three persons were killed and several others were injured in separate road accidents on June 26-28.
In Bandarban, four people including three children were killed and 10 others injured in a road accident in Lama on Monday.
The deceased were identified as Jahidul Islam, 10, Sarwar, 12, Asad, 13, of the district's Alikadam upazila, and Manzurul Alam, 42, of Chakoria upazila of Cox's Bazar, police said.
The accident took place as a Chander Gari, locally assembled motorised car, hit a tree after it had skidded off the road in Mirinja tourist area, said Officer-in-Charge (OC) of Lama police Md Anwar Hossain.
Doctors declared the children dead after they were rushed to Chakoria Health Complex, while Manzurul died on way to Chittagong Medical College Hospital (CMCH), said the OC. The injured were referred to CMCH.
All of them were visiting different tourist spots to celebrate the Eid-ul-Fitr, the police officer added.
In Khagrachhari, three persons including a child were killed and 10 others injured in a bus accident at Kalapani in Guimara upazila around 9:30am yesterday.
The dead are Tarequl Islam, 20, Ripon, 24 and Jannatul Ferdous, 4. All were residents of Guimara, police said. The injured were sent to Manikchhari Upazila Health Complex.
Safiqul Islam, OC of Guimara police, said the accident occurred as a Chittagong-bound bus hit a roadside tree after its driver had lost control over the wheel.
In Sirajganj, three motorcyclists were killed as Dhaka-bound Pabna Express hit their bike at Talgasi Bazar on Dhaka-Pabna Highway in Shahjadpur upazila yesterday.
The deceased were identified as Anwar Hossain, 30, Shariful Islam, 28, and Nurul Islam, 37, who hailed from Bolshabari village of Ullapara upazila, police said.
OC of Shahjadpur police Khaza Golam Kibria said the bus driver hit the motorcycle as he lost control over the steering when he was trying to overtake a truck.
The police seized the bus but could not arrest the driver, he added.
In Mymensingh, two people were killed in a road accident on Dhaka-Mymensingh Highway at Kazirshimla in Trishal upazila on Tuesday.
The deceased were identified as Abdul Sobhan, 65, and his granddaughter Sumi Akhter, 11, of Sakua village in Trishal.
Jakiur Rahman, OC of Trishal police, said the accident occurred around 10:00am when a pick-up van hit the duo while they were crossing the road, leaving them dead on the spot.
Outraged by the accident, locals put a barricade on the highway, disrupting traffic for about an hour, the police said. Several vehicles were also ransacked during the barricade.
Besides, five other people were killed in separate road accidents in Gaibandha, Dinajpur, Panchagarh and Thakurgaon.
In Dhaka, a Biman Bangladesh Airlines official was killed in the capital's Khilkhet on Airport Road yesterday morning after the driver of a microbus carrying him lost control and hit a road island.
The deceased was identified as Moinuddin Bhuiyan, 55, commercial officer of the national airlines.
A Biman press release says the driver lost control over the wheels when a rear wheel of the vehicle burst around 9:00am. He was going to join his duty in the airport area from Mirpur.
In Panchagarh, an elderly person was killed in a road accident on Panchagarh-Banglabandh Highway in Tentulia upazila on Wednesday afternoon.
The victim was Mokim Uddin, 60, son of Masir Uddin of Dimagachh village under the same upazila.
Besides, at least 16 people died in last four days while taking treatment at Dhaka Medical College Hospital after sustaining injuries on different dates and in different areas.
Most of the accident victims were from outside Dhaka, hospital sources said.