Hard to cross the Padma
Ferry service disruption causes tailbacks at Daulatdia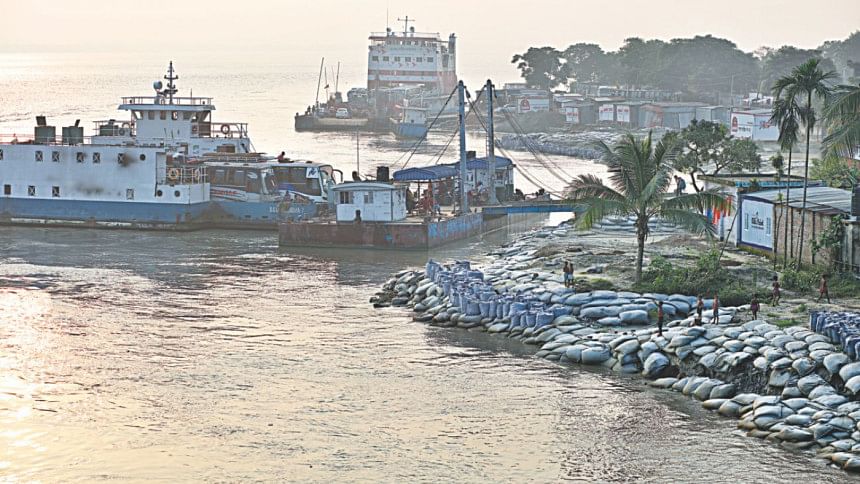 Thousands of passengers from 17 southwestern districts, who are returning to Dhaka after Eid-ul-Azha holidays, are suffering while crossing the Padma. Ferry service on Daulatdia-Paturia route is being hampered due to strong currents.
It takes around four to five hours to get on a ferry at Daulatdia ferry terminal in Rajbari's Goalanda, said passengers.
Over 500 vehicles, including buses and cars, were seen waiting for ferries yesterday morning, creating 5-6km tailbacks at Daulatdia.
Meanwhile, more than 400 vehicles were stuck on both sides of Shimulia-Kathalbari ferry route yesterday evening to cross the river as ferry service was disrupted due to poor navigability.
At Daulatdia ferry terminal, flow of vehicles began to increase yesterday morning as the ferries took twice the time required for each trip due to strong currents, said Shafiqul Islam, manager (commerce) at Daulatdia office of Bangladesh Inland Water Transport Corporation (BIWTC).
Seventeen out of 18 ferries, including eight Ro-Ro, three K-type and six utility ferries, were now operating, he added.
Another ferry from Mawa ghat joined the service yesterday, reports our Manikganj correspondent.
The ferries were often breaking down, said Shafiqul, adding that one to two of the 18 ferries had to be repaired in the floating workshop.
Ro-Ro Ferry Bhasha Shaheed Barkat was being repaired in the floating workshop at Paturia terminal, he added.
Shafiqul said two more ferries would be added to the service today.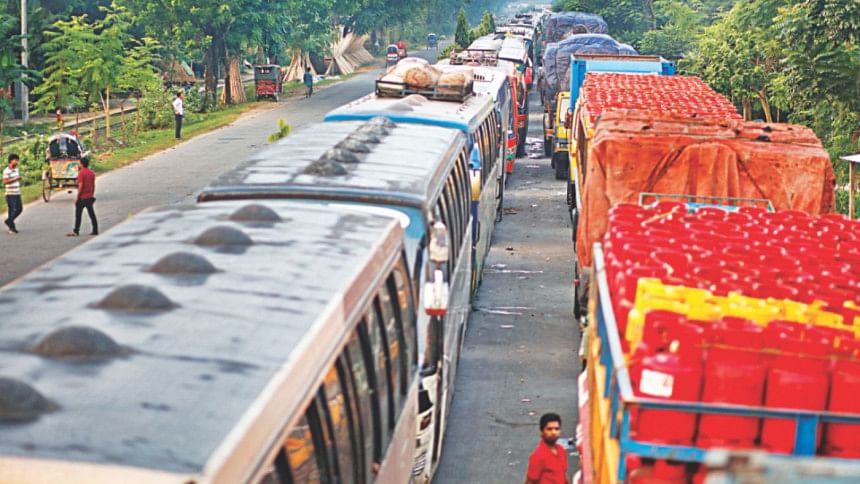 Naznin Chowdhury, a private organisation employee, who had been waiting at the Daulatdia ferry terminal for four hours since morning, said, "Every year, we have to go through the tailbacks at the same place. But the authorities concerned care little about it and do not take any measures timely."
In Munshiganj, ferry service between Shimulia and Kathalbari was disrupted due to poor navigability in the Padma, reports our correspondent there.
Of 21 ferries, four small ferries were operating on the route.
Two ferries Raipura and Jamuna, which were stranded in Louhajang channel Sunday night, with over 50 vehicles, were yet to be recovered as of 8:00pm yesterday.
Meanwhile, Bangladesh Inland Water Transport Authority (BIWTA) asked the heavy vehicles to use alternative route to cross the river.
Giasuddin Patwary, manager of BIWTC at Shimulia ghat, said the four small ferries -- Dhaka, Comilla, Kakoli and Korobi -- had been carrying cars and microbuses since yesterday morning.
Giasuddin said the ferry service on the route was hampered as water level of the Padma had been dropping since August 31.
Dredging work was going on to bring back normalcy on the route, he added.
The BIWTA said it might take a week to normalise the situation there.