Raj Punnah fest begins in hills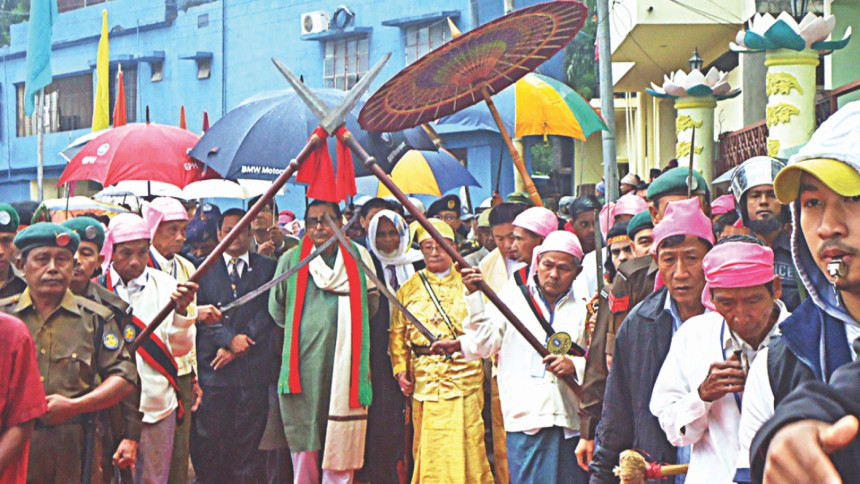 The celebration of Raj Punnah, a traditional festival of the Bohmong Circle, began in Bandarban yesterday.
Seventeenth Bohmong Circle King engineer U Chaw Prue inaugurated the three-day festival, ascending a makeshift throne at Puraton Rajar Math around 10:00am.
Civil Aviation and Tourism Minister Rashed Khan Menon was the chief guest at the inaugural programme.
Young indigenous boys and girls greeted the king, showering petals on him and performing traditional cultural programmes.
Raj Punnah is an annual jhum tax collection programme where the Bohmong Circle chief collects taxes from headmen (chief of a mouza) and karbaris (chief of a para).
Thousands of indigenous people from Marma, Chakma, Tangchangya, Tripura, Mro, Khumi, Pankhua, Lusai, Khiyang, Bawm and Chak communities of Rangamati, Bandarban and Khagrachhari thronged Rajbari compound in Bandarban town to celebrate the festival.
Thousands of tourists from home and abroad have also gathered in the district town to enjoy the festival. 
On the opening day, Bohmong Circle chief collects jhum tax and traditional gifts from the headmen of 109 mouzas and around 1,000 karbaris of the district.
Hill people, mostly jhum farmers, give annual jhum tax to their respective headmen and karbaris who formally hand over the money to the king.
Each of the headmen and the karbaris bring a bottle of wine, cocks, goats, and pigs as gift for the king on the day.
A three-day fair also began at Rajar Math on the occasion of Raj Punnah.
Indigenous people will put their traditional food items on display and stage colourful cultural programmes at the fair.
In his speech, Rashed Khan Menon said peace would not be established in the hills till the land dispute is resolved there.
"Despite repeated consensus over the issue [of settling the land dispute], the dillydallying tactic of the government in bringing an amendment to the CHT Land Dispute Resolution Commission Act is a manifestation of its lack of political will and sincerity in solving the CHT crisis," he added.
Bir Bahadur Ushwe Sing, state minister for CHT affairs ministry, and Kwe Shwe Hla, chairman of Bandarban Hill District Council, among others, were present at the inauguration function. 
The century-old traditional festival began its journey in 1875 in Bandarban, according to sources.