Missing BNP leaderarrested by Rab
Confirms Rab official, says he was held for plotting subversive activities; family alleges Rab men take away his passport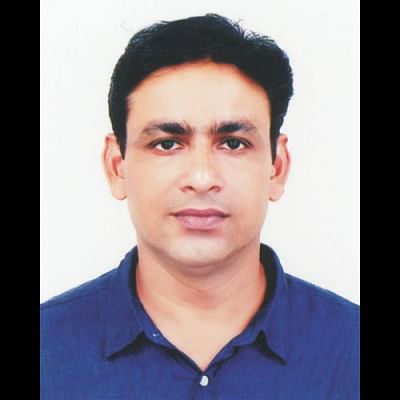 Rab yesterday confirmed that it arrested BNP leader Anisur Rahman Talukder Khokon over allegations of plotting subversive activities around 20 hours after he went missing in the capital's Gulistan area.
"We have arrested him [Khokon] on information that he was involved in plotting subversive activities," Lt Col Emranul Hasan, commanding officer (CO) of Rab-3, told this newspaper yesterday evening.
He, however, didn't say what type of subversive activities Khokon, mass education affairs assistant secretary of the BNP, was allegedly plotting.
Rab later handed him over to Ramna Police Station. He was shown arrested in a case filed last year over plotting subversive activities, said Sub-inspector Mizanur Rahman of the police station, also investigation officer of the case.
Talking to this correspondent, Khokon's wife Shah Israt Azmery said members of the elite force picked up her husband on a vehicle with a Rab-3 sticker from in front of Ramna Hotel around 10:45pm. He went there to meet some local BNP leaders from Madaripur.
She also said a team of Rab-2 came to their Lalmatia house around 12:45pm yesterday and took away her husband's passport.
However, Lt Col Anwaruzzaman, commanding officer of Rab-2, said he was not aware of it.
When this correspondent visited Khokon's house in the afternoon, the security guard at the building, Ayub Ali, said around eight to 10 people, including three to four in Rab uniform, came to the house around 12:45pm.
"They were looking for his [Khokon's] wife," he added.
As Khokon's wife Azmery was not home at that time, they waited for her.
Azmery said when she returned home around 1:00pm, she saw a vehicle with Rab-2 sticker parked on the road near their apartment building.
"They wanted my husband's passport. When we asked the reason, they said they need to collect information."
She further said they told her that Khokon was in their custody but didn't give any details.
"It's a big relief for us that we now know his whereabouts," she added.
Seeking anonymity, one of Khokon's relatives alleged that the Rab men, who went to his house, asked the family members not to tell the media that they took away his passport.
"They wanted us to give a written undertaking that the family members themselves handed over the passport to the Rab."
When the family members wanted the same from the Rab men, one of them talked to someone over the phone. The Rab men then said they didn't need any undertaking and took away Khokon's passport, said the relative of the BNP leader.
Earlier in March 2015, Khokon, a former organising secretary of Chhatra Dal's central unit, went missing in the capital.
Around three months later, he was found in Faridpur.
At that time, the Rab claimed that it had arrested Khokon along with two others in front of a restaurant on the Dhaka-Khulna highway in Faridpur Sadar upazila.
Khokon's family, however, alleged that Rab members had picked him up from his house in the capital on March 5 that year -- an allegation refuted by the elite force.