Quota Leaders' Ultimatum: Publish gazette notification by this month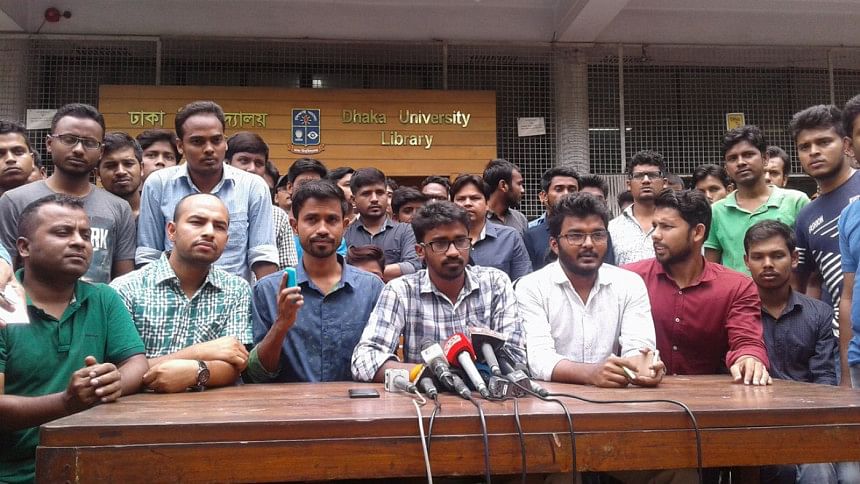 Leaders of quota reform movement yesterday issued an ultimatum to the government to publish a gazette notification by this month abolishing the quota system in government jobs as per the prime minister's announcement.
Otherwise, a tougher movement will be launched next month, the leaders said at a press briefing in front of Dhaka University Central Library.
"We want a gazette notification on prime minister's announcement about scrapping the quota system," said Muhammad Rashed Khan, joint convener of Bangladesh Sadharan Chhatra Adhikar Sangrakkhan Parishad, the platform spearheading the quota reform movement.
He said they had been holding non-violent programmes since February 17 to realise their demands and now they wanted to pay attention to their studies.
They also reiterated their demand for withdrawal of all the five cases filed during the quota reform movement within next seven days and also urged the authorities concerned to find the real culprits and bring them to justice.
Demanding security of the students on the campus, the leaders also claimed that the protesters at all universities across the country were facing different types of harassment.
They also threatened to go for a tougher movement if the harassment continued.
Besides, the leaders also demanded an apology from a Bangla daily for publishing "biased news" on the movement.
Rashed said the newspaper published fake news on the protestors on April 20. If the newspaper did not withdraw it by yesterday afternoon, a legal action would be taken against them, he added.
Earlier, another newspaper published fake news and withdrew it later, said Rashed.
Nurul Haq Nur, Hasan Al Mamun and Faruk Hossain, among other leaders of the quota reform movement, were present at the briefing.
On April 18, the demonstrators issued a seven-day ultimatum to the authorities concerned for withdrawing the cases.
On April 11, Shahbagh police filed four cases against a huge number of unknown people over vandalism, arson and obstruction of law enforcers in performing their duties during demonstrations over the quota reform in Dhaka.
On that day, the DU authorities lodged a case with Shahbagh Police Station in connection with attacking the VC's residence.
Earlier this month, the country witnessed a widespread movement of students of public and private universities across the country, demanding reforms of the quota system.
The protesters blocked key points in the capital and also roads and highways elsewhere.
Amid the protest, Prime Minister Sheikh Hasina on April 11 announced that the quota system in public service recruitment would be abolished.