Public safety top priority
New IGP says in first media briefing as police boss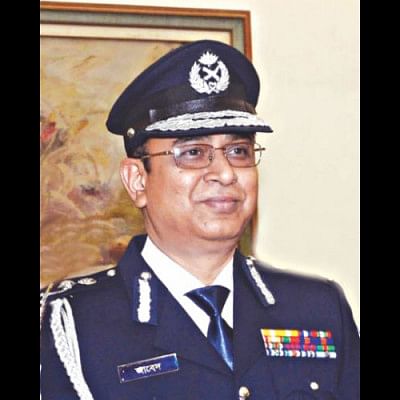 Mohammad Javed Patwary, the new inspector general of police, yesterday said police will take highest measures within the law to ensure people's security and safety.
He made the statement in response to a journalist's query about security measures ahead of the verdict in the Zia Orphanage Trust graft case against BNP chief Khaleda Zia on February 8.
"Our key responsibility is to ensure public security … We want to say firmly that police will take highest measures to ensure the security of people," Patwary said during a press briefing at the Police Headquarters yesterday, a day after he took over as the IGP.
Replying to another query on steps he would take during the upcoming national election, Javed said it is the Election Commission's task to hold the polls and the police's job is to ensure security, which it will do in a professional way and within legal boundaries.
Identifying militancy and narcotics as the two main challenges for the force, the IGP said the spread of militancy and drugs are two big problems and the force would do everything possible to curb the menaces.
Regarding militancy, he said they have had many successes in the past. "Our drives against militancy will continue and they will be more intensified using intelligence-led policing. We will not spare militancy," he said.
On narcotics, the head of police, said, "Our position is that of zero tolerance against drug abuse and trade. The prime minister also instructed us to attach highest priority to control the menace."
About the reason behind the narcotics problem, he said as long as there is a demand for narcotics, supply will remain. He urged people from all strata of life to extend support to curb the menace.
Mentioning the involvement of some policemen in corruption, Patwary said the police force remains embarrassed about such actions by some individual policemen.
"We will not shoulder the responsibility of any individual's misdeed. A criminal will be treated according to the law," the IGP warned.
The police chief further said his priorities also included boosting police's capacity to fight cybercrimes and improve service quality in police stations.
Mukhlesur Rahman, additional IGP (admin), Rapid Action Battalion chief Benazir Ahmed, DMP Commissioner Asaduzzaman Miah and Anti Terrorism Unit chief Shafiqul Islam, among others, were also present at the briefing.
Prior to meeting the media for his first briefing, the police chief paid his respects to the Bangabandhu Memorial Museum.