Protecting our pride
2-year national tiger awareness campaign launched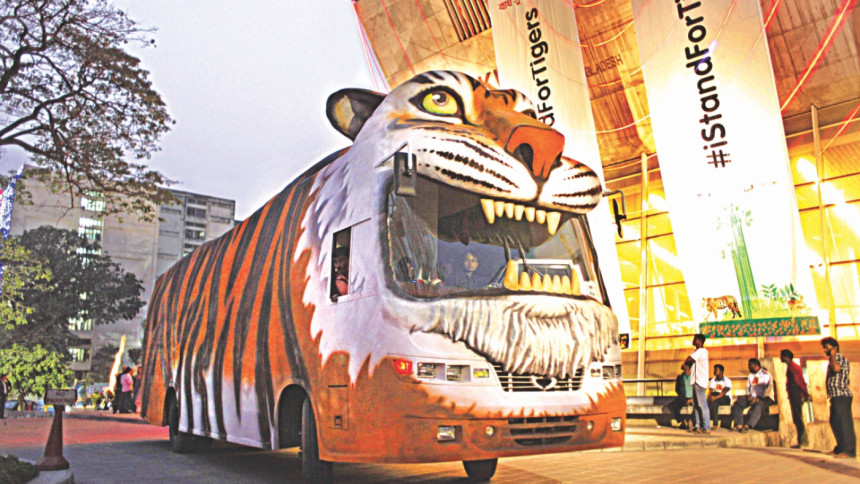 A two-year nationwide campaign was launched yesterday to raise awareness about the importance of conserving tigers and their habitat, the Sundarbans, with the theme "Tiger is our pride- We shall Protect Tiger". 
A high-tech tiger-shaped vehicle will travel to 100 strategic locations across the country as part of the programme.  A representation of the forest has been created inside the vehicle so that people can have a glimpse of how it looks like while watching exhibitions of pictures and video clips there. 
Another vehicle carrying a street theatre troupe and celebrities, including cricketers and film actors, will also travel to the places. They will perform to educate people about the issues endangering Bengal tigers and the necessity of their protection, said Md Yunus Ali, chief forest conservator, forest department.
He was speaking at the inaugural ceremony of the campaign, held at Krishibid Institution in the capital's Farmgate.
The campaign is part of Bagh Activity, a joint project of the government and the United States Agency for International Development (USAID) implemented by Wild Team with the support from Smithsonian Institution and Bangladesh Centre for Advanced Studies (BCAS).
Launching the campaign along with Environment and Forest Secretary Kamal Uddin Ahmed and USAID Mission Director Janina Jaruzelski, US Ambassador Marcia Bernicat expressed her faith in the strength of Bangladeshi youths to reverse the situation for tigers and conserve the country's national symbol.
The campaign will engage youths in social media activities to spread its messages. The hastag #iStandForTigers was uploaded on Facebook at the ceremony.
Zahir Uddin Ahmed, conservator of forest, Khulna circle, talked about the four-year project that began in 2014 to end in June 2018.
He said his department had introduced a technology-based patrolling mechanism that led to the arrest of 206 criminals for poaching and other illegal activities in the western zone of the mangrove forest.
The monitoring mechanism is being used in 12 other tiger-ranged countries, he said, adding that tigers could not be saved without improving the forest management.
Another method called camera trapping will be used from October to collect data about tigers in the forest and determine their number, said the chief forest conservator, Yunus Ali.
In this method, remotely activated camera is used to capture wild animals on film.   
Explaining the relationship between Bengal tigers and the ecosystem of the Sundarbans, Janina Jaruzelski pointed out the importance of saving the forest that protects Bangladesh from cyclones and provides livelihood to some 35 lakh people.
Dr Karl Wurster, deputy director economic growth and environment and energy team leader, USAID Bangladesh, and Gary Collins, chief of party, Bagh Activity, also spoke at the programme moderated by Md Anwarul Islam, chief executive, Wild Team.