Patients face water crisis
Dinajpur Medical College Hospital's water pump remains out of order for 5 days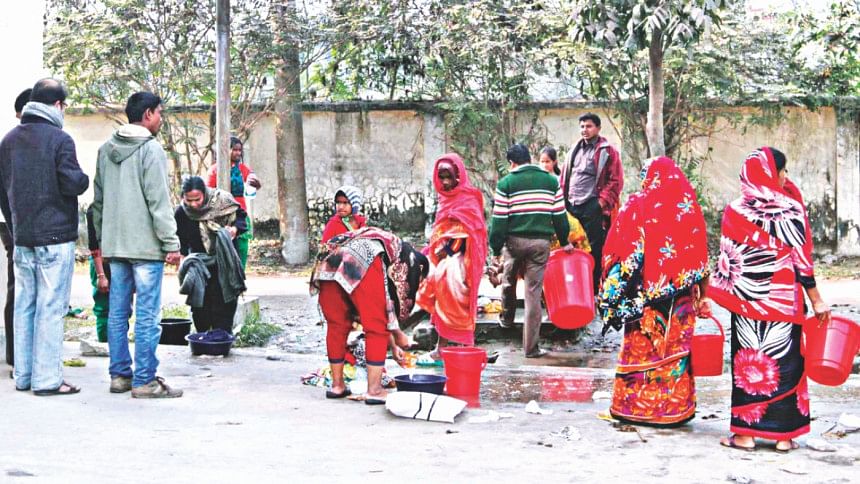 Patients at Dinajpur Medical College Hospital have been undergoing untold sufferings due to an acute water crisis since the lone water pump of the hospital went out of order on Sunday due to a technical glitch.
Treatment is being hampered and major surgeries are being skipped at the hospital. The hospital authorities are also taking fewer new patients due to the crisis.
Several attendants of patients told The Daily Star that they have to bring water from the lone tube well installed at an unhygienic place on the hospital premises.
Tarun Kanti Haldar, director at the hospital, said it would take more than three weeks to fully restore the water supply.
According to sources, the 500-bed public hospital with 14 general wards and four operation theatres serves at least 600 patients every day.
The water crisis has brought woes not only to the patients but also to their attendants, visitors as well as the doctors and hospital staff.
Manowara, an attendant of a patient, yesterday said, "It's very painful that we have to go downstairs [to the tube well] every time we need water to drink."
Several staff, seeking anonymity, said they often have to go outside for washing their hands after deliveries.
Doctors, also wishing not to be named, said no major surgery was performed at the hospital since Sunday.
Patients with cardiac complications and other serious problems are being referred to local clinics and Rangpur Medical College Hospital, they added.
The water supply crisis also badly affects cleanliness and hygiene of the hopsital, said patients and staff at the hospital.
The washrooms and the floors of different wards were awfully dirty.
"I feel like throwing up whenever I pass the toilet on the fourth floor," said Lota, a patient.
During a visit there yetserday, this correspondent saw a number of people, including children and women, collecting waters in bottles from the tube well.
Many take bath and wash their clothes there as well, said sources.
"It's a 500-bed medical college hospital but it has just one water pump whereas the nearby 250-bed Dinajpur General Hospital has two," a staff, who was collecting water there, said.
Many others at the hospital echoed him and demanded that new water pumps be set up immediately.
Hospital Director Tarun Kanti Haldar said they were taking steps to ensure temporary supply of water to the hospital.
He said water from the hospital's reservoir will be pumped to the hospital building to meet the demands.
However, sources said the water in the reservoir was too dirty to be used and it could pose a threat to the health of patients and their attendants.