Parts of Dhaka City: Now water crisis heaps misery upon residents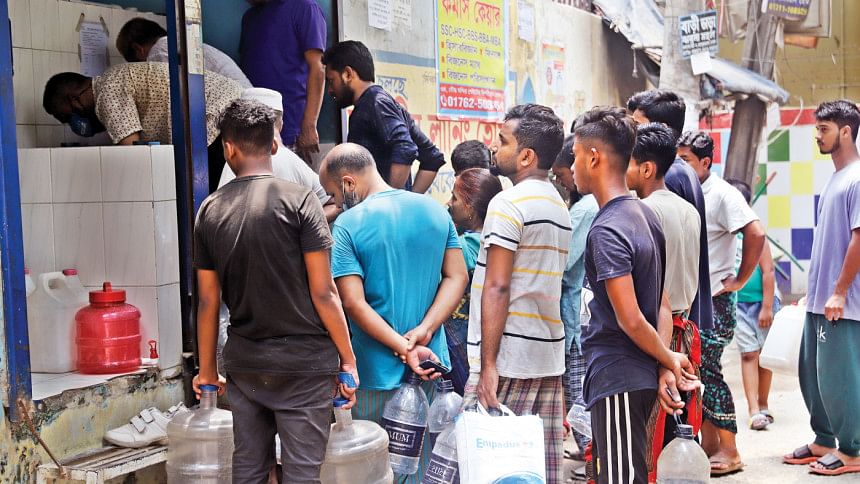 An acute crisis of water has gripped some parts of the capital, causing unbearable sufferings to the residents already enduring hours of power cuts amid the heatwave.
The mercury went past 38 degrees Celsius yesterday in Dhaka.
Atiqua Roma, a resident of Uttara sector-3, said, "There was no water for almost 36 hours. Today [Wednesday] we got some water for only about an hour."
She contacted the Wasa and requested a tank of water on Monday night.
"They told me I was 72nd on the list and asked me to wait. We're still waiting for the water tank."
Roma has been drinking bottled water and bringing water from her relatives' houses.
People in different parts of Mirpur, Badda, Banasree, Basabo, Maniknagar, Doyaganj, Kajlarpar, Adabar, Shyamoli, Jurain, Matuail, Konapara and Dogair have been facing water crisis in recent days.
Khaleda Parveen, a resident of Merul Badda, said she had faced a water crisis for the first time last week since she moved into the area three and a half years ago.
"We have not been able to cook. We had to buy breakfast and lunch, and may have to buy dinner as well," she said.
Dhaka Wasa Deputy Managing Director AKM Shahid Uddin told The Daily Star that they could not operate all the water pumps because of the power cuts.
Dhaka Wasa has 1,061 pumps. It has generators, but those are not enough to run all the pumps at once.
"We have not been able to cook. We had to buy breakfast and lunch, and may have to buy dinner as well."
AKM Shahid Uddin said, "We have almost 400 generators. But we are not able to extract enough water with these generators."
On an average, Dhaka needs 255-260 crore litres of water a day. But the heatwave has pushed up the demand for water and created a crisis, he added.
"The water crisis will subside if there are fewer outages and there is rainfall," he said.
Meanwhile, the Met office forecast rains or thundershowers in eight divisions of the country including Dhaka in the 24-hour period starting from 6:00pm yesterday.
However, the mild to moderate heat wave will continue in Dhaka and Mymensingh divisions and some parts of Rangpur, Rajshahi and Khulna divisions, it added.