Onion price slightly down, but still high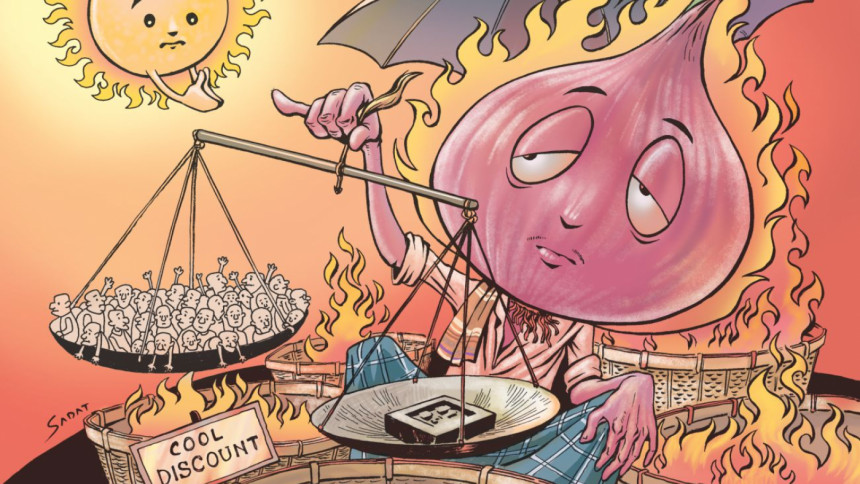 Onion prices have come down a little but are still way too high.
Yesterday, locally-grown onions were selling for Tk 90 a kg at the kitchen market in the capital's Karwan Bazar. However, the prices ranged between Tk 95 and Tk 100 in the grocery stores in the city.
Onions imported from India were being sold between Tk 75 and Tk 80 per kg.
A few days ago, the price of locally-produced onions shot up to Tk 100 and over after the neighbouring country imposed $850 as Minimum Export Price for each tonne of onions.
India reset the MEP after nearly two years to increase supply in its domestic market and curb price hike there.
The country, which itself has a huge demand for the essential cooking ingredient, is a major source of onion for Bangladesh.
The retail prices in New Delhi have touched Rs 80 for a kg owing to tight supply, according to reports by some Indian media outlets.
That hike eventually had an impact on the Bangladeshi markets and the prices here spiralled, putting people in trouble.
"Onions have become too expensive," Saiful Islam, who works at a private firm, had said after buying half a kg for Tk 50, a few days ago.
Onion prices which also rocketed outside the capital have started to drop.
For example, each kg of locally-grown and imported onions were selling for Tk 80 and Tk 65 in the kitchen markets in Dinajpur. They were higher the day before yesterday.
A week ago, the price of per kg of the imported ones was Tk 58.
Sirajul Islam, who runs a small restaurant in Dinajpur, said, "My family runs on the profit [of my business]. How can I do business if the price stays so high?"
Sheikh Ali Ahmed, a retired banker living in Khulna city, said he was struggling to meet his family expenses as the prices of other essentials, including rice, were too high.
Onion prices started soaring since flood hit the northern region of the country in August. That month, per kg of onions was sold at just Tk 25 per, said Asadul Islam, who lives in Dinajpur.
 Prices shot up further by the end of September and each kg of the imported onions was sold at Tk 65 in mid-October.
There was further price hike following crop loss in heavy rains in the neighbouring country.
Downpour also affected early varieties of locally grown onions at a time when old stocks were running out.
"Onion prices may remain at this level for another week," Narayan Chandra Saha, a wholesaler at Shyambazar market in the capital, said a few days ago.
Harun Ur Rashid, president of Importers and Exporters Group of Hili Land Port, said onion prices were soaring in the Indian domestic market. Besides, bad weather and flood in August also damaged onion fields, he said.
Harun said traders were losing interest in importing onions from India because of the $850 MEP.
Importers could import onions at $500 per tonne prior to India's move, according to traders.
The latest MEP for onion exports will remain effective until December 31, the Director General of Foreign Trade under the Ministry of Commerce and Industry of India said in a notification on November 23.
Narayan said prices of onions may drop in the coming months because of arrival of early varieties of locally grown bulbs.
"We are also getting onions imported from China and Egypt."
Harun urged the Bangladesh government to facilitate faster import of bulb onions from other countries.