The poor suffer as cold wave sweeps North
Lowest temperature recorded at 7.6 degrees Celsius in Tentulia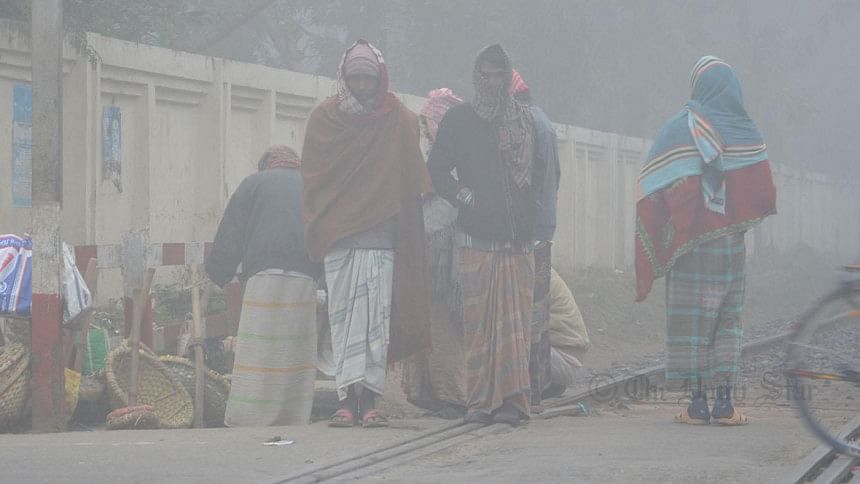 People of low income group are suffering immensely as a mild to moderate cold wave sweeping through the country's northern region.
According to Bangladesh Meteorological Department (BMD), the lowest temperature yesterday was recorded in Tentulia at 7.6 degrees Celsius.
Mohammad Rasel Shah, officer at Tentulia Weather Observation Centre, said a moderate cold wave from the Himalayan side was sweeping over the region.
The cold wave has been sweeping over the region for about two weeks already and it might continue for several more days, he added.
Meanwhile, as the falling temperature is forcing people to stay indoors from afternoon, businesses are being hampered.
Poor people are suffering due to lack of warm clothes.
The district administration, a bunch of well of people and several non-government organisations distributed blankets and warm clothes among those in need. However, it was inadequate against the demand.
Nur Kutubul Alam, additional deputy commissioner of Thakurgaon, said about 12,000 blankets were distributed among distressed people of five upazilas in the district.
Besides, each UNO has been allocated Tk 6 lakh to distribute blankets and quilts among poor people.
Agricultural activities are also being hampered due to the bad weather as farm workers cannot spend sufficient time at their crop fields due to the temperature.
Habib Mohammad Ahsanur Rahman, a farmer who cultivates potato on a large scale, told the Daily Star, the production cost is going higher than estimated as the weather is yet to improve.
If such adverse weather continues, it would be tough to protect potato plants from different diseases like late blight.
Contacted, Aftab Ahmed, deputy director of Department of Agriculture Extension (DAE) in Thakurgaon, said the agriculture officials asked farmers to take measures to protect plants.
"If farmers follow the directions, their crops will not be affected much," he added.