Eleven killed on roads in two days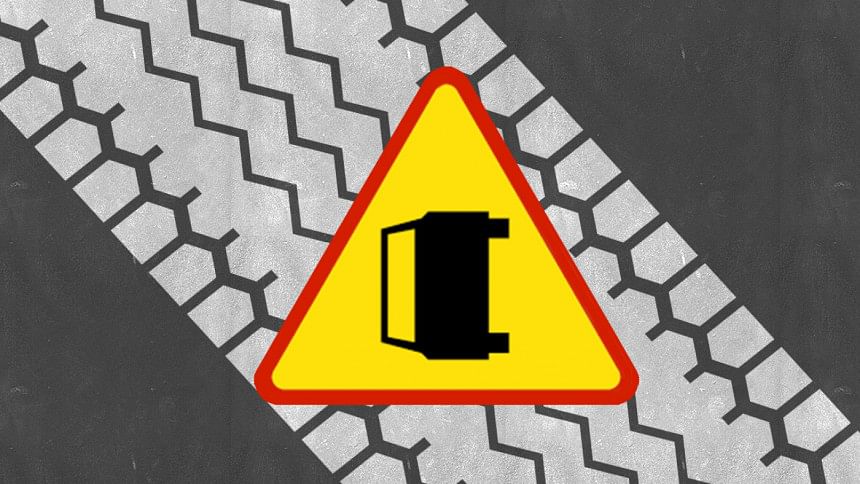 Eleven people, including four students, were killed in road crashes in the last two days.
In Narsingdi's Shibpur, three students were among the four people killed when a bus rammed into a car around 3:00am yesterday, police said.
Four others were injured in the crash on Dhaka-Sylhet Highway.
Akib Hossain, 27, Jannatul Ferdous, 25, Sadia Akter, 24, and her husband Ekram Mia, 35, died after a bus of Shyamoli Paribahan rammed into their car, officers said.
All of them, except for Ekram, were MBA students at Millennium University in the capital.
"They were returning from a picnic in Sylhet," said Sergeant Jakrul Kabir of Itakhola Highway Police Outpost.
The car was mangled in the crash and the bus plunged into a roadside ditch, he said.
On Benapole-Jashore highway, BBA student Sobuj Hossain, 22, of the Jashore Cantonment College was killed in Tapshidanga area early yesterday.
He was hit by a truck while going across the road, said Samir Kumar Sarker, officer-in-charge of Jashore Kotwali police station.
In Noakhali's Companiganj, four-year-old Muntaha was killed in Natun Bazar area when a CNG-run three-wheeler hit her around noon yesterday.
Locals said she was playing with other children beside a road when the three-wheeler hit her and fled the scene.
In Rangpur's Manthana-Gangahari area, Anis, 35, of Dinajpur was killed and 30 other passengers of a bus were injured when the vehicle plunged into a roadside ditch on Friday night, said Inspector Abu Musa of Hazirhat Police Station in Rangpur.
Also on Friday night, traffic constable Robi Chowdhury,33, was killed when he was he hit by a truck around 9:30pm in Jhaugara area on Mymensingh-Haluaghat road.
He was trying to stop a truck from driving down the wrong side of the road, said OC Khondaker Shaker Ahmed of Kotwali Police Station.
He died at Mymensingh Medical College Hospital about an hour after he was hit.
The truck driver has been arrested, the OC said.
In Gopalganj, 11-year-old Amin Sheikh, son of Al-Amin Sheikh, was run over and killed by a bus of Tungipara Express when he was crossing a road yesterday morning, said OC Monirul Islam of Gopalganj Sadar Police Station.
Meanwhile, Sobuj Sheikh, 26, of Hatbariya village of Gopalganj, died on Friday evening, a day after he was injured in a road crash.
In Narayanganj's Rupganj, a motorcyclist was killed and his pillion injured when a car hit them on Kanchan-Kuril road near Nela Market yesterday afternoon. Five people in the car were also injured as it fell into a ditch.
Ibrahim Sarkar, 42, of Dhaka's Kawla area sold clothes, said Shahjahan Khan, Sub-Inspector of Rupganj Police Station.
Our correspondents in Benapole, Brahmanbaria, Noakhali, Dinajpur, Mymensingh, Narayanganj and Faridpur contributed to this report.