State minister's FB photo causes stir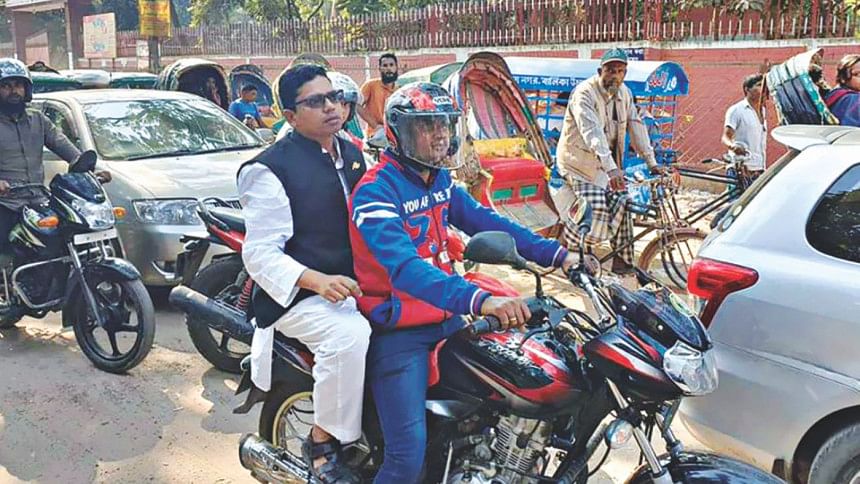 State Minister for ICT Division Zunaid Ahmed Palak faced widespread criticism on social media yesterday for taking a pillion ride on a motorbike without a helmet.
On the first day of his second term in office, Palak took the ride to his workplace in the capital's Agargaon from his NAM Bhaban residence and posted three photos of the trip on his facebook page.
The first two photos showed he was riding on the pillion of a motorcycle without a helmet. The third photo, which was uploaded around an hour later, was taken from behind, where the passenger was seen wearing a helmet. However, the identity of the passenger in that photo could not be verified independently.
Soon after the upload of the first two photos, the comment box was flooded with criticism.
One social media user commented, "Sir, you are not obeying the law. Cases are filed against the bikers who ride without helmets whereas you, being a minister, are doing mockery. Stop this cheap publicity and encourage people to obey the law."
Another user wrote, "Where is the helmet? [You've] violated the law on the first day. If you do not obey the law, how would other people? Have your forgotten the movement on road safety?"
However, some netizens also welcomed him for this attempt.
Till 7:30pm, this post was commented more than 2,700 times and shared by 1,523 people.
According to the Road Transport Act, 2018, which is yet to be in force, the punishment for not wearing a helmet, while riding a motorbike, is fixed at Tk 10,000 or three months of imprisonment or both.
The previous cabinet, of which Palak was a member, okayed the Act in the August last year.
However, as per the section 137 of The Motor Vehicles Ordinance, 1983, Dhaka Metropolitan Police fines Tk 200 to riders who do not wear helmets.
Meanwhile, the Bangladesh Hi-Tech Park Authority under the ICT Division issued a press release on the joining of the state minister by taking a motorcycle ride.
However, it did not mention anything about the minister's defiance to the law.