'Shootouts': Two brothers among three dead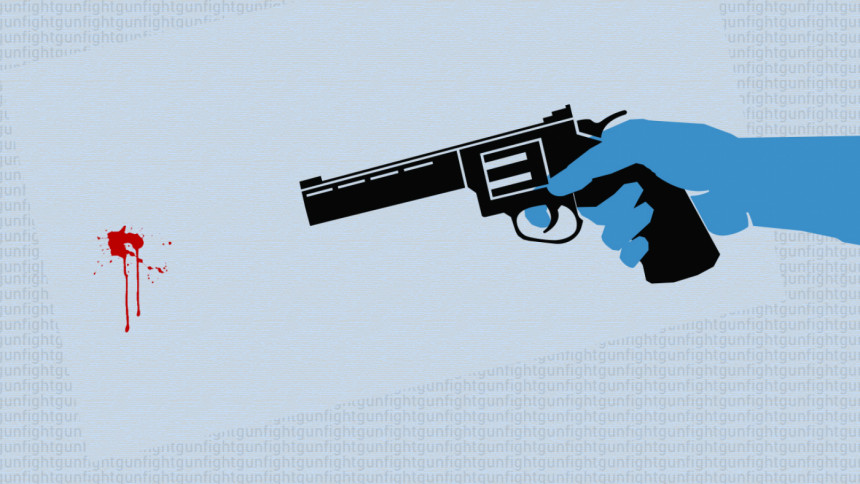 Three men, including two siblings, were killed in two "gunfights" with members of Border Guard Bangladesh and police in Cox's Bazar and Cumilla early yesterday.
In Teknaf upazila of Cox's Bazar, two siblings -- Abdur Rahman, 28, and Abdus Salam, 26 -- were killed in a "gunfight" with police, reported UNB.
ABS Doha, officer-in-charge of Teknaf Model Police Station, said the duo was wanted in several cases including of a murder. Police arrested them on Thursday.
Later, a team of police, along with the criminals, conducted a drive in Hinla Girls' High School hill around 1:00am to recover arms, he claimed.
As soon as they appeared in the hill area, a group of criminals opened fire, forcing them to retaliate. At one point of the "gunfight", the two siblings were caught in the line of fire, he added.
They were rushed to a local hospital with bullet injuries where doctors declared them dead, he further added.
Police claimed to have recovered two firearms, seven cartridges, 12 bullet-shells and four sharp weapons from the spot.
Meanwhile in Cumilla's Sadar upazila, a suspected drug peddler was killed in a "gunfight" with members of BGB early yesterday.
The dead is Proshanto Kumar Das, 28, son Badol Kumar Das, a resident of Puraton Chowdhury Para area of Cumilla town and a well-known videographer, our local correspondent reported.
Lt Col Abu Mohammad Mohiuddin, commanding officer (CO) of Rangpur BGB Battalion-10, told at a press briefing that Proshanto was detained from Mogoltuli area yesterday afternoon.
During primary interrogation, he admitted that a consignment of drugs would enter the town at night, the BGB official claimed.
Based on the information, a team of BGB men, along with Proshanto, conducted a raid in Bibirbazar area around 1:00am. Sensing their presence, criminals opened fire on the BGB team prompting a retaliation that triggered the "gunfight", the BGB CO claimed.
At one point of the "gunfight", Proshanto was caught in the line of fire and sustained bullet wounds. He was rushed to Cumilla Medical College Hospital where doctors declared him dead, he added.
BGB also claimed to have recovered 4,325 pieces of yaba pills and 30 bottles of Phensedyl from the scene.
On the contrary, friends and neighbours of Proshanto used to take drugs but he was not a drug peddler.
Abu Salam Mia, officer-in-charge of Kotwali Model Police Station, said, "We are checking information about Prashanto. No case was found against him yet."
Pappu Das, elder Prashanto's brother, said, "On Thursday afternoon, my brother was called out by Nazmul, owner of a local clothing store.
"In the evening we heard that BGB had caught him in Laxmipur area. Contacted with Bibirbazar BGB camp, a constable asked us to visit Kotbari BGB Battalion-10 headquarters," he added.
"We went there but no one from the BGB admitted that my brother was detained. Later, police confirmed us that Prashanto was killed in a 'gunfight' at 3.00 am," Pappu said.