Samrat placed on 10-day remand
Former Jubo League leader Ismail Hossain Chowdhury Samrat, an alleged kingpin of the illegal casino business in the capital, was placed on a 10-day remand in two cases filed under the arms and narcotics control acts.
Dhaka Metropolitan Magistrate Tofazzal Hossain passed the order after two investigation officers produced Samrat with a total 20-day remand plea in two cases.
Samrat's alleged accomplice Enamul Haque Arman was also placed on a five-day remand.  
Defence lawyers sought bails for their clients saying they were implicated in the cases as part of a conspiracy to harass them.
Besides, a vested quarter is trying to drive Samrat away from politics as he is a popular figure, the lawyers said.
They also said Samrat was suffering from different ailments, including heart disease.
The former Jubo League leader was produced before the court around 1:00pm.
Meanwhile, walls of the chief metropolitan magistrate's court and its surrounding area were found plastered with posters demanding Samrat's release.
Activists of Jubo League and Samrat's supporters also gathered around the court premises and chanted slogans claiming their leader's innocence.
They demonstrated under the banner of "Ismail Hossain Samrat Mukti Parishad" until 1:40pm.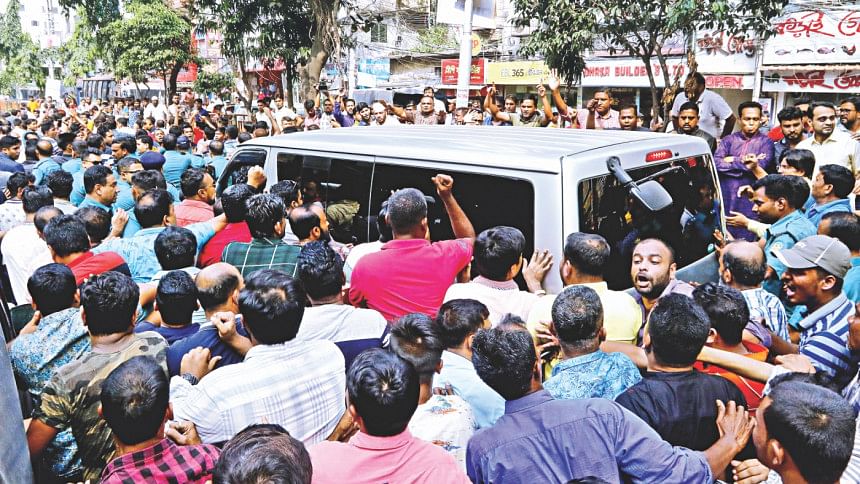 On October 6, Rab members arrested Samrat, former president of Dhaka South Jubo League, and his close aide Enamul Haque Arman, former vice-president of the same unit, in Cumilla after raiding a house near Indian border.
He came under the spotlight after Rab busted his illegal casino business at different sporting clubs in Dhaka. He was expelled from the Jubo League following his arrest.
Samrat was then brought to the capital, and the elite force conducted operations at various establishments where the Jubo League leader either lived or carried out political and business activities.
Rab also took Samrat to his political office in Kakrail where he had been reportedly staying since the crackdown began on September 18.  
Rab members at a press briefing said they had seized two torture devices, a pistol with five bullets, two hides of Kangaroo, 1,160 pieces of Yaba and 19 bottles of foreign liquor from there.  
A Rab mobile court, led by Executive Magistrate Sarwoer Alam, sentenced Samrat to six months' imprisonment for possessing wild animal hides and another six months for possessing illegal liquor.
Rab filed the two cases against him with Ramna police station the next day.
On September 24, the government imposed a travel ban on Samrat.  Earlier on October 13, Samrat's mother Sayera Khatun Chowdhury said her son was implicated in the cases due to personal and political vengeance.