Revive Saarc to take up challenges
Experts say at BIPSS, Star roundtable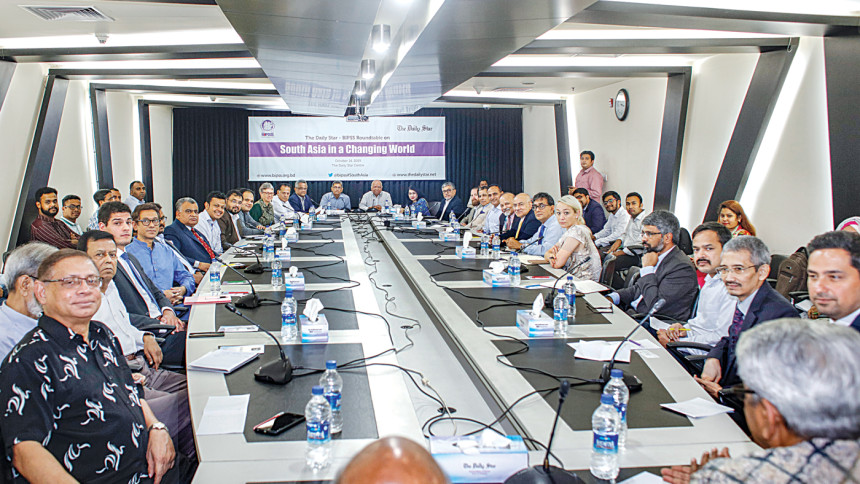 International relations analysts want the revival of Saarc to establish South Asia as a strong regional platform that can help address challenges, including conflict, terrorism, poverty, joblessness, and climate change.
The role of the South Asian Association for Regional Cooperation (Saarc) now is more important than ever as it faces additional challenges of trade war between China and the US, while Indo-Pakistan tension over Kashmir gets a new turn after India scrapped Kashmir's autonomy, they said.  
India, the biggest power of South Asia, too is moving to establish itself as a global power -- leaving the region exposed to fragmentation, the analysts said, suggesting that the small countries, including Bangladesh, Nepal, Bhutan, Sri Lanka, and the Maldives, launch a strong diplomatic move towards making Saarc functional. 
The observations came at a roundtable titled "South Asia in a Changing World" jointly organised by the Bangladesh Institute of Peace and Security Studies (BIPSS) and The Daily Star at the latter's conference hall yesterday. 
South Asia is home to 1.8 billion people or one-fourth of the global population, and 40 percent of them live below the poverty line. Saarc, which was established in 1985 for promoting regional cooperation, however, has only 5 percent of intra-regional trade.  
The platform now is almost non-functional. No Saarc summit was held after 2014 as India cancelled its participation in the 19th Saarc summit, alleging Pakistan's involvement in the 2016 Uri terror attack in Kashmir.  
"South Asia is one of the least integrated regions. It is mostly because of trust deficit," said former ambassador Shamim Ahmed.  
He said with the Saarc failing, India is now focusing on BIMSTEC (Bay of Bengal Initiative for Multi-Sectoral Technical and Economic Cooperation), a sub-regional grouping of Bangladesh, India, Myanmar, Sri Lanka, Thailand, Nepal, and Bhutan.  
"The BIMSTEC cannot be a substitute for Saarc."  
Fahmida Khatun, executive director of Centre for Policy Dialogue, said when the global GDP growth is 2 percent, it is 6 percent in South Asia.  
However, inequality in this region is very high, meaning it is a jobless growth. 
With the fourth industrial revolution driven by technology, the unemployment scenario will worsen in future, she said. On the other hand, there are increased risks of terrorism and conflict that impact economy directly.  
The South Asian countries like Bangladesh, Nepal, and Bhutan that are graduating from the LDC (least developed countries) bracket will also face challenges of accessing finance and market in future, she added. 
"Therefore, regional trade integration is very important. Policymakers must think deeply about how we can utilise the regional body Saarc and other sub-regional groupings to improve connectivity and trade," she said. 
BIPSS President Maj Gen (retd) Muniruzzaman said South Asia has all the ingredients to become a great region, but security dynamics of the region is destroying the potentials. 
The high tension between two nuclear powers -- India and Pakistan -- must be addressed, he said.  
South Asia is one of the most energy-starved regions. Climate change can force millions out of their homes in this region.  
Hydro-politics and border disputes are destabilising this region, he added.  
"Unless we are able to promote South Asian regionalism, we will never have the place in history in the international system," Muniruzzaman said.  
"The Saarc can be a platform for starting dialogue. Many of the bilateral issues were addressed in the past Saarc summits." 
Norwegian Ambassador to Bangladesh Sidsel Bleken said South Asia as a region does not appear to be a big factor when looked at it from outside though its population size, economic growth, and strategic position are very important. 
In comparison to that, China, ASEAN and even African Union draw more global attention when it comes to trade and investment, she said, expecting that Saarc will grow by resolving the disputes. 
Obaidul Haque, associate professor of international relations at Dhaka University, said Pakistan was increasingly reaching out to China, while India was expanding its focus towards ASEAN.  
Also, India is looking to the West for its trade and strategic interests, while its rival China is moving with its Belt and Road Initiative where India is not a party yet, he said. 
India, meanwhile, seems supportive of the Indo-Pacific Strategy promoted by the US to deter China in the Indian Ocean region, Obaidul said. 
"These are the aspects of future conflicts and we need to devise our policies with utmost care," he said, adding that there was no alternative to regional integration of South Asia.  
Security analyst Brig Gen (retd) Shahedul Anam Khan, also associate editor of The Daily Star, said individual policies of some South Asian countries seem hostile towards each other, while countries are also promoting populist policies that can create more conflicts in future.  
He suggested strong regional cooperation in Saarc to mitigate the challenges, taking lessons from the ASEAN (Association of Southeast Asian Nations) that has become a successful regional alliance despite differences on many issues. 
Former ambassador Shamsher Mobin Chowdhury said some of the countries in South Asia are driven by narrow geopolitical interests. Such attitude needs to be changed.
"We are waiting for the Asian century. And, South Asia shouldn't remain fragmented," he said, calling for initiatives to reinvigorate Saarc. 
Lt Gen (retd) ATM Zahirul Alam said South Asian countries, especially India, Bangladesh, and Pakistan, have a common history. 
The countries of the European Union once fought so many wars, but they are united today.
"If they can, can't we?" he said, adding that the small South Asian countries should start coming together to revive Saarc. "There would be no South Asia without Saarc."
Former diplomats M Sirajul Islam, ASMA Awal, Mahmood Hasan, AMSA Amin and The Daily Star Editor and Publisher Mahfuz Anam also spoke at the roundtable attended by diplomats, academics, and representatives from the foreign missions in Dhaka.