Returnees from Bahrain: 1,200 stuck with expired visas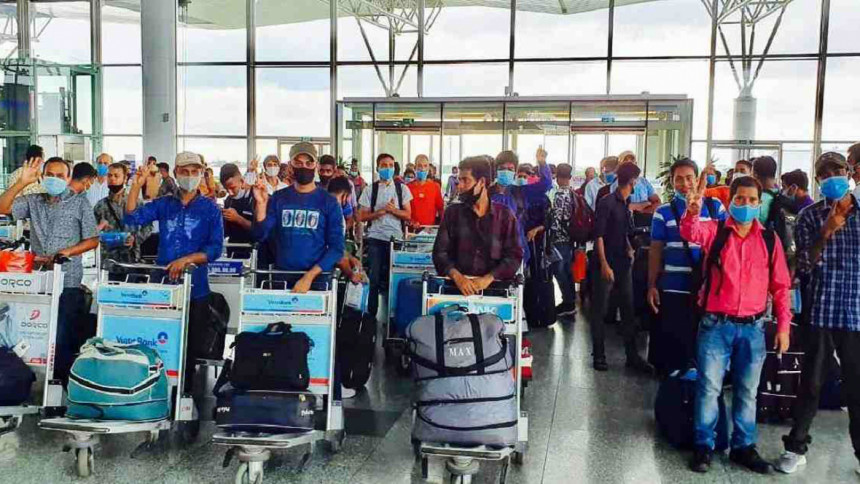 About 1,200 returnees from Bahrain, who got stuck home for months amid the coronavirus pandemic, are facing uncertainty over going back to their workplaces as their visas expired.
The Bangladeshi expatriates, mostly migrant workers, came home on vacation before the virus spread across the world early this year. They got stranded following the suspension of global air communications.
Now without income for several months, many of them are finding it hard to meet expenses of their family members. They sought immediate steps from the Bangladesh government to diplomatically negotiate with the Bahrain authorities for allowing them return to the Gulf country.
"The pandemic changed everything. I remained stuck and saw my visa get expired. Now I see a bleak future ahead," said Imdad Ullah, a migrant worker, who came home on February 15 on a three-month vacation.
The 35-year-old from Sylhet's Goainghat used to work at a coffee shop in Bahrain and was supposed to go back in May. His visa expired in June.
He said his immediate supervisor assured him of rehiring if he could make it to Bahrain. But there is little chance for him to enter the Gulf country in the current situation, since the Bahrain government is not allowing renewal of his expired visa.
"All of my papers were valid," he said, adding that he could apply for a new visa but issuance of such visas for Bangladeshi workers also remained suspended.
He said his identity card, known as Central Population Registry (CPR) which allows him to stay in Bahrain, still remains valid till 2022.
Phul Miah, 39, is facing a similar problem. Employed as a driver in Bahrain, he came home on February 25 and was supposed to return on July 22.
"But now, I am stuck home without work," he said recently over the phone, adding he has been facing acute financial hardship.
"My wife and seven siblings largely depend on my income," said Phul, who is from Sylhet's South Surma area.
If the Bangladesh government takes steps considering the coronavirus situation and negotiate with the Bahrain government, it will help many of migrants like him to return to their workplaces, he added.
Bahrain is home to around 150,000 Bangladesh nationals.
Construction is the biggest sector of employment for Bangladeshis in Bahrain -- about 70 percent of Bangladeshi workforce in the Gulf country is involved in this field as unskilled, semi-skilled and skilled workers, according to the Bangladesh mission there.
An official at the Bangladesh Embassy said those who have valid visas were able to go back to Bahrain from Bangladesh maintaining due health guidelines at present.
However, those who saw their visas expired amid the pandemic are unable to do so, the official said, seeking anonymity.
He added the Bahrain government did not give the embassy any assurance on such visa-holders despite repeated communications.
Sheikh Mohammed Tauhidul Islam, labour welfare counsellor at Bangladesh Embassy in Manama, said the number of Bahrain-based expatriates stuck in Bangladesh with expired visas could be around 1,200.
Most of them are migrant workers while the list also includes investors and family visa holders. The embassy collected their numbers from various sources, Tauhidul told this newspaper via WhatsApp on October 28.
He said the embassy has been trying in different ways including "issuing an official note verbale" to negotiate with the Bahrain government so that the latter reinstate the expired visas.
Talking to The Daily Star again on Monday, Tauhidul said as per the directive of the ambassador, the mission has prepared a fresh "note verbale" to send to the Bahrain authorities in a day or two.
This might lead to a solution, he added.