Pilot aborted first attempt at landing
Injured passenger tells The Daily Star about Biman crash-landing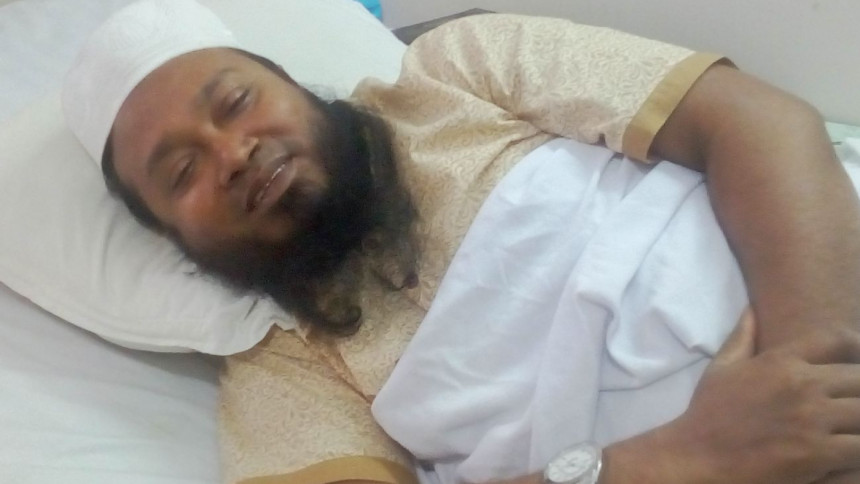 After aborting the first landing attempt at the Yangon airport in bad weather, the ill-fated Biman plane on May 8 went up to 5,000 feet and circled near the airport for 15 minutes.
Once the weather was favourable, the pilot landed with permission from the airport authorities. But around 10 seconds after touch down, the aircraft skidded off the runway tearing off its landing gears and injuring almost all 35 passengers and crew members.
AM Farid Uddin Ahmed, an orthopaedic surgeon at the National Institute of Traumatology and Orthopaedic Rehabilitation (Nitor), narrated the incident to The Daily Star yesterday.
Farid, who was on board the Dash-8 Q400 aircraft, was on his way to attend a conference in Myanmar's Yangon as an invited speaker on Friday. The 45-year-old had a window seat from where he could see the landing gears. He suffered injuries to his backbone in the crash landing and was later brought to Bangladesh.
Currently being treated at the capital's Comfort hospital, Farid said the actual departure time of the flight that day was 10:45am, but it was changed twice.
The plane finally took off from Hazrat Shahjalal International Airport around 3:45pm.
"The flight [BG 060] was smooth until reaching Yangon. During the first landing attempt, I suddenly heard some noise outside and saw the landing gears drop," he said.
"There was heavy rain and severe stormy weather. After sometime, the gears retracted and at that time, I guessed something was wrong," he said.
Farid said during that landing attempt, the ride was seriously bumpy and the pilot then tried to take the aircraft higher.
"Everyone seemed panicked… I was wondering how the airport authorities gave the permission to land in such an inclement weather," he said.
After sometime, the pilot announced that the aircraft had gone up 5,000 feet as it could not land due to rough weather.
The plane received permission and landed after circling in the Yangon sky for nearly 15 minutes. "The second landing seemed fine and we were relieved that the Almighty Allah saved us. But immediately after that we heard a huge sound and felt that the plane was jumping up and then collapsed.
"At that time, we saw stuffs falling to the ground from the cabin upward [inside the plane]," he recalled.
"I was feeling an agonising pain and almost all passengers were injured".
Some passengers tried to open the emergency gate but failed. "Later, some people, probably from the airport, opened it and we immediately left fearing that a fire might break out," Farid said.
Farid was crawling and fellow passengers helped him get into a bus and then to a hospital.
He also said members of the Bangladeshi community in Yangon rushed to attend to all the injured in the hospitals.
Of the injured, 19, including an infant and six women, were taken to North Okkalapa Hospital in Yangon.