Pandemic Fallout: Slipping into period poverty
A WaterAid study shows how low-income women struggle to maintain menstrual hygiene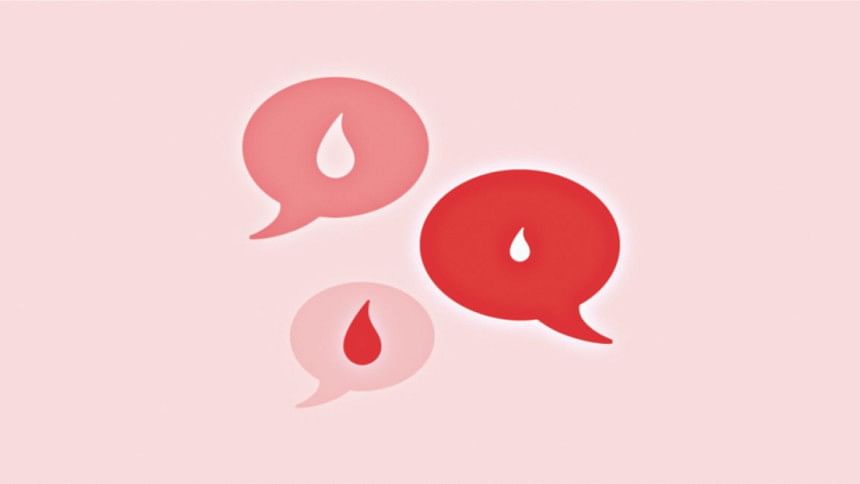 While the Covid-19 outbreak has impacted the lives of everyone, women and girls from lower-income families are having to face deeper struggles, especially when it comes to the issue of maintaining menstrual health and hygiene.
Due to the devastating economic effects of the shutdown, access to sanitary products, which are still considered luxury items in the country, has become even more difficult than it used to be for women facing financial struggles. 
This correspondent spoke to a number of women and girls living in informal settlements of the capital, some of whom are resorting to cut-ups from old clothes to use as sanitary napkins.
Since the Covid-19 outbreak began, they have been doing so in order to save money by prioritising food and other essentials over menstrual hygiene supplies.
A recent study by the WaterAid Bangladesh revealed that there are far-reaching effects of the lockdown on menstrual health management for members of the lower-income group.
Jhumur Begum, 32, of Bhashantek slums, and her 15-year-old daughter have been using old rags for the past two months. Jhumur used to make money for herself by sewing clothes for people.
But her income came to a halt since the shutdown began and the living cost began rising.
"My husband, a carpenter, is struggling to manage food for the family. I can't tell him to give me Tk 150 for our pads. Although in the beginning, I would ask for the money only for my daughter. But I later realised it truly is a burden on him," she said.
Since all five members of her family live in the same room, it is difficult for them to wash and then dry the rags inside the room, especially on rainy days, as sunlight fails to reach the area she lives in.
Using damp rags has also created additional troubles for her daughter.
"Since my daughter never used rags before, she is not comfortable with them. Sometimes she complains about itching and irritation. But what can I do? We have no other option," said Jhumur.
For 18-year-old Eti of Bauniabadh slums of Mirpur, the situation is similar.
Eti, who gave up studying due to her family's financial constraints, started doing handicrafts to maintain her own expenses. Since the last week of March, she hasn't received any orders.
"I have no money in hand as I had to spend my small amount of savings on food and rent. Earlier, my father, a rickshaw-puller, would bring home at least Tk 500 every day. Now most days, he sits idle at home. I can't ask for money for sanitary napkins when we are having to skip meals," she said.
Eti's mother used to work as a part-time domestic help, but she has lost most of her jobs, as people were not allowing her to work inside their homes after learning that she is a slum-dweller.
The WaterAid study titled "Effects of lockdown on women's menstrual health management" was done by interviewing 30 women and girls aged between 16 and 40, under six categories -- lower-income community, garment workers, students from both urban and rural areas, lower-middle class and community clinic health workers. The study was done from May 10 to 20 and also included interviews of 10 medicine sellers of the areas where the interviewees live.
According to one of the interviewed women, her husband once slapped and scolded her for asking him to buy some pads for her, as she was unable to tolerate the discomfort of rags.
According to the study, due to the Covid-19 situation, there has been a significant decline in the sale of menstrual hygiene products, including sanitary napkins, pain killers for menstrual cramping, injections, etc., in urban slums or low-income areas.
Women working in garment factories have also been unable to buy sanitary napkins regularly.
Most of these medicine sellers have not had women or girl customers for the past month and half. The situation seemed to be the same in rural areas, the study revealed.
According to Aftab Opel, head of programme at WaterAid Bangladesh, in our country, products related to menstrual management are still expensive because of Value Added Tax.
"For immediate action, sanitary products can be included in the list of relief items," he added.
On the other hand, Mamunur Rahman, founder of a low-cost reusable sanitary napkin from RMG scraps "Ella Pad", made for garment workers, said that it's now proven that reusable pads are more useful and resilient even during a pandemic.