Mujibnagar Day today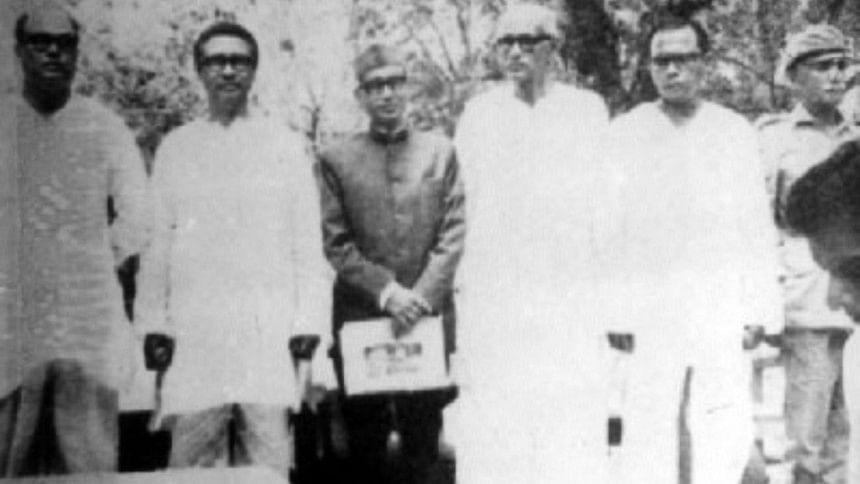 The historic Mujibnagar Day is being observed today marking the formation of Bangladesh's first government that led the Liberation War in 1971.
Senior leaders of Awami League assembled at Baidyanathtala, a mango orchard, which was later named as Mujibnagar, in Meherpur district on April 17, 1971 to form the provisional government of independent Bangladesh in the absence of Bangabandhu Sheikh Mujibur Rahman.
Bangabandhu was declared the first President of the People's Republic of Bangladesh, while Vice-President Syed Nazrul Islam became the acting president in absence of Bangabandhu.
Tajuddin Ahmad was appointed the first Prime Minister, while Khandoker Moshtaque Ahmed, M Mansur Ali and AHM Quamaruzzaman were named cabinet members.
President Abdul Hamid and Prime Minister Sheikh Hasina issued separate messages on the occasion.
In his message, the President said, "Independence is the greatest achievement of the Bangalee nation. It's our moral duty to present the proper history of our struggle for independence to the young generation. On the historic Mujibnagar Day, I hope the young generation would know the true history of Liberation War apart from involving themselves in nation-building inspired by patriotism."
In her message, the Prime Minister urged the people of the country to engage themselves in building Bangladesh to make it free from hunger, poverty and illiteracy as dreamt by Bangabandhu.
Awami League and different socio-economic organisations have chalked out elaborate programmes on the occasion.
The ruling party's programmes include hoisting of the national flag and party flags at Bangabandhu Bhaban, party central office and all of its district unit offices at 6:00am.
Prime Minister Sheikh Hasina will place a wreath at the portrait of Sheikh Mujibur Rahman at Bangabandhu Bhaban in the city at 7:00am.
The AL leaders will place wreaths at the Memorial Monument at Meherpur's Mujibnagar at 10:00am.