Mostly onlookers, some of real help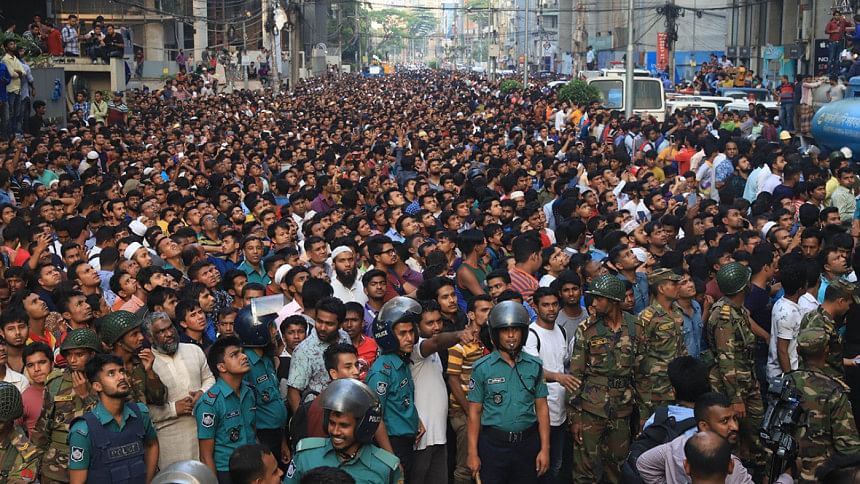 When the deadly fire was razing through the FR Tower in Banani yesterday, thousands of "over-enthusiastic" people poured into the Kamal Ataturk Avenue, giving the firefighters a tough time while running the rescue operation.
Although some people were seen helping firefighters, most of them were mere onlookers. Some of them were standing there for hours taking selfies, capturing videos and streaming live on social media.
Firefighters and law enforcers repeatedly requested them to leave the area but they didn't comply, triggering criticism on social media.
Thousands of people gathering at the spot of a major incident is a common occurrence in Bangladesh. It is also usual that they would extend help in the rescue operation. But in many cases, such gatherings create obstacles during a rescue operation.
Take for instance last month's fire in the city's Chwakbazar area. A lot of onlookers had gathered near the Wahed Mansion, hindering the firefighting and rescue operations.
After visiting the fire victims at Dhaka Medical College Hospital on February 23, Prime Minister Sheikh Hasina requested those who usually gather during such incidents not to create obstacles to the works of firefighters.
"You could bring some water or sand while coming to the scene of an incident...that would be of help to all," she said.
She also criticised a section of TV journalists for obstructing firefighters when carrying out their duties.
Yesterday, when the 22-storey FR Tower was on fire, many people had rushed near the building before the firefighters reached there.
Fire service officials said they had a tough time to manage the crowd and get close to the spot. As time passed, the size of the crowd got bigger.
Staying at the spot for around seven hours, this correspondent saw around 200 people, mostly private university students, helping the rescue effort. But thousands of others were blocking the road, making it difficult for the firefighters and ambulances to get close to the spot.
Dilip Kumar Ghosh, deputy director (operation) of Fire Service, said onlookers hindered their rescue operation.
"In such a situation, it is good if the community members help the rescue operation. But the Banani crowd caused troubles to the fire engines and ambulances. People have to show more maturity in such cases," he told The Daily Star.