Manpura forests in peril
Forest dept takes no action against tree plunderers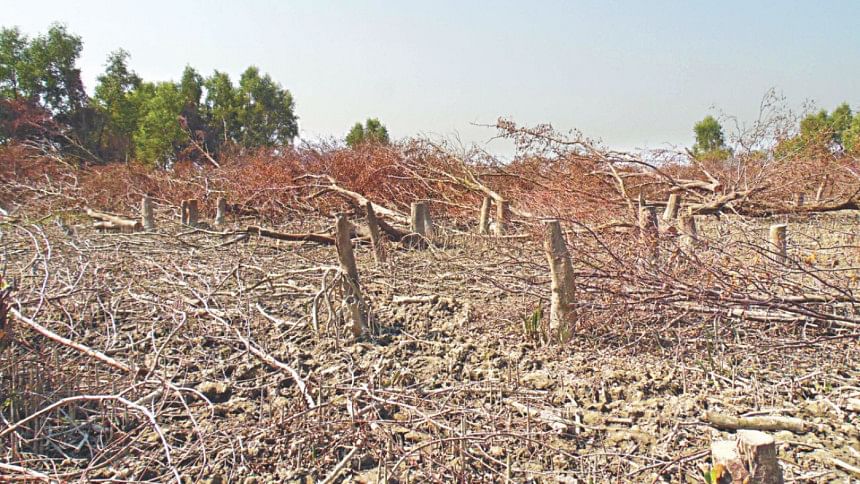 Felling of trees by "influential people" is damaging the biodiversity of Bhola's Manpura Island, making it prone to natural disasters.
The trees act as a natural shield to the upazila comprising five chars, four unions, and 38 villages with a population of 1.25 lakh. But the shield is thinning due to unplanned deforestation, increasing risks of floods and storms, environmentalists observed.
According to locals, the illegal practice had been going on for about eight years now. They blamed the negligence of forest department officials, who cited lack of manpower as their reason for lax monitoring.
This correspondent visited two chars and six forests in Manpura on three days recently. During those days, he found hundreds of trees lying on the ground at char Shamsuddin where no one lives permanently, except some crab collectors who stay on boats at night.
Locals said the trees were cut two to three days ago. Stealing trees from chars was an easy task as no one lived there, they told this correspondent.
Miscreants cut the trees at night and transport them to brickfields on trawlers, according to the crab collectors. "We, the common people, are very well aware of the practice but choose not to protest because the criminals have strong political connections," said one of them, seeking anonymity.
Rafiqul Islam, a resident of Crossdem forest area, located about five kilometres away from the upazila headquarters, said, "The practice of cutting and stealing trees started around seven years ago but the situation has become alarming now."
This correspondent saw a pond near Crossdem, which, according to locals, was created for fish farming around three years ago by clearing parts of the forest.
But the forest department did not take any action against the destroyers because they are backed by a politician, locals claimed. They, however, refrained from naming the politician who they claimed "owns a brick kiln and shelters the musclemen who cut and steal trees."
A local journalist, not wishing to be named, alleged that forest department staffers acted as aides to the criminals. "Without their support, one could never loot trees and that too within a short time."
According to him, thieves steal 100 to 200 trees every night.
The forest department officials brushed off the allegation and said that they could not monitor the forests round the clock due to shortage of manpower.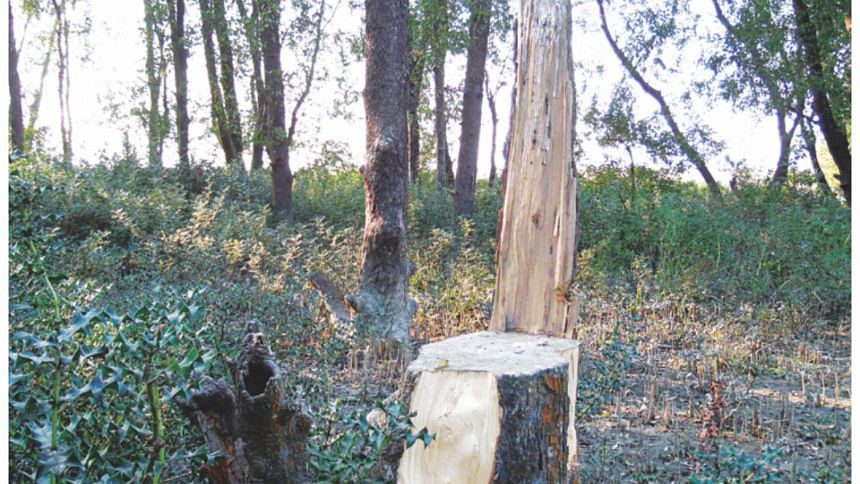 "We do not have enough manpower and logistics to protect the forests covering an area of about 8,000 hectares," Sukumar Shil, former forest department officer for Manpura range, told this paper.
"We have only one patrolling trawler and one motorcycle. Both are broken. I have time and again urged the higher authorities to arrange necessary logistics but received no response," said the officer, who has recently been transferred from Manpura.
A total of 22 cases in connection to tree cutting and stealing were currently under process in court, he said.
Manpura police OC Forkan Ali said, "Four firearms were given to the forest department to protect forests. But all of them are lying idle at the police station. I never saw them using those.
"I even offered the range officer to take police personnel along to patrol the areas but he was reluctant to do so." added the OC.
When asked on this, Officer Shil said they did not use the firearms because they were out of order. "We will take help from the police when necessary."
 In the mean time, Gabinda Roy, the divisional forest officer in Barishal, said "We are purchasing modern weapons and boats very soon under the Sustainable Forest and Livelihood Project for patrolling all the forests."
The project would be implemented by June this year, he added.