'Love is above all'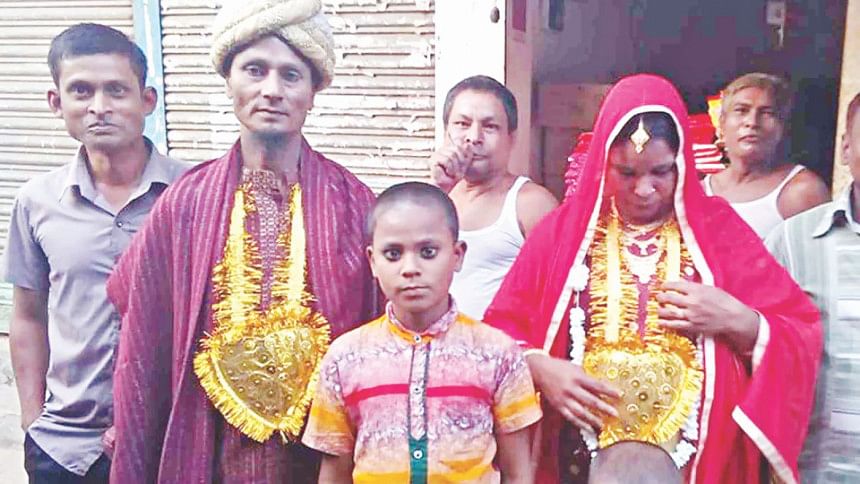 Clad in wedding garbs and the garlands they used in their wedding ceremony 18 years ago, a couple in Kaunia upazila of Rangpur celebrated their marriage anniversary, on Monday, in an exceptional manner and for a cause – to remove domestic violence from society.
Shahidul Islam, 48, and his wife Angura Begum, 38, from Bhetakuthi village of the upazila, spent nearly five hours travelling to different areas with their three sons, Sohag, Babu and Al Amin, raising their voice against violence at home.
Speaking to The Daily Star, Shahidul, an easy-bike driver, said that domestic violence is still prevalent in our society at an alarming level despite the existence of tough laws against it in the country.
"Silly quarrels among couples is common everywhere, but women are still being faced with torture and even death for matters like dowry," he said, adding, "Love is above all in the conjugal life."
Shahidul wore a simple purple panjabi and a turban while Angura wore a red wedding sari. They even bought new clothes for their children to wear for the celebration.
At 4:00pm, they drove to Haragachh municipality area on Shahidul's easy-bike, as curious onlookers were not only amazed to see the couple, with their children, in wedding attires, but also followed them.
Moving from area to area with scores of people surrounding them, the couple spent five hours raising awareness amongst locals by telling them to avoid domestic violence.
"Fights are normal in every marriage, but if you can raise your tolerance and acceptance towards each other and learn to adjust and compromise for each other, it is easy to avoid violence," Shahidul told them.
"Our love is still same as it was on our first day together, because love is all you need in a marriage. Violence is never necessary," Angura chimed in.
Those who saw them and heard them were inspired by this unique act of love.
"It is a rare example of love," said Kamrul Islam Raza, a local politician.
Mostafa Kamal, a high school teacher, said, "Love really changes people and if it is present between two people, it really is possible to avoid any kind of violence. Every married couple should be like Shahidul and Angura."
After spending the day raising awareness, Shahidul stopped at a roadside tea-stall to have tea with his family, which was offered to them free of cost by the tea-seller Badsha Mia. After that, Shahidul made sure to buy an anniversary present -- a handbag -- for his wife.
This was their small endeavour to help people change their attitude towards their life partners, the couple said before they rode back to the very home that shelters a love so inspiring.