Domestic violence victims not getting enough support amid Covid-19: MJF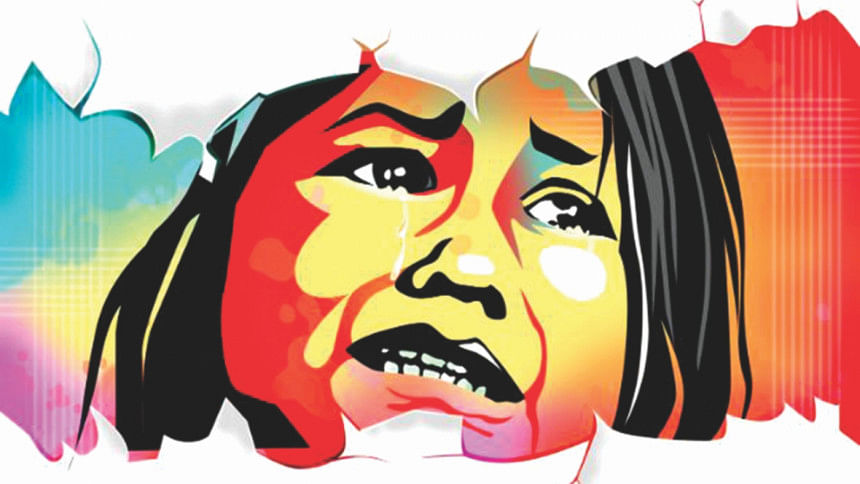 As all government departments, including law enforcement agencies, are focused on preventing coronavirus spread, victims of domestic violence -- women and children -- are not getting enough support, speakers at a webinar said today.
The situation has worsened as even NGO front liners are not able to make face-to-face interactions during the pandemic, they said.
The webinar titled "Behind the Closed Doors: Rise of Domestic Violence during lock down" was held with around 100 participants from different NGOs and government stakeholders. It was organised by Manusher Jonno Foundation (MJF).
A tele survey report by MJF shows that 13,494 women and children faced domestic and other violence during the countrywide shutdown in 53 districts of the country last month.
A staggering 4,160 victims admitted that they were abused for the first time in their life. MJF observed that the number of incidents of violence against women and children increased in May by 31 percent compared to data from April.
Shaheen Anam, MJF executive director, highlighted unequal power relations and lower status of women as the reasons behind the problem further exacerbated by the present crisis.
"Women, girls and other vulnerable/marginalised socially-excluded women face discrimination, inequalities, and exploitation differently than men during any natural disaster, conflict situations or other emergencies," she said.
Shaheen Anam said NGOs, including MJF, are facing difficulties when referring victims to emergency service providers as they are engaged with Covid-19 relief distributions.
Selina Ahmed, programme head (Gender and Diversity) of Brac, said incidents of domestic violence shot up during Covid-19 pandemic as the physical support from government and NGOs was absent.
Appreciating the police role in combatting Covid-19 pandemic, she said similarly police have to look into the domestic violence too.
Sara Hossain, executive director of Bangladesh Legal Aid and Services Trust (BLAST), said victims and those providing support are not able to travel to police stations, hospitals and shelters easily during the shutdown. "Family courts are not under virtual court now. So the victims are not getting any support from here," she added.
Sadira Khatun, superintendent of police at Police Headquarters, said that domestic violence had increased in this period according to data from the national helpline 999 and cybercrime unit.
The participating NGOs called upon the authorities concerned, including the home, law, and women and children affairs ministries, and the inspector general of police, to direct their field-level officials to strengthen their activities, keeping curbing domestic violence a priority.