Hike In Essentials Prices: Crooked traders out to cash in on Ramadan
Despite a government promise that price of essentials would not rise before Ramadan, a section of unscrupulous wholesalers and retailers have yet again begun charging people more for those.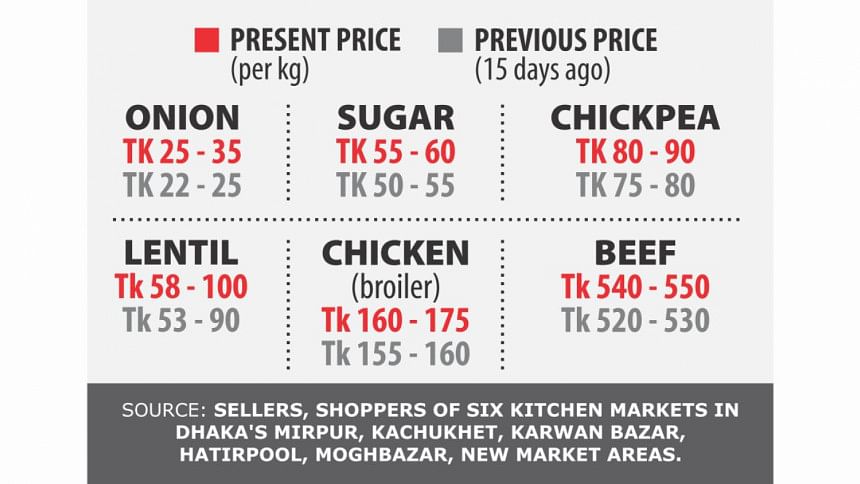 Despite a government promise that price of essentials would not rise before Ramadan, a section of unscrupulous wholesalers and retailers have yet again begun charging people more for those.
Grocery items, including onion, garlic, sugar and chickpea, as well as other vegetables are selling for higher prices at kitchen markets across the capital. 
Recently, the government claimed that both the stock and supply of the goods at the markets were adequate and there would be no such hike ahead of Ramadan, starting in the first week of next month.
Market insiders said although there were enough stocks, a nexus of dishonest wholesalers and retailers have created illegal, profit-mongering syndicates which were charging extra for the items. In this situation, it is the people, especially those from the low and middle classes, who are suffering the most.
MARKET SITUATION   
In the last few days, The Daily Star correspondent visited at least six kitchen markets and dozens of grocery stores in Mirpur, Kachukhet, Karwan Bazar, Hatirpool, Moghbazar and New Market areas and found that most of the Ramadan essentials were dearer there.
Market sources said in the last 10 to 12 days, the price per kg of chickpeas went up by Tk 5 to Tk 10, sugar by Tk 5, garlic Tk 10 to Tk 25, ginger Tk 10 to Tk 20, lentil Tk 5 to Tk 10 and potato Tk 2 to Tk 4. 
Price of each kg of chicken increased by Tk 5 to 15, beef Tk 20, while prices of most of the fish and vegetables by Tk 10 to Tk 30.
But prices of soybean oil, date, rice and salt remained almost static.
"I bought a kilogram of onion for Tk 35 and bitter gourd for Tk 100. Around 15 days ago, they were Tk 25 and Tk 70 respectively," said Rojina Nasrin, a banker, at the Hatirpool kitchen market on Sunday. 
While buying essentials for his family in New Market area, Shahidur Rahman, a businessman, said prices of such goods usually soar before Ramadan, when the demand increases manifold.
But this year, he said, it has happened before Shab-e-Barat which was observed by Muslims on Sunday. "This is totally unacceptable," he said.
Talking to this newspaper at Kachukhet Bazar near Mirpur, Rahima Begum, wife of a CNG-run auto-rickshaw driver, expressed her helplessness to the rising prices.
"Our income did not increase. So we have to eat less and make adjustments to our food habits," she said.
Asked why the goods became dearer, Mohammad Faisal, a vendor in Hatirpool area, said, "Such [price] hikes are normal during Ramadan in face of increased demand."
Commerce ministry data shows during Ramadan demand for sugar and edible oil almost doubles while demand for onion increases about 150 percent, chickpeas 860 percent and lentil nearly 113 percent across the country.
"We don't increase any price. We had to buy the goods at a higher price from the wholesale markets. We only adjust the price to earn our profit," said Faisal.
People in the capital are paying extra for the essentials at a time when the World Bank and the Food and Agriculture Organisation (FAO) say there has been a downtrend in prices of food items in international markets.
 Lokman Hossain, general secretary of Karwan Bazar Kitchen Marker Owners' Association, said they had enough stock of Ramadan items, including chickpeas and sugar, and that there was no sign of shortage in the supply. Karwan Bazar is the country's biggest wholesale kitchen market.
But retailers suddenly placed more orders before the wholesalers keeping Ramadan in mind, resulting in a slight increase in prices of goods at the wholesale markets, he said.
NO PRICE CHART
During the visits to the kitchen markets, these correspondents did not see a single updated price chart, supposed to be maintained by the city corporation authorities. Besides, there was hardly any chart with product prices hanging in front from grocery stores.
Asked, Mofizul Islam, organising secretary of Banalata Market Traders Association in New Market, claimed they frequently urge the traders to put the lists in such a way so that those are easily visible. However, some pay heed while others don't, he said.
Contacted, Mostafizur Rahman, chief executive officer of Dhaka South City Corporation, said they would discuss the issue of price chart soon and asked the relevant people to update them timely.
Ghulam Rahman, president of Consumers Association of Bangladesh, said prices of goods go up before every Ramadan as a section of traders engage in an "ugly competition" of making extra profits.
They cash in on the increased demand of goods, despite adequate supply, he said.
"This year, the traders took up a new strategy. They hiked the prices before Shab-e-Barat, so that it seems the market is stable during Ramadan," he said.
He then urged the government and its relevant bodies to take strict measures against those profit mongers.
Besides, the retail prices of some commodities were higher than those mentioned in the chart of Trading Corporation of Bangladesh (TCB). For instance, price per kg of sugar stood at between Tk 55 and 60, but chart shows it at Tk 52 to Tk 55.
THE SAME CASE
Last year, prices of essentials in the markets also had increased before Ramadan. For example, per kg of local onion was selling for Tk 45 to Tk 50. Weeks before that, the price ranged between Tk 35 and Tk 40.
The situation was the same ahead of the previous Ramadan.
On both occasions, the government, including the then Commerce Minister Tofail Ahmed, had assured that the prices would not be raised.
This year, the incumbent Commerce Minister Tipu Munshi has at least twice said the prices would not go up centring Ramadan as there was "enough" stock.
Following the price hike, the commerce minister issued a letter on April 17, directing all deputy commissioners and upazila nirbahi officers to strengthen market monitoring and take legal steps to keep the prices of essential commodities within the reach of people.