Hefajat supporters attack Hindu homes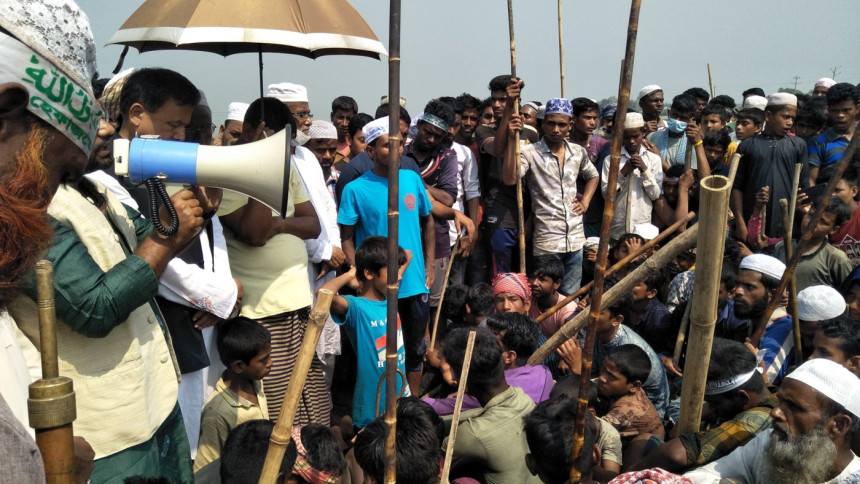 Several hundred supporters of Hefajat-e Islam attacked, vandalised and looted at least 75 Hindu houses in Sunamganj's Noagaon village yesterday morning over a Facebook post.
Thirty-five houses were damaged badly and 40 more partially in the attack, said Md Jahangir Hossain, deputy commissioner of Sunamganj.
"We have assured the victims of all sorts of help from the administration. We've told them that the attackers and their patrons will be identified and legal action will be taken against them," he stated.
The attackers also vandalised several idols and looted valuables from the Hindu houses in the village under Shalla upazila, locals said, alleging that police were late in reaching the spot.
Carrying locally-made weapons, Hefajat supporters from villages adjacent to Shalla upazila started gathering at a bazar in Noagaon village around 9:00am and launched the attack about an hour later.
The mayhem continued for nearly an hour till police reached the spot at about 11:00am and brought the situation under control.
However, no one was arrested and no case was filed over the attack.
Rontu Das, a resident of Noagaon village, said locals from adjacent villages carrying weapons started gathering near the village yesterday morning even though police on Tuesday night arrested the young man, also a resident of his village, who made posts on Facebook about a Hefajat leader. 
"All of a sudden they attacked our village. We ran for our lives, leaving everything behind. The attackers kept ravaging our houses until police arrived," he said.
Sajal Chandra Das, another resident of the village, said, "The attackers were mostly from nearby Nachni, Chandipur, Santoshpur and Sarmangal villages of Derai upazila and Kalimpur of Shalla upazila."
Mizanur Rahman, superintendent of police in Sunamganj, said, "On information of the attack by Hefajat supporters, police and officials of the local administration rushed to the spot, pacified the angry mob and brought the situation under control."
On Monday, Hefajat unit of nearby Derai upazila, organised a rally in the upazila where the organisation's Ameer Junayed Babunagari and Joint Secretary General Mamunul Haque spoke.
At the rally, Mamunul criticised the celebration of Bangabandhu's birth centenary and Indian Prime Minister Narendra Modi's upcoming visit marking the golden jubilee of Bangladesh's independence, according to local media reports.
The following day, Jhumon Das Apon, a youth from Noagaon village, made posts on his Facebook wall, slamming Mamunul for trying to create a religious divide, said Nazmul Haque, officer-in-charge of Shalla Police Station.
At this, Hefajat supporters became agitated. Locals of Noagaon village caught Jhumon at a bazar on Tuesday night and handed him over to police.
"We took him [Jhumon] into custody. Local Hefajat leaders are preparing to file a case with the station over his post on social media."
However, no case was filed in this connection till 10:00pm.
Following Jhumon's Facebook post, members of the Hindu community in the village had been in fear of attacks.
Talking to this correspondent yesterday, Bibekananda Majumdar Bokul, chairman of Habibpur union and a resident of the village, said officials of police and the administration on Tuesday night held a meeting with local Hefajat leaders who assured that there would be no trouble since Jhumon had already been arrested.
"Probably, this was the reason why the administration didn't think it necessary to take security measures to protect the members of the Hindu community.
"The attack has left us speechless… I still cannot believe that this happened to us," said Bibekananda whose house was also vandalised.
Contacted, Deepak Chandra Ghosh, president of Hindu, Bouddha, Christian Oikya Parishad in Sunamganj, said, "Whatever the youth posted on Facebook is a matter of investigationby the authorities. He had already been detained. But the attack despite his detention is heinous. We strongly condemn it.
"As the deputy commissioner and the superintendent of police assured the locals of justice, we demand that police identify the attackers and bring them to justice without delay."
Hefajat Nayeb-e-Amir Maulana Abdul Basir, also former president of its Sunamganj unit, said he heard about the incident but was yet to get details.
The man who criticised Mamunul has already been detained, and he has to be brought to justice through due legal process, he mentioned.
"But the attack on the houses of innocent people is regrettable," said Basir.