GK Shamim into land grabbing too
Allege indigenous communities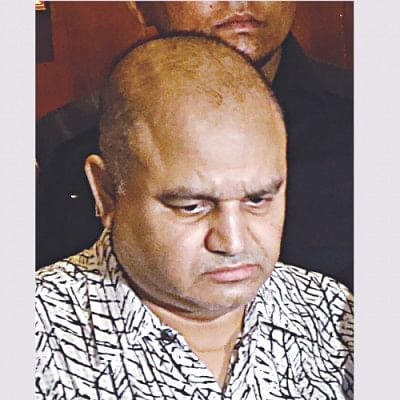 GK Shamim, who has recently been arrested with Tk 1.80 crore and FDR worth Tk 165 crore, is a director of a resort the authorities of which allegedly evicted inhabitants of a Marma Para in Bandarban Sadar upazila.
Leaders of indigenous communities in the district allege that influential people like Shamim continue to grab their land in the name of tourism business.  
"Shamim used his black money and political muscle to grab indigenous people's land," Jumlian Amlai, president of Parbatya Chattogram Forest and Land Rights Protection Movement's Bandarban chapter, told The Daily Star yesterday. 
This newspaper ran two stories on the alleged land grabbing under the headlines "Last six Marma families evicted" and "3 indigenous villages face land grabbing" on August 9 last year and July 28 this year respectively.  
The reports said the authorities of Sylvan Wye Resort and Spa Ltd allegedly evicted the last six families of Saingya Marma Para while another 170 families of nearby Saingya Tripura Para, Laimi Para, and Hati Bhanga Para faced threat of eviction. 
The resort owner intends to construct a 5-star hotel in the area, the reports said. 
Leaders of the indigenous communities alleged that the resort authorities have already grabbed 250 acres of land in the Paras, which are cradled in the scenic hilly landscape and close to the town centre. 
The Daily Star has obtained a copy of a Sylvan Wye document that shows GK Shamim is one of the directors of the resort.      
Contacted, Jashim Uddin Montu, chairman of the resort, confirmed the matter and said GK Shamim invested around Tk 2 crore in building the 5-start hotel. 
Refuting the allegation of land grabbing, Jashim claimed that he bought 60 acres of land from the indigenous families, taking permission from the authorities. 
He also accused the villagers of illegally entering "his land". 
But how he bought the land remains a mystery because only permanent residents of the hill district are eligible to buy land there.
A gazette notification published on August 3, 1989 states that no land shall be transferred to a person who is not a resident of the hill district.
Indigenous leaders said they submitted complaints to the district administration several times in the past, but to no avail.  
Joseph Tripura of Saingya Tripura Para said, "We went to the local administration, but it did not pay any heed to our complaints. It seems the administration has been bribed by Shamim and his men." 
Birendro Tripura, headman of the Para, said, "We receive death threat whenever we protest land grabbing."  
Talking about the issues, noted lawyer Barrister Jyotirmoy Barua said, "Influential local public representatives give shelter to land grabbers, including businessman like GK Shamim. It is nothing but a part of the continuous process of grabbing land in the Chattogram Hill Tracts."  
Asked, Bandarban Additional Deputy Commissioner Md Shafiul Alam said, "We received allegations against Sylvan Wye Resort and Spa Ltd. We have also been informed about GK Shamim's involvement in land grabbing." 
He denied the administration's involvement with land grabbers. 
On Friday, SM Golam Kibria Shamim was held, during a raid at his office in the capital.  
He faces charges of tender manipulation, extortion and running drug and gambling rackets. 
When he was being arrested, he introduced himself as a central Jubo League leader. 
But the youth front of Awami League said he was not.