14-yr-old girl hacked by stalker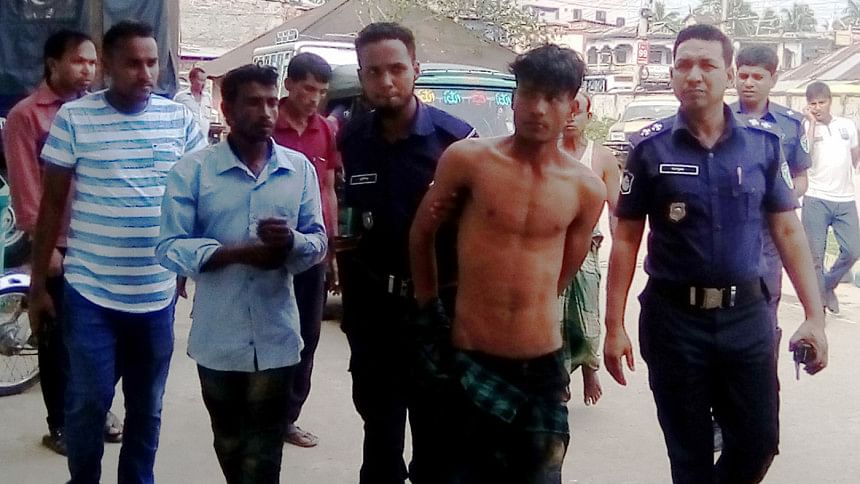 A stalker hacked and injured an eighth grader on her way home from school in Kulaura's Ghaterbazar area yesterday afternoon for refusing to get into a relationship with him.
The 14-year-old victim was rushed to Kulaura Upazila Health Complex before being shifted to Sylhet MAG Osmani Medical College Hospital.
Dr Zakir Hosain, resident medical officer at the health complex, said part of the victim's right ear was cut off and there was a two-inch deep gash on her head.
The attacker is Jewel Ahmed, 19, an unemployed youth from Sadipur village in the same upazila.
Quoting witnesses, police said Jewel was waiting in Ghaterbazar area around 3:00pm when the girl reached there after taking a school exam.
Jewel asked her to get into a relationship with him, but she refused to comply.
Angered by her refusal, he hacked the schoolgirl with a cleaver in presence of some local people. At one stage, the girl lost consciousness.
Locals caught Jewel and handed him over to police after giving him a good beating. Police recovered the cleaver from the spot.
Talking to The Daily Star, the victim's mother said Jewel had been stalking her daughter for months. To avoid any trouble, they transferred her to another school from the high school near their home early this year.
At that time, the mother also filed a general diary with Kulaura Police Station in this regard.
The schoolgirl's uncle said Jewel on different occasions had pressed her niece to get into a relationship. They complained to Jewel's family about the matter, but in vain.
Kulaura OC Eardous Hasan said Jewel admitted to them that he hacked the schoolgirl for refusing to get into a relationship.