Flood Damage in 28 Dists: Crops on 5.32 lakh hectares destroyed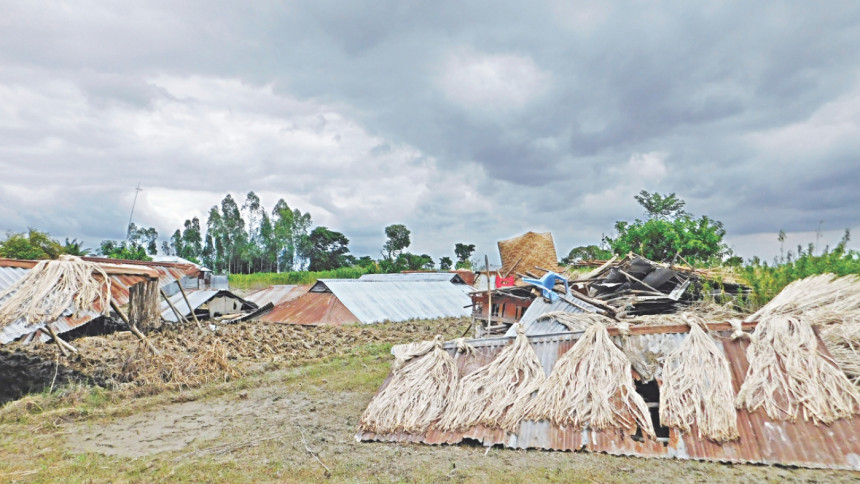 Around 6.77 lakh hectares of croplands have been damaged by the recent flood that affected about 61 lakh people in 28 districts, says the government statistics.
Crops on 5.32 lakh hectares were destroyed and the rest damaged.
Besides, 5.66 lakh houses were affected -- 33,635 destroyed and 5,32,643 damaged.
Talking about road communications, Shah Kamal, senior secretary of the disaster management and relief ministry, at a press briefing at the ministry yesterday said over 7,000kms of roads were affected. Of them, 292km were destroyed and 6,735km damaged.
The flood also razed 42 educational institutions and damaged 4,857 others. But the secretary did not give any details about what kind of educational institutions those were.
The financial loss caused by the flood was yet to be estimated. It will be assessed after water recedes from all the affected areas. It may take 15 days more, said Kamal.
Aimed at protecting the people from flood, the government is planning to build embankments on both sides of all major rivers across the country.
The embankments will be constructed with the financial assistance of the Japan government. Discussion is going on in this regard, said the secretary.
Addressing the briefing, State Minister for the Disaster Management and Relief Ministry Enamur Rahman said the government allocated Tk 4.71 crore, 27,350 tonnes of rice, 1.13 lakh packets of dry food, 8,500 tents, and 3,900 bundles of corrugated iron sheets as relief materials for the affected people.
 Furthermore, Tk 1.17 crore was allocated for repairing houses, Tk 24 lakh for procuring cattle fodder and Tk 18 lakh for buying child food, he said.
"There is no scarcity of relief materials. Even though flood continues for three months, the government has the capacity to provide the affected people with relief."
Replying to a query, the state minister said there was no possibility of prolonged flood.
He also presented a document that said 75 people died due to the flood in 14 districts from July 11 to 25. Sixty-seven drowned and eight died in boat capsize. Of the victims, 56 were children, 13 men, and six women.
At the briefing, Bangladesh Water Development Board Executive Engineer Arifuzzaman Bhuiyan said water of all major rivers was dropping and water of the rivers would come below the danger level in the next two days.
There is no possibility of massive flood in the country within the next two weeks, he said.
Speaking at the briefing, Bangladesh Meteorological Department Director Shamsuddin Ahmed said rainfall decreased in Bangladesh as well as the upstream areas in India and Nepal. So, water level of all major rivers in Bangladesh will continue to fall.
Our correspondents reported on the flood situation at different districts yesterday.
In Lalmonirhat, different waterborne diseases have broken out in the flood- affected areas.
"We returned home from a flood shelter on Saturday as water receded. Just after returning home, two members of our family had diarrhoea," said Mahir Uddin, 66, of Khuniagachh in Sadar upazila.
In Kurigram, many flood victims have been passing their days in misery at flood shelters for around two weeks.
"I took shelter here around 15 days ago. Since then, we are getting food once or twice a day. We are facing crisis of drinking water and toilet facilities," said Jahanara Begum, 30, of Tapu Bhelakopa village under Kurigram municipality, who took shelter on an embankment.
Our correspondents in Pabna, Sirajganj and Gaibandha reported that flood situation was improving there.