Flood Aftermath: Farmers forced to sell cattle at low prices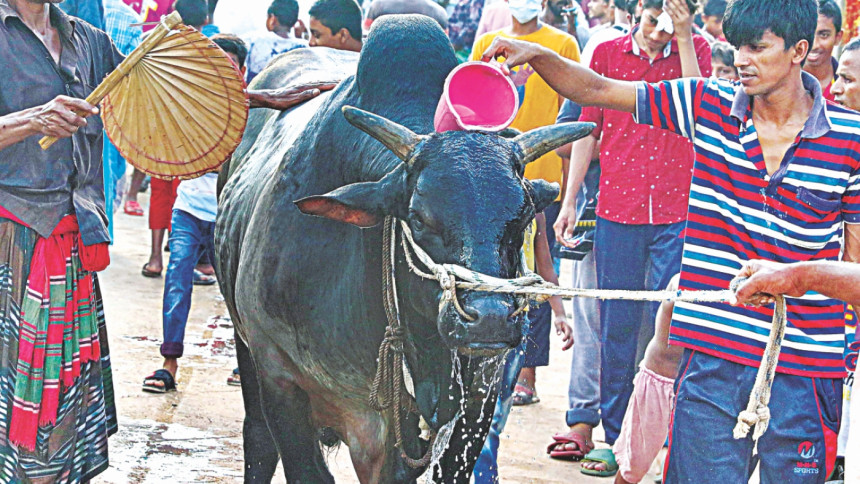 Small farmers of flood-hit districts, who raised cattle for the Eid-ul-Azha markets, have started selling off their animals at low prices as they are struggling to feed them because of food shortage in the affected districts.
The cattle were quickly losing weight and becoming weak for the lack of feed and a place to sleep as most land was inundated, much to the worry of these farmers.
Anisur Rahman, a farmer from Purba Kazlapara village of Jamalpur, reared two oxen for the last six months, expecting to a good price before this Eid, but the flood waters washed away his hopes.
"My cowshed is submerged in knee-deep water," said Anisur.
Yet he had to keep his cows there for two weeks and he also could not feed them properly.
"Finding no other way, I sold them off for Tk 80,000 each. If I had held on to them till Eid, I could have sold them for more than Tk 100,000 each," he said.
According to the Department of Livestock Services (DLS), about 684 tonnes of granular food, 9,018 tonnes of paddy straws and 27,000 tonnes of grass were destroyed in flood that started in the first week of July. The water began receding later during the month.
In addition, about eight cows, 10 goats, 21,000 chickens and 251 ducks died. The total damage has been estimated to be worth Tk 20.54 crore.
Mahbubur Rahman, director (production) at DLS, said, "The small farmers in the flood-hit areas were affected the most as they could not feed their cattle due to a crisis of dry food."
However, the crisis will be overcome and there will be no shortage of cattle for slaughter during the Eid on August 12, according to DLS officials.
"There are enough cattle ready for slaughter," said Rahman.
Afaz Sheikh of Santosh village in Shahjadpur upazila in Sirajganj incurred a loss of Tk 10,000 as he sold off his cow. "My cow became lean as I could not feed it."
Apart from dry feed, grass is a good source of nutrients for cattle but grass in the grazing fields and low lands have all been damaged in flood waters.
In Sirajganj, about 134 acres of low land, where Napier grass is cultivated, was completely inundated.
DLS officials said grass worth about Tk 75 lakh has been damaged in the affected areas. Prices of dry food has risen, in response to the shortage.
The price of a 50kg sack of chaff and silage shot up by Tk 150-Tk 200 to Tk 1,380 and Tk 1,750 in Sirajganj and Pabna, reports our local correspondent.
The price of paddy straw, another popular dry feed for cattle, also doubled to Tk 400 a maund.
"Although big farmers have managed to buy feed, the marginal farmers are facing a crisis," said Aktaruzzaman Bhuiyan, deputy livestock officer of Sirajganj.
Many farmers took shelter at nearby embankments with their cattle, he said. They procured about 3 tonnes of dry feed and distributed among the farmers in Sirajganj, he added.
Dr ABM Khaleduzzaman, assistant director (farm) of DLS, said meeting the feed crisis is now the main challenge.
The government has taken an initiative to distribute about Tk 1 lakh to Tk 1.5 lakh each to worst-affected marginal farmers in 160 flood-hit upazilas, he said.
Besides, DLS officials collected 100 tonnes of granular cattle feed, about 40 tonnes of which will be distributed in the worst-hit areas of the northern districts.
According to DLS, there are 45 lakh cows and buffaloes, 72 lakh goats and sheep and 6,536 other cattle ready for slaughter this upcoming Eid.
Last year, there were 1.15 crore cattle before Eid and about 1.05 crore of those were slaughtered.
"We usually add five lakh cattle to the number of cattle slaughtered the previous year to estimate the demand. So, the demand for cattle this year is 1.10 crore," said Khaleduzzaman, adding that there is surplus in the number of cattle.
[Our correspondents from Bogura, Pabna and Jamalpur also contributed to this report]