Flash floods hit North, hill dists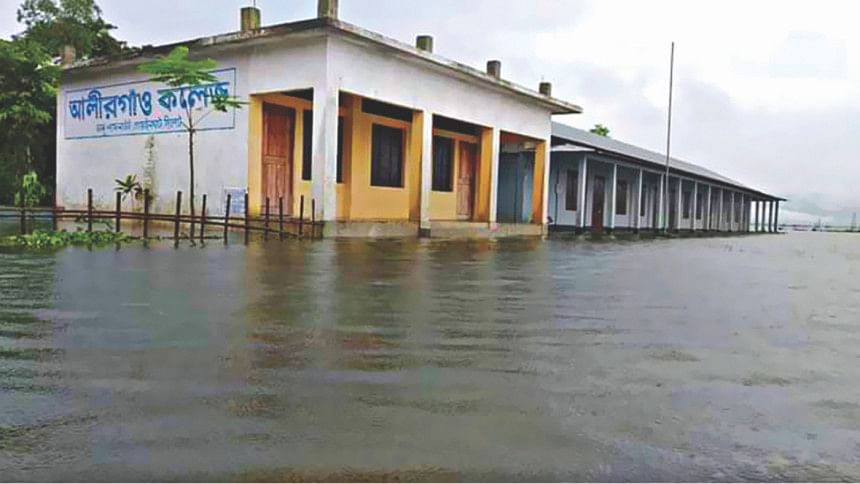 Many areas in the country's northern, north-eastern and hilly regions have been inundated by flash floods, causing thousands of people to suffer.
Incessant rain and an onrush of water from the upstream have caused the floods, while some rivers are flowing over the danger level.
Road communication between Bandarban and other districts remained suspended over the last two days, as roads in Satkania Upazila's Bazalia area remained submerged, reports our correspondent in the district.
Many parts of the district town have also already been inundated. Crop lands in these areas have gone under water, while ponds have been overflowing.
District administration officials are trying to evacuate the affected people and provide them with food and other necessary support, Baghaichhari Upazila Nirbahi Officer Muhammad Ahsan Habib Jitu told The Daily Star.
In Rangamati, around 3,000 families remained marooned due to floods. Many educational institutions have been closed and families are moving to flood shelters.
In the north-eastern regions, floods have worsened as river water has been flowing above danger levels, reports our Sylhet correspondent.
Low lying areas in Sunamganj Sadar, Tahirpur, Dowarabazar, Bishwambarpur, Jamalganj and Dharmapsha upazilas of Sunamganj, and Sylhet's Gowainghat and Kanaighat upazilas have been flooded.
Water from Gowainghat's Sari-Gowain river has been flowing 40cm above the danger level in Sarighat area.
Road communication between Tahirpur upazila and Sunamganj Sadar remain closed off.
Md Fazlur Rahman, relief and rehabilitation officer in Sunamganj, said 300 tonnes of rice and 1,265 packets of dry food have been allotted for the flood-affected people of the district.
Abul Kalam Azad, supervising engineer of Bangladesh Water Development Board (BWBD), yesterday said excessive rainfall was likely to continue for next two to three days.
In Lalmonirhat, chars and low-lying areas, that are homes to around 35,000 people, in Teesta and Dharla river basins are inaccessible due to flood.
"Our houses have been flooded. Now we have taken shelter on roads," said Nazar Ali, resident of Bagdora village in Sadar Upazila.
"We have got some dry food from government officials. But we are in severe need of drinking water," said Saheda Bewa, another resident of the village.
Contacted, the district's Deputy Commissioner Abu Jafar said the administration was providing necessary help to the flood-affected people.
Meanwhile, the Spar dyke at Gobordhan village in Aditmari upazila is under the threat of collapsing due to heavy pressure of water from the Teesta.
The dyke was declared risky last year, but it was not repaired by the BWDB. Amid such a situation, several thousands of people from six villages are in fear of losing their homes in floods if the dyke collapses.
Sub-Divisional Engineer of BWDB in Lalmonirhat Bazle Karim said they were trying to protect the dyke by dumping Geo Bags and have requested higher authorities concerned to allocate funds to repair the dyke on an emergency basis.
In Netrakona, different areas of Kalmakanda Upazila have been flooded over the last two days, affecting some 6,000 families.
Situation was worsening as water of the Sumeswari, Foli and Ghumai rivers has been flowing into Bangladesh's crossing border.
"All of the areas have been flooded and road communications remains snapped," said Md Rafiqul Islam, chairman of Pogla Union Parishad in the district.
Many educational institutes have been closed due to floods, said Ruel C Sangma, acting UNO of Kalmakanda, adding that the district administration has allocated 300 packets of dry food for those who have been affected by the floods.
Our Bandarban, Rangamati, Sylhet, Lalmonirhat and Mymensingh correspondents contributed to the story.