Fishing Ban at Sea: Fishermen block highway in Ctg for hrs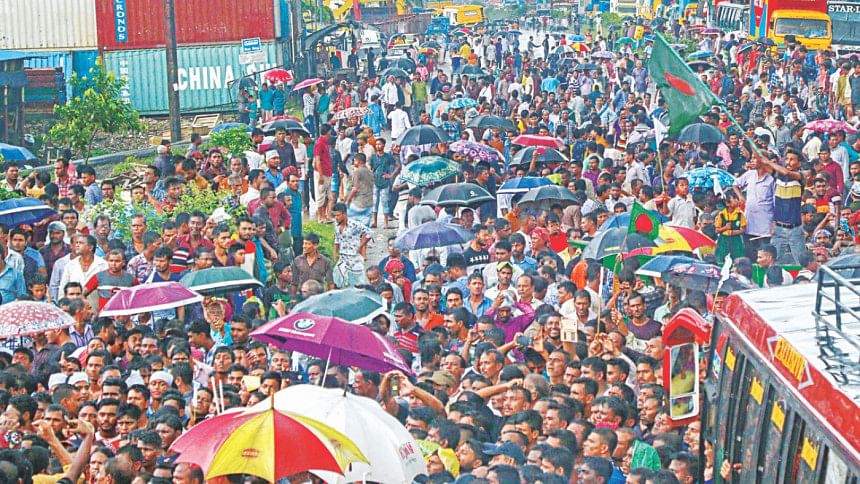 People leaving Chattogram or heading towards the city were stuck in long tailbacks for several hours after fishermen blocked Dhaka-Chattogram highway in Sitakunda upazila yesterday, demanding the lifting of an ongoing ban on fishing at sea.
The barricade was put up in Faujdarhat police outpost area at 10:00am and removed two hours later after the authorities assured them of taking the demand to the high-ups.
During the protest, long-route buses, lorries, and covered vans were standing still on both sides of the highway.
The government for the first time imposed a 65-day ban on fishing at sea from May 20 to July 23, to ensure smooth breeding of marine fish.
Talking to The Daily Star at the spot, fisherman Priyonath Jaladash of the port city's Sagorika area said the ban came as a blow to their livelihood.
"We never go into the deep-sea. Our fishing area lies within 4km. The sea resources would never be damaged if we continue fishing within this 4km. But the government did not take this matter into consideration," he said.
Priyonath was echoed by other fishermen.
Porimal Das, senior vice-president of Uttar Chattala Upakuliyo Matsyajibi Jaladash Samabay Kallyan Federation, a platform of fishermen which organised the protest, said they rejected the government ration offered as compensation.
"We won't accept rice and lentil. The ban is illegal because the ground reality was not considered. All we want is the ban must go."
Fishermen receive a one-time allocation of 40kg of rice and 5kg of lentil as compensation for the ban period.
According to fishing community leader Porimol Das, there are 375,000 fishermen along the 100km coastal belt from Mirsarai upazila to Patenga.
Soon after the removal of the barricade, a tripartite meeting was called at the deputy commissioner's (DC) office between representatives of Chattogram district administration, three local lawmakers, and fishermen.
Coming out of the meeting, fishermen's leader Porimol Das told The Daily Star that local lawmakers promised them of raising the demand with prime minister as well as in parliament, which sits on June 11. "We will see how things play out for two to three days. If there is no progress, we will resume our protest."
Md Didar, lawmaker of Sitakunda (Chattogram-4), who attended the meeting, said the Marine Fisheries Ordinance 1983 (Amended in 2015) includes the provision of ban, and it could not be amended immediately.
"We assured them that we would raise the issue in parliament, and if necessary, we will take it to the prime minister to get a solution."
PUBLIC SUFFERINGS
Although it was a two-hour barricade, people suffered for a longer period because the traffic congestion did not ease immediately.
Saiful Ahmed, a truck driver who was supposed to reach Narayanganj by noon, told The Daily Star that he got stuck at the spot around 11:00am.
"Though the blockade was withdrawn at 12:00pm, the vehicles slowed down due to the long tailback. I don't know how long it will take to reach my destination."
Dhaka-bound passenger Sabiha Tarin said she was supposed to join a ceremony in the evening but she was not sure she could make it. "The traffic situation improved significantly after two bridges were built recently. I didn't think this may happen."