Fire ravages 230 shops in Malibagh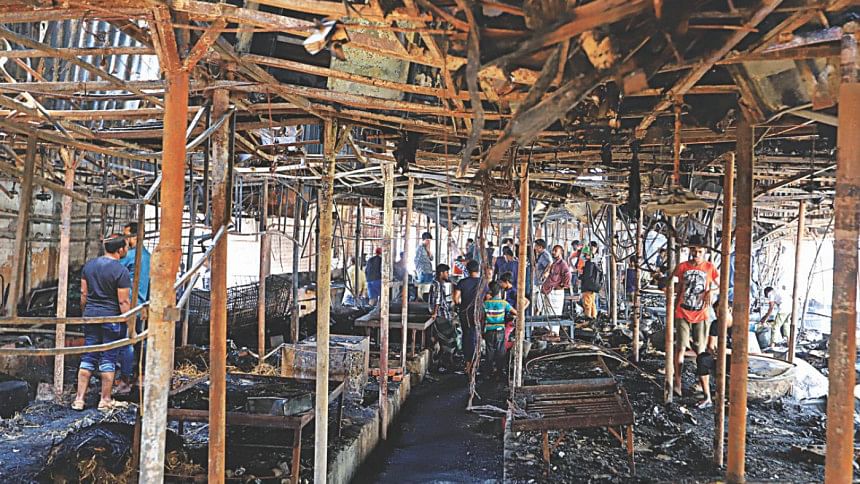 A massive fire swept through Malibagh kitchen market yesterday morning, burning down some 230 shops.
The fire originated from a shop around 5:30am and it took 13 firefighting units around four hours to douse the fire, said Ershad Hossain, a duty officer at the Fire Service and Civil Defence Headquarters.
No casualty was reported. A four-member committee was formed to investigate the fire, he said.
However, the shop owners blamed the firefighters as they could not save any of the 230 shops in the market. They alleged that the fire fighters did not carry adequate water even after being informed immediately after the fire broke out.
"Two fire fighting vehicles arrived immediately but the six others arrived late without carrying sufficient water," said Faisal Majumder, secretary of the kitchen market traders' association.
 "How did the fire gut one shop after another along the row? .... It is a failure of the firefighters," he added.
Fire officials, however, said they could not save any shops as they faced scarcity of water and there was no local source of water. 
Visiting the spot yesterday afternoon, this correspondent saw the shop owners searching through the ashes and salvaging items of foodstuff and utensils.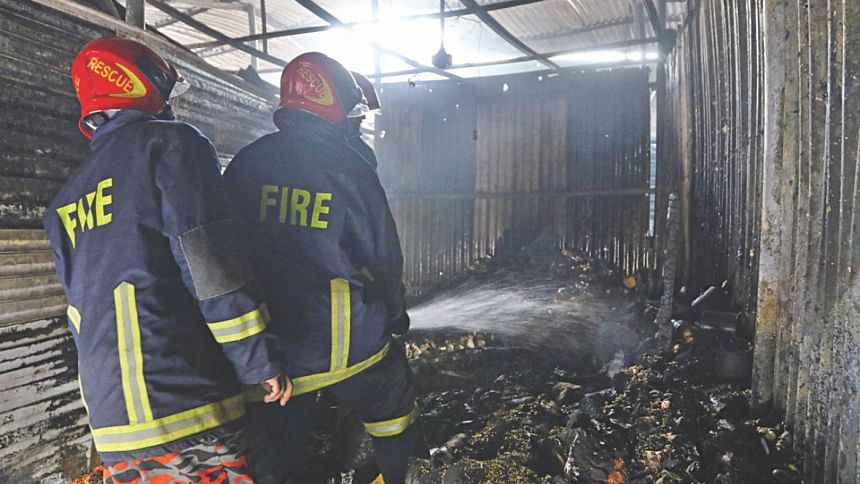 Many were trying to hold back tears while some were consoling each other. Fish kept in fridges or boxes was found roasted in heavy heat. Several goats kept for slaughtering in the morning died of smoke inhalation, fire officials and traders said.
Humayun Kabir Khan, who owned two shops in the market, said goods worth Tk12 lakh stored in his shops were gutted in the fire.
Earlier on March 30, more than 200 shops in Gulshan-1 DNCC kitchen market were gutted in a fire. Four days later, another fire gutted 128 shops at Khilgaon Kitchen market.