Dried fish still laced with toxins
NGO's efforts to popularise organic method not working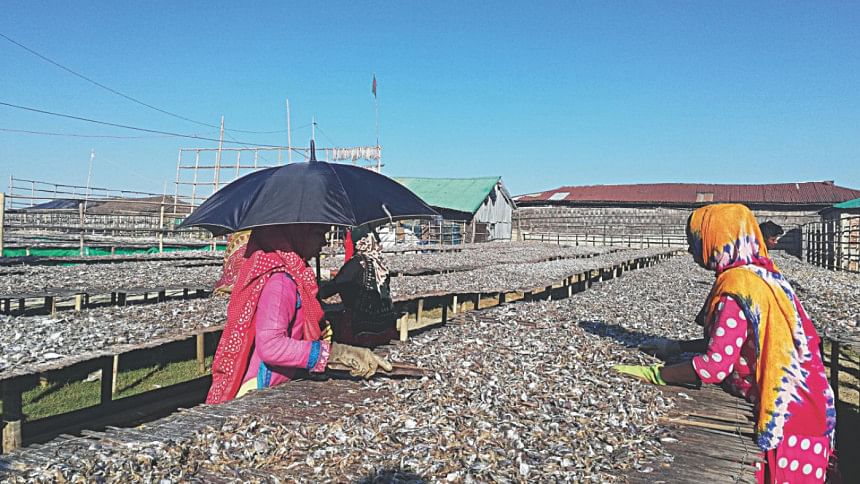 Dried fish producers in Cox's Bazar's Nazirar Tek village, the largest dried fish producing village in the country, are still using toxins even though an NGO has been putting in efforts to make them switch to organic fish-processing methods.
Many of the producers use pesticides like Dithane-M 45, Shobicron, and Diazinon to ward off maggots and flies.
A 2016 study by Chittagong Medical College Hospital (CMCH) identified the toxins used for drying fish as "one of the main causes of cancer". It said Chattogram saw a rise in number of cancer patients in recent times and the reason was the high consumption of dried fish.
The following year, Md Idris, a dried fish producer in Nazirar Tek of Cox's Bazar, was jailed for a year for using toxins in the fish. But soon after getting out of jail, he was again caught red-handed using the toxins on dried fish, said Mizanur Rahman, a field-level worker of "Coast", the NGO discouraging the use of pesticides in dried fish.
Mizanur and five other field-level workers of Coast keep an eye on dried fish producers in the village.
Coast started a three-year campaign to promote organic dried fish in February 2017 as part of its project "Promoting Agricultural Commercialisation Enterprise".
The campaign received little to no response from the producers who believe the new method would raise production cost, drive down profits or worse, cause losses.
After netting the fish, producers separate loitta, chhuri, poa etc for drying. The pesticides, usually meant for paddy fields, are mixed in water in which the fish are soaked before being dried in the sun.
Every year the village, locally known as "shutki (dried fish) palli", produces 1.50 lakh tonnes of dried fish meeting 85 percent of the country's demand, according to data of Coast.
Abdul Jabbar, whose family has been making dried fish for generations, admitted to using pesticides, particularly during the monsoon.
"During monsoon, we do not have any alternative. If we don't [use pesticides], insects will get on the fish and ruin them," Jabbar said.
Another producer Helal Uddin said the fish start decomposing fast. "Adding the pesticides is the only option since healthier methods require more time and money."
Tanzira Khatun, value chain facilitator of Coast, said fishermen usually mix pesticides in water at night.
Buyers want dried fish at low costs which prompts producers to opt for such unhealthy methods, she said.
"Around 18 ribbon fish are needed to produce one kilogram of dried fish in the proper organic and healthy ways, whereas only eight to 10 are enough using pesticides," Tanzira said.
According to her, there are 1,200 dried fish producers in Nazirar Tek. The project is trying to train them on non-toxic production methods through meetings and seminars.
"We have set up a fish dryer in the village which can produce two tonnes of dried fish a year. We need more such dryers," she said.
Bangladesh Fisheries Research Institute designed the fish dryer -- a box with six electrical fans and two 4kw heaters.
Md Mizan, a field-level worker of the project, said they take strolls through the alleys during the day to see if anyone is using toxins. "As soon as we get the smell of toxins, we inform the upazila fisheries officer who takes action against the perpetrators," Mizan told this paper.
Cox's Bazar Sadar Upazila Fisheries Officer Moinuddin said at least four people were penalised last year. "It is difficult to keep an eye on them 24/7 because they soak the fish in toxins secretly at night."