Dreams incomplete
Rana Plaza hero Himu dies by suicide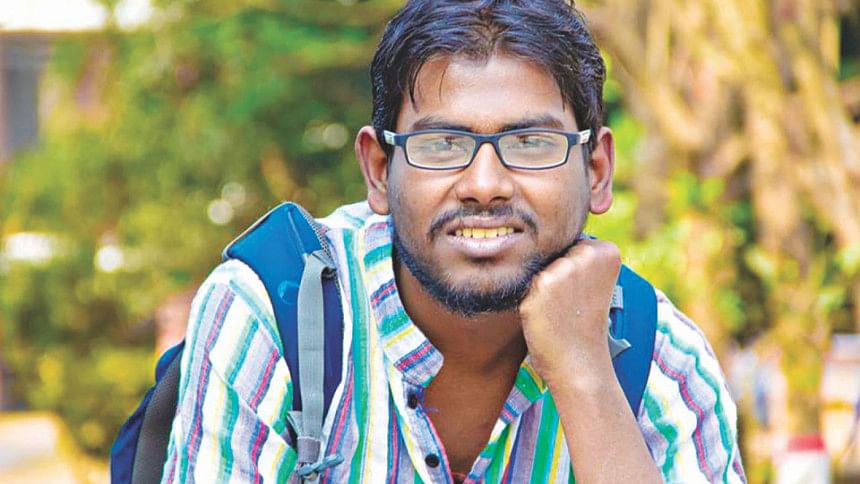 From a young age, he believed in helping people in whatever way he could. Whether it was staging protests for the causes he believed in, saving lives of people trapped in building collapses, or rescuing stray animals in distress, he believed in acting upon his beliefs.
But such a life dedicated to the service of others came to a tragic end on Wednesday in a suspected suicide. He was 28.
Nawshad Hossain Himu, fondly called Himaloy Himu by his friends, was found on fire by neighbours outside his rented house at Birulia in Ashulia around 9:00pm. By the time help arrived, it was too late.
Himu is a familiar face to those who worked during the Rana Plaza disaster.
On that fateful day on April 24, 2013, he rushed to the spot and rescued as many victims and recovered as many bodies he could throughout the 17-day rescue operation. He later worked for the rehabilitation of the injured victims.
All the work he did came at a cost of psychological trauma that manifested in various ways. From 2016, he started showing signs of detachment from his family. He started living on his own, befriending animals instead, said a condolence message released yesterday by Bangladesh Garments Sramik Samhati, with which he worked closely during the 2013 disaster that killed more than 1,100 people.
Sub-inspector Asgar Ali of Savar Model Police Station, who visited the house where Himu was found dead, quoted his family members as saying that he was not in touch with his family recently.
He will be laid to rest in his village home in Barishal today.
Abdul Haque, the owner of the house where Himu lived, said Himu rented a room 15 days ago.
His roommate Rajib Ashraf said Himu had plans to build an animal shelter on a piece of land that his father bought in Birulia, and came to live here for that purpose along with his dog Julie.
Rajib also said Himu used to talk about his trauma from Rana Plaza. Rajib said he was not home that day, and Himu was alone.
Neighbours said Himu did not really socialise, and spent most of his time with his dog.
They said they did not know of any enemy he might have had. Savar police also suspect Himu died by suicide.
A close friend of Himu, preferring not to be named, said Himu did not share his innermost feelings, but in the cryptic messages he sometimes sent there were signs that he was disturbed. 
While it may be a coincidence that Himu passed away on the sixth anniversary of the Rana Plaza collapse, not far from the site of his life-altering incident, it may not be totally unrelated.
Prof Shaheen Islam, who teaches at the Department of Educational and Counselling Psychology at Dhaka University, says deep-seeded trauma caused by tragedies like Rana Plaza incident can contribute in developing suicidal tendencies, although there could be a multitude of factors that could culminate in it.
However, there is more awareness about post-traumatic stress disorder these days, and people are coming forward more in seeking professional help, she said.
She mentioned of several people who were affected in the Chawkbazar fire seeking help at various places to cope with the trauma.
The disaster management ministry also has an initiative where mental health responders are being trained to address such crises, she added.
Early prevention can help the affected people greatly, Prof Shaheen said.
[Our Savar correspondent Aklakur Rahman Akash contributed to this report.]