Dengue Outbreak: Daily hospital admissions come down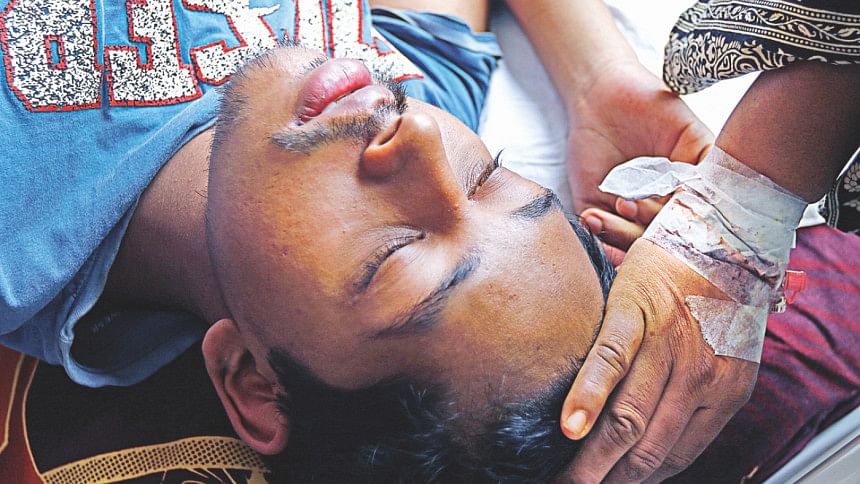 The number of dengue patients reported at hospitals has been decreasing over last three weeks, said hospital sources and health professionals. 
Data from the Directorate General of Health Services (DGHS) showed that 2,428 dengue patients were reported in hospitals on August 7 in a single day. The number dropped to 1,179 yesterday.
Hospital sources said that the number of people visiting different public and private hospitals to get dengue-detection tests was also declining.
Experts are giving credit to people's awareness, early detection, and access to proper medical care for decrease of dengue patients in the capital and other districts. 
They, however, said there was no place for complacency as the data shows that September is the "peak" time for Aedes mosquitoes to breed and spread the disease. If breeding grounds of the mosquitoes are not properly destroyed, the fatal virus can spread again.
People's awareness and steps taken to destroy possible sources of Aedes mosquitoes were a big factor for the decease of dengue patients at hospitals, said Institute of Epidemiology, Disease Control and Research Director Professor Meerjady Sabrina Flora.
Prof Sanya Tahmina, line director of Communicable Disease Control at the DGHS, said if the weather remains favourable and vector control continues properly, the number of dengue patients will keep decreasing.
This year's dengue spread is already the worst the country has seen, with at least 62,217 cases detected and at least 115 dead so far.
However, official number is 47.
The number of reported infections is six times that of last year, and the actual figures are likely to be higher as many cases go unreported.
DGHS said 97 dengue patients were admitted and a total of 417 dengue patients were under treatment at Shaheed Suhrawardy Medical College Hospital on August 7.
On Friday, 41 patients were admitted and 318 patients were under treatment at the hospital.
On the other hand, 477 people turned up for the NS1 Antigen test, which is conducted to diagnose dengue within three days of fever, and 248 people came for the IgG and IgM tests that are conducted to diagnose dengue at a later stage on August 7.
The number of people for NS1 test came down to 212, and for IgG and IgM tests the number dropped to 146 at the hospital on Friday.
The numbers of dengue patients and of people coming for diagnosis have also decreased at Dhaka Medical College Hospital (DMCH) and Mugda Medical College Hospital.
At DMCH, 162 dengue patients were admitted and a total of 721 dengue patients were under treatment at the hospital on August 7, while on Friday 111 patients were admitted and 533 patients were under treatment.
Director of DMCH Brig Gen AKM Nasir Uddin said the number of people who come for NS1 tests came down to 250 to 350 from 700 per day around the first week of this month.
Imran Hasan, in-charge of pathology of Mugda Medical College and Hospital, said 243 people turned up for the NS1 tests on August 5. On Friday, the number came down to 123.
"We are expecting a decrease from now onwards. But to keep the trend, we have to continue vector control activities," said Meerjady Sabrina Flora.
She said it was a positive sign that dengue situation was now stable. 
"But, every year, number of dengue patients peaks in September," she warned.
The Aedes mosquito breeds in clear water and prefers rainy season. 
"As we do not have any control over the weather, we have to continue vector control activities throughout the year and everyone will have to participate in the activities," she said.
Meanwhile, Mohammad Jarif, 5, died after being diagnosed with dengue in Mymensingh Medical College Hospital (MMCH) on Friday afternoon.
Jarif was taken to MMCH in critical condition from a Gazipur hospital around 5:10pm that day and he died around 5:40pm, said Dr AB Md Shamsuzzaman, assistant director of MMCH. 
The boy was admitted to a hospital in Gazipur as his parents stay there and the doctors there suggested to take Jarif to a hospital with ICU facilities. His parents then brought him to MMCH, said Shamsuzzaman.