Dengue fear creeping in amid Covid
June accounts for 59.5pc of infections in last 6 months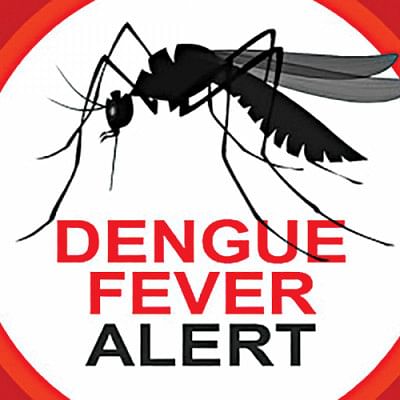 With the onset of monsoon in the country creating suitable breeding  conditions for Aedes mosquito larvae, the month of June has so far  accounted for 59.5 percent of the dengue cases recorded this year.  
The number of infected patients yesterday was 12. Aedes mosquitoes are carriers of the dengue and chikungunya viruses.
Experts  warned that if authorities concerned and people of the country do not  take necessary steps to destroy breeding sources, there is a danger that  dengue cases may increase fast.
That would be even more  dangerous than other years because health services in the country are  already strained due to the coronavirus pandemic, they said.
According  to the Directorate General of Health Services (DGHS), 247 patients have  so far been infected with dengue virus since January 1, 12 of whom were  infected yesterday.
Of the total people infected this year, 147 were infected in the first 23 days of June -- or 59.5 percent of the total infected.
Manzur  Chowdhury, entomologist and former president of Zoological Society of  Bangladesh, said the dengue situation is good so far, but if dengue  patients increase by four to five times in June compared to the number  in May (43), it will signal a sharp rise in infections. He said even  moderate dengue infections will heighten the risk due to the pandemic.
Authorities  will have to take necessary steps to raise awareness that Aedes breeds  in clean water, and so people will have to clear water from all kinds of  containers once a week, Manzur said.
June is a critical month for dengue as the number of dengue patients starts increasing from this month, he said.
If the trend of increasing dengue cases continues then it will be a cause for concern, he added.
Apart  from the initiative from the city corporations and the government,  every person will have to come forward to destroy all breeding sources  of the Aedes mosquito, he said.
Prof Kabirul Bashar, an  entomologist of Jahangirnagar University, said they did field work from  JU this month in Dhaka and found substantial numbers of larvae in every  positive container.
Bashar said they however found fewer Aedes  larvae in under-construction buildings due to the drives of the two city  corporations after the pre-monsoon survey of the DGHS.
City  corporations will also have to inform people about the Aedes mosquitoes  and have to encourage them to destroy all breeding sources, he said.
HM  Nazmul Ahsan, associate professor at Shaheed Suhrawardy Medical College  and Hospital, said if a person is infected with both dengue and  Covid-19, the situation may turn critical. Doctors will also struggle to  handle patients.
It is therefore very important to pay full attention to destroying all sources of Aedes mosquitoes, he said.
Chief  Health Officer of Dhaka North City Corporation (DNCC) Brig Gen Md  Zobaidur Rahman said since April they have been issuing letters to all  government, semi-government, autonomous, private organisations and  educational institutions to take necessary steps so that Aedes larvae do  not get any suitable place to breed.
He said they also issued  1,700 text messages to owners of houses where Aedes larvae was detected  last year, asking them to take necessary steps to destroy breeding  sources or face stern action.
They also held a road show on May  22 in the presence of the LGRD minister, DNCC mayor, TV artists and  local prominent persons to raise awareness among the people and did road  shows simultaneously in all 10 zones of the DNCC.
Zobaidur said  they also conducted combing operations in all the houses in DNCC areas  to stop breeding of Aedes mosquitoes and took action against owners of  establishments where larvae were found. The corporation will conduct the  drive again and will also continue the awareness programme.
He  said they are also conducting their regular anti-mosquito drives across  the DNCC areas and also conducting a special anti-mosquito drive to  different hospitals.
Md Abu Nasher, public relations officer and  spokesperson of Dhaka South City Corporation (DSCC), said they are  continuing their routine spraying of larvicide and adulticide.
Apart  from this, they are conducting mobile court drives in government  buildings, colonies and under-construction buildings and imposing fines  if they find any dengue larvae there, he said.
"We are also conducting drives at different houses in the DSCC areas," he said.
Since April 1 this year, they visited 699 buildings and found mosquito larvae in 92.
"We have filed 92 cases and fined the [buildings'] owners Tk 13.58 lakh," Naser said.
Apart  from the awareness campaign, he said they are also giving special  attention to some areas as per the instruction of the DGHS, as density  of Aedes mosquitoes was higher in those areas.