Ctg transport strike spells misery for commuters
Bus owners enforce it in port city to protest imprisonment of 3 workers by mobile court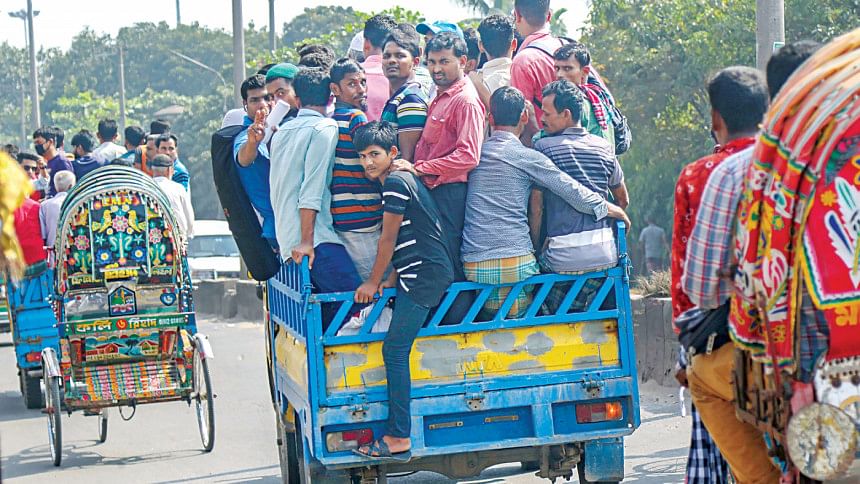 Thousands of commuters suffered immensely in Chattogram city yesterday as a section of bus owners and workers enforced a sudden strike, protesting the jailing of three of their fellows by a mobile court the day before.  
The city-wide strike started in the morning without any official announcement, and particularly affected office-goers, students, and regular commuters in rush hours. It was continuing till filing of this report at 9:30pm last night.
Because of the ensuring transport crisis, commuters had to pay many times over as only rickshaws, auto-rickshaws, and some other three-wheelers were plying the streets.
Inter-district buses, however, were out of the purview of the strike and continued operations, said Md Samsuddin, a traffic inspector of Chattogram Metropolitan Police.
Visiting key spots and intersections of the city, this correspondent saw people waiting for buses, most of them unaware that there was a transport strike underway. 
Shazedul Islam, a banker, said, "Every day I go to work by bus, from GEC to Shah Amanat Bridge. Due to the strike, I took a CNG auto-rickshaw, which charged me extra."
At Agrabad intersection, undergraduate Rokhsana Rubi was waiting to board a vehicle, but could not avail one even after one hour. "I have to take an annual exam at college. But I cannot get on any vehicle due to the transport crisis and pressure of commuters."
She said she came to know about the strike after only arriving at Agrabad. 
Many passengers were also forced to take risky rides on pickups. 
On Sunday, Bangladesh Road Transport Authority (BRTA) Executive Magistrate SM Manjurul Haque led a mobile court in the city's Chandgaon area, and jailed a minibus owner for 15 days, and its driver and helper for 30 days each for running an unfit bus.
The strike was launched the next morning without any official declaration.
Md Ahsanullah Chowdhury, acting president of Chattogram City Bus Minibus and Human Haulers Association, told The Daily Star, "Aggrieved bus owners and workers called the strike on Sunday night as the mobile court jailed the owner after calling him to the spot." 
When asked how long the strike will continue, he said he does not know because a section of owners called it, and it was not being held under the association's banner.
Manjurul Alam Manju, president of Chattogram District Road Transport Owners Group, an association of city and inter-district bus owners, said, "We don't know anything about the strike. The bus owners called it on their own. We will sit with them to resolve the issue as soon as possible." 
Meanwhile, the city dwellers criticised enforcement of the undeclared strike.
"They (transport workers) always hold the public hostage to realise their demands, and they did it this time too," said Debabbrata Roy Debu, a private organisation employee. 
Businessman Fazlul Kabir Manik said, "Whenever there is a drive against unfit vehicles and illegal drivers, transport workers started demonstrating. This is really unexpected. If they do it all the time, how will the government ensure road safety?"